Ref: K6D175
6 axis force/torque transducer - 10 kN to 50 kN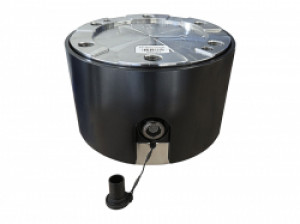 type: 6-axis force- torque sensor;
measuring range: 10kN/1kNm, 20kN/2kNm, 50kN/5kNm;
accuracy class: 0.5%;
dimensions: Ø175 mm x 110 mm;
mounting and centering: 6 x female thread M6x2; 2 drill hole Ø10 mm F7;
connection: cable gland (CG) with 5 m 26-24 PUR/24x0,16 mm2 / integrated round plug connector (M16), 24-pole, male;
material: stainless steel, stainless steel housing;
weight: 11 kg;
?
Description
The K6D175 multi-axis sensor is designed for measuring force and torque in three mutually perpendicular axes. The measurement ranges for the forces and moments can be factory adapted in a wide range.
Acquisition
The force and torque loadings are evaluated e.g. using GSV-8DS SubD44HD or GSV-8AS measurement amplifier. The 6 load values can be calculated using a Windows DLL or using LabVIEW with the aid of a digital calibration document provided. The calibration document contains the individual calibration factors and error corrections for the sensor.
Acquisition
The K6D175 was developed for the following applications:
Robotics
Measurements in automation technology.
Type

load cells

Number of Axis

6 Axis

Precision (max error)

0.5 %

Tension d'alimentation

10 Vcc

Measurement direction

Traction, Compression, Traction & Compress.

Housing

Steel

Protection Class

IP40

Measuring Range (Force)

100 - 250 kN

Application

High Accuracy
Matrix+ Calibration
Cable or connector
Module TEDS
Amplifier
Display
Data acquisition systems