Ref: OS-315LN-PG
Accéléromètres capacitif 3 axes ±2g à ± 400g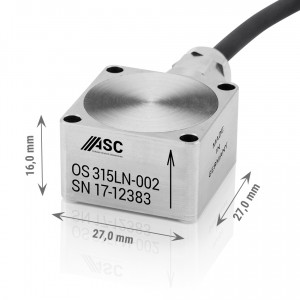 Range: ±2g to ±400g
DC Response
High Shock Resistance
Gas Damped
Excellent Bias and Scale Factor Stability
Differential Mode
?
The model ASC OS 315LN has been developed for the demanding requirements of offshoreapplications. The robust housing and the connecting cables are suitable for immersion in salt water and are designed to work at 1m water depth.
These ASC accelerometers therefore benefit from the high stability of the chip technologywith a low noise level and a low bias and an excellent scale factor temperature coefficient.
The ASC OS 315LN is over a wide temperature range fully compensated and factory calibrated.Because capacitive technology is used, extremely small measuring ranges are possible. Theamplified output is easy to use with a data acquisition unit. The signal is independent from thepower between +8VDC to +30VDC.
A very high flexible and rugged cable provides a simple mounting. The ASC OS 315LN is equipped with 1 meter cable as standard.
Technologie

MEMS capacitive

Type de produit

Accelerometer

Number of Axis

3 Axis

Sensibility

2000 / 800 / 400 / 160 / 80 / 40 / 20 / 10 mV/G

Etendue de mesure linéaire

2 / 5 / 10 / 50 / 100 / 200 / 30 G

Bande passante (-3 dB)

700 , 1400 , 1600 , 1800 Hz

Nonlinearity (% FS)

± 1 %

Signal otuput

± 4 VDC

Tension d'alimentation

10 Vcc

Protection Class

IP68

Housing

Steel

0-5 g, 5-50g, 50-500g