Ref: BPFT3
Low Profile Brake Pedal Force Transducer - 2200 N
Strain gauge brake pedal force sensor
Capacity: 0-2200 N, compression
Non-linearity: 0.5% of measuring range
Compensation of transverse forces
Mounts on the serial pedal using a clamp adapter.
Supply voltage: 10 VDC
Operating temperature : -40 +150°C
NIST calibration certificate included
?
Overview
The Michigan Scientific Low Profile Brake Pedal Force Transducer 3 (BPFT3) is a precision strain gage based transducer. It attaches directly onto a vehicle's brake pedal quickly and securely by removing the rubber pad from the vehicle's brake pedal and tightening the single retaining bolt to the padless pedal.
The measurement range is from 0 to 2200N (230 kg), with an accuracy of 0.5% of full scale even when the force is not perfectly centered. The Transducer is delivered with a calibration certificate.
Installation
The sensor mounts directly on the original pedal, after removing the rubber coating. It is tightened with a single screw. Designed to accommodate the brake pedal size of most manual transmission equipped vehicles, the low profile and size closely duplicates the shape and feel of a production brake pedal, while adding minimal height and weight. It features high accuracy for both on-center and off-center loading.
Dimensions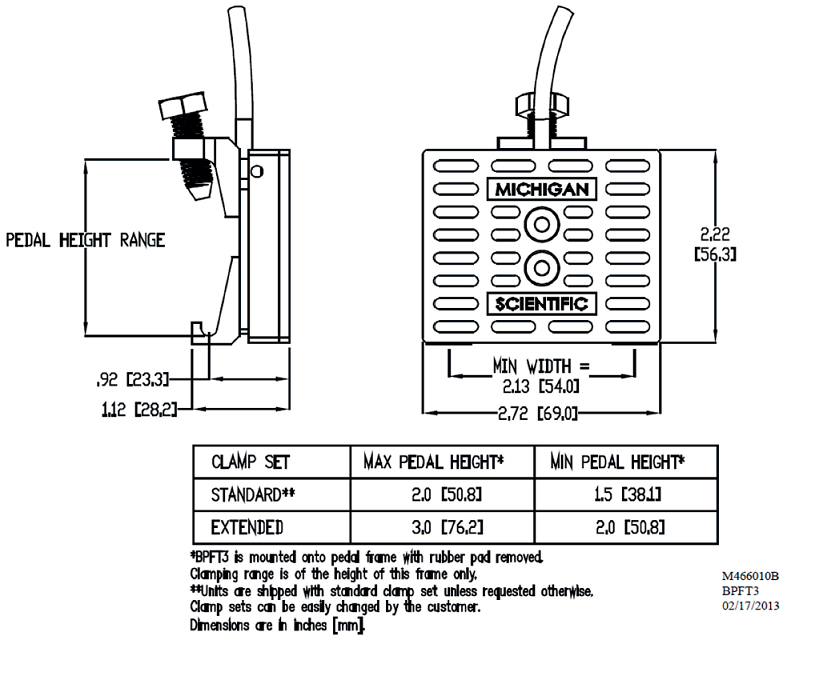 Options et accessoires
Mounting clamp
Output signal conditioning
Display / recorder
Type

Pedal fore sensor

Measuring Range

2200

Precision (max error)

0.5 %

Nonlinearity (% FS)

± 0.5 %

Hysteresis

0.1 % FS

Nonrepeatability

0 % FS

Température de fonctionnement

-40 to 150 °C

Analog output signal

non-amplifié

Output Signal

1.5 mV/V

Résistance du pont

350 Ω

Tension d'alimentation

10 Vcc

Measurement direction

Compression

Housing

Steel

Measuring Range (Force)

1 - 100 kN
| Mounting clamp | Pedal height mini [mm] | Pedal height maxi [mm] |
| --- | --- | --- |
| Standard | 38.1 | 50 |
| Extended | 50.8 | 76.2 |
Display
Signal Conditioning
Acquisition system