Ref: JDI-100 | JDI-200
Temperatre compensated digital MEMS inclinometer - 1 or 2 axis - IP67
±1°, ±3°, ±14.5°, ±30° and ±60° ranges
Robust and Rugged Enclosure
Single and Dual Axis Models Available
Low-Cost MEMS Technology
RoHS Compliant
Filtering Available
Single DC Power Input, Galvanically Isolated
RS-485 Half Duplex, Galvanically Isolated
Integrated Temperature Sensor
P67 Seal (when mated to IP67 connector)
?
JDI-100/200 inclinometer series is a MEMS, ruggedized inclinometer with digital output (RS-485) and full temperature compensation across all measuring ranges which enables the unit to perform to 0.005° accuracy.
JDI-100/200 series utilizes MEMS technology to measure tilt in either single (JDI-100) or dual-axis (JDI-200). ±1°, ±3°, ±14.5°, ±30° and ±60° are the standard measuring ranges with a 0.0001° digital resolution and RS485 interface output. It is also RoHS compliant to satisfy environmental standards.
With a lightweight aluminum enclosure and an IP67 seal, the JDI can serve a diverse number of OEM and industrial applications. It can be used for:
industrial automation and control
construction and agricultural equipment
solar tracking
mobile cranes
platform leveling and positioning
mobile radar equipment
bridge monitoring and more.
Technologie

MEMS capacitive

Number of Axis

1 Axis, 2 Axis

Etendue de mesure

1 / 3 / 14.5 / 30 / 60 °

Résolution

0.001° - 0.01°

Application

OEM

Nonlinearity (% FS)

± 0.01 %

Nonrepeatability

0.01 % FS

Sortie analogique

RS-232/422/485

Digital output signal

RS-485

Tension d'alimentation

10 Vcc

Température de fonctionnement

-55 to 85 °C

Protection Class

IP67

Housing

Steel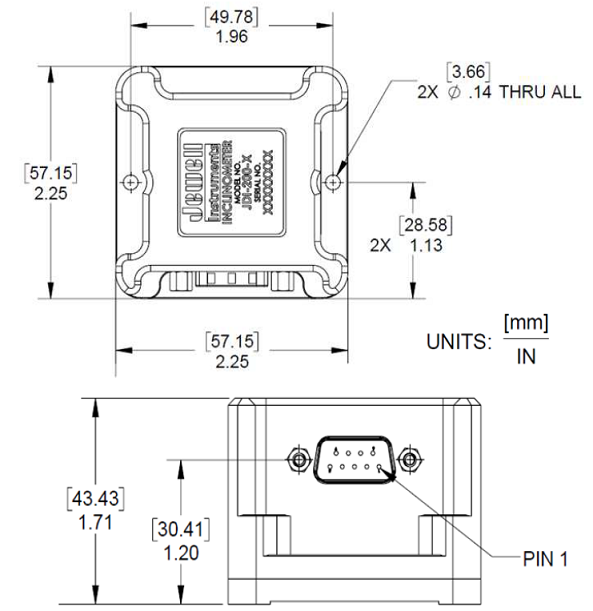 Available Models
JDI-100-1: ±1.0°

JDI-100-3: ±3.0°

JDI-100-14.5: ±14.5°

JDI-100-30: ±30.0°

JDI-100-60: ±60.0°

JDI-200-1: ±1.0°

JDI-200-3: ±3.0°

JDI-200-14.5: ±14.5°

JDI-200-30: ±30.0°

JDI-200-60: ±60.0
options
afficheurs
Systèmes d'acquisition de données