Ref: M-375 - miniature LVDT ± 50 mm
Rugged LVDT sensor - miniature ± 50 mm - High Temp - ⌀ 9,5 mm
Industrial ruggedized LVDT sensor
Diameter: 9.5 mm
Measurement range: ± 0.6 mm to ± 50 mm
Power supply: 3Vrms - 400Hz to 10KHz
Output signal: non-amplified
Non-linearity: 0.15 % PE
Repeatability: 0.6 µm - Resolution: infinite
Material: Stainless steel
Humidity resistance: 90% R.H., 240 hours
Temperature range: -55°C to 135°C (200°C optional)
Possible modifications: measuring range, dimensions, temperature, connectivity etc...
?
Compact ruggedized LVDT sensor
The M-375 series LVDT transducers are designed for instantaneous position measurement in harsh environmental conditions and limited space. The measurement ranges are from ± 0.6 mm to ± 50 mm.
The diameter of the M-375 LVDT sensor is only 9.5mm, the length varies from 12 to 250mm depending on the measurement range. The stainless steel sensor body is resistant to corrosion and abrasion. The vibration resistance is 20 g at 2 kHz, the operating temperature range is -55°C to +135°C as standard and can be extended to 200°C as an option.
The output signal (unamplified) of the M-375 sensor is proportional to the position of the core inside the sensor body. The connection system consists of a bundle of insulated wires in an axial Teflon sheath. Other advantages are typical of the LVDT: excellent accuracy (non-linearity: 0.15% of the PE), infinite resolution, long life and no drift.
Options
Measuring ranges
Temperature range extended to 200°C
Metric / imperial threads
use in radioactive environment
Applications
Industrial metrology
Industrial automation
Packaging
Hydraulic machines
Corrisive environments
Position control
Material testing
Valve control
Technologie

LVDT Sensor

Etendue de mesure linéaire

0.63 / 1.25 / 2.5 / 6.25 / 12.5 / 25.4 / 50.8 mm

Measuring range

0 à ±50 mm

Nonrepeatability

0.01 % FS

Nonlinearity (% FS)

± 0.15 %

Hysteresis

0.01 % FS

Analog output signal

non-amplifié

Protection Class

IP40

Tension d'alimentation

3 Vrms - 400 Hz à 10 kHz

Housing

Steel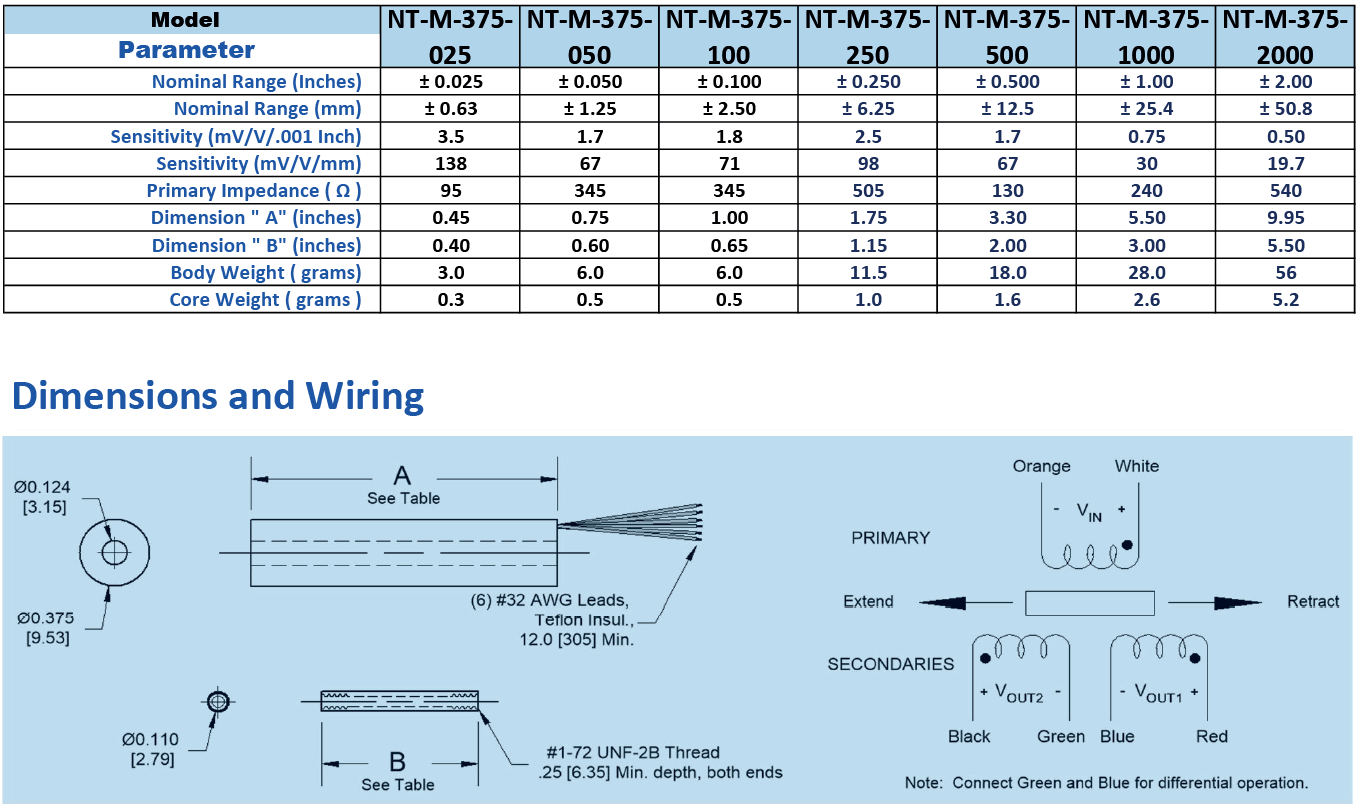 Measuring ranges
Temperature range extended to 200°C
Metric / imperial threads
use in radioactive environment