Ref: HT-1000 - Capteur LVDT 540°C
LVDT sensor ± 25.4 mm 540°C - non amplified - High temperature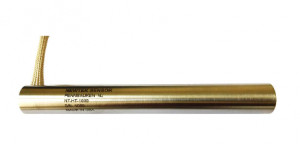 Measuring range: ± 12.7 mm to ±25.4 mm
Temperature range: -55°C to 538°C
Non-linearity: ±0.5% Full Scale
Repeatability: < 0.01% Full Scale
Sensitivity: 9.78 mV/V/mm
Shock resistance: 1000g, 11ms
Vibration resistance: 20g at 2KHz
Introduction
The HT-1000 LVDT is a low contact displacement or position sensor. Designed to operate in the harshest environments with extreme temperatures, this rugged stainless steel displacement transducer has an operating temperature range of -55°C to 538°C, good resistance to shock, vibration and moisture.
Mounting and measuring principle
The principle of the LVDT is to measure the position of the core inside the sensor body. The signal delivered is proportional to the position of this core. It can be moved either by a probe system or by connecting it with a threaded rod (free core). This range of LVDT sensors is associated with integrated electronics delivering a 0-10 Vdc, 4-20mA output or with external electronics for difficult conditions or temperatures (up to 200 °C and 1400 bars).
Applications
Turbine
Moteur
centrale électrique
Essais et contrôles en production
Autoclave - énergie, pétrochimie
Nombreuses applications industrielles
Technologie

LVDT Sensor

Etendue de mesure linéaire

12.7 / 25.4 mm

Measuring range

0 à ±50 mm

Nonrepeatability

0.01 % FS

Nonlinearity (% FS)

± 0.5 %

Hysteresis

0.01 % FS

Signal otuput

analog (mV/V)

Analog output signal

non-amplifié

Température de fonctionnement

-55 to 540 °C

Protection Class

IP40

Tension d'alimentation

10 Vcc

Housing

Steel

Application

High temperature
Special calibration with non-standard measuring range
Special cable; connector on the cable, waterproof feedthrough
Cable length of the sensor
Data acquisition electronics
Calibration micrometer
Thickness gauge
12 or 24Vdc power supply
Product training and calibration technique
Display conditioner or conditioning electronics