Ref: MICROTC
1 channel Type K thermocouple linear amplifier
Thermocouple connector and amplifier in one small unit
Nonlinear thermocouple input signal is converted to linear output voltage (-25 to 400°C)
Input signal is amplified to 5 mV/°C
Measuring range: -200 to 970°C
Cold junction compensated
Units available in K-type
Signal bandwidth 2.35 kHz
Voltage supply : 7-16 VDC
?
Miniature linear thermocouple amplifier
The MicroTC Linear Thermocouple Amplifiert provides:
A standard miniature female thermocouple connector
Solder terminals on the back for easy connection for power and signal
A cold junction compensation and amplifier for a thermocouple signal to a linear 5 mV/°C over a measurable range of -25 to +400°C
The measurable range expands to -200 to 970°C with the use of post-processing polynomials. The amplifier accepts a wide power supply range (7 à 16 VDC).
Specifications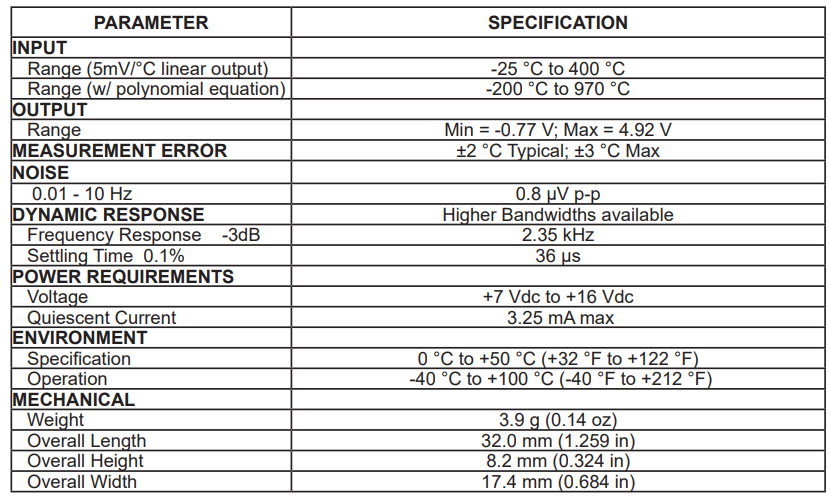 Installation
Thanks to a miniature and light housing (3,9g only), and a thru-hole in the center of the unit, MICRO-TC can be glued, screwed to a surface or tied to the mating connector. The thermocouple plugs directly into the unit, the signal output and the power voltage wires are welded on solder terminals.
4 pins solder terminal block
| Signal | Label | Color |
| --- | --- | --- |
| Positive Supply Voltage | V+ | Blue |
| Amplifier Output | S+ | Yellow |
| Common | G | Gray |
Electronic type

Signal Conditioning

Input channels

1

Input signal type

Thermocouple

Analog output signal

0-10 VDC

Datalogger

no

Tension d'alimentation

10 Vcc

Connecteur

Terminal 4 pin

Protection Class

IP40

Housing

Plastic
Dimensions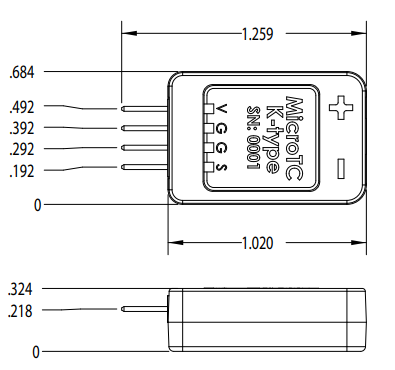 Pining
| Signal | Label | Color |
| --- | --- | --- |
| Positive Supply Voltage | V+ | Blue |
| Amplifier Output | S+ | Yellow |
| Common | G | Gray |
Housing for Slip ring
Power supply unit
Display