Ref: ST500
Flat screw-in strain sensor - 500 µm/m - IP65
Strain gauge extensometer
Measuring range: 500 µm/m
Calibration: Compression
Construction: Aluminum
Temperature sensitivity: 0.02%/°C
Dimensions: 89mm x 25,4 mm x 6mm;
Output signal: 1.5 mV/V
Output: 4-wire cable, 6 or 12 m
Mounting: 2 M6 screws + glue
Operating temperature: -20 / +80 °C
Supply voltage: 2-10 VDC
?
Overview
The ST500 extensometer is designed for high resolution measurement of high forces and deformations of structures, presses, tanks, bridges, frames, etc... The sensor consists of a strain gauge fully wired and then pressurized on a test body through the housing.
The measuring range is 500µm/m. Technically comparable to a direct application of strain gauges on the structure, this extensometer brings a gain in simplicity of implementation and flexibility, while offering a measurement characterized by a high resolution, very low drift effects and an excellent response time.
Mounting and use
The housing is positioned with 4 M6 screws. The surface must be flat and clean before applying the extensometer.
Dimensions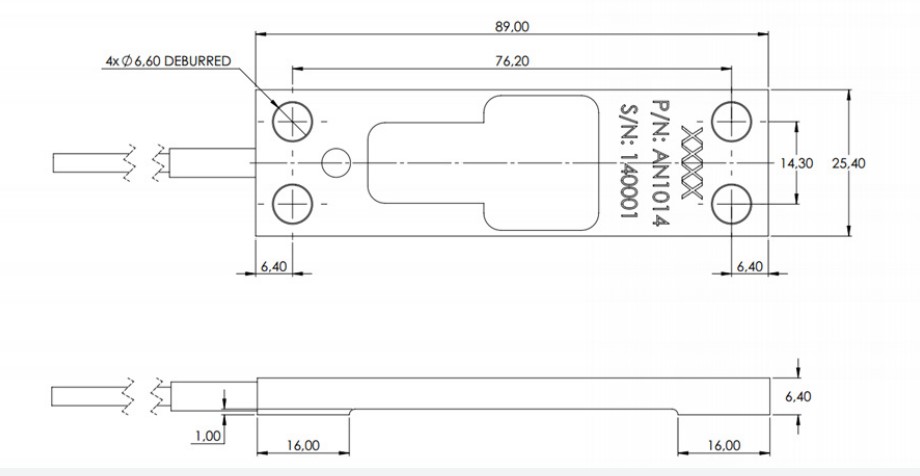 The strain gauge is mounted in 1/4 bridge. The full scale output signal is 1.5 mV/V. The conditioning is done via an external electronics. Strain to force conversion is done by calibration on the application. The operating temperature range is -20 to +70°C. The recommended supply voltage is 5 VDC. The application of 2 extensometers mounted in opposition allows to compensate the deflection.
Packaging and acquisition
The strain gage sensor ST500 is supplied with 2,5 to 10 Vdc. Possibility of obtaining a complete and configured measurement chain by adding a display, conditioner or acquisition module:
| Afficheur 9840 | GSV-2TSDI | GSV-3USB | PMI-520AJ | GSV-1A | GSV-6K | GSV-6L | MICRA-M |
| --- | --- | --- | --- | --- | --- | --- | --- |
| | | | | | | | |
| Afficheur numérique haute précision 1 ou 2 voies | Afficheur 24 bits avec fonction acquisition | Module d'acquisition USB | Conditionneur analogique de précision sortie tension ou courant | Conditionneur analogique IP66 sortie +/-10v ou 4-20mA ou 12±8mA | Conditionneur en ligne sortie +/-10v ou 4-20mA ou 12±8mA | Conditionneur PCB miniature sortie +/-10v ou 4-20mA ou 12±8mA | Afficheur simple |
Applications
bridges
silo legs
Offshore wind farms
railway lines, etc.
Type

strain sensor

Measuring Range

500 µm/m

Precision (max error)

1 %

Température de fonctionnement

-20 to 85 °C

Analog output signal

0-10 VDC

Résistance du pont

350 Ω

Tension d'alimentation

10 Vcc

Measurement direction

Traction & Compress.

Housing

Aluminium

Protection Class

IP65

Measuring Range (Force)

⩽ 1 kN, 1 - 100 kN

Application

OEM, low cost, Miniature