Ref: GSV-1A4
4-channel strain-gage amplifier
4 - channel straingauge amplifier in aluminum housing;
connection: plug connector m12 or SUB-D37
dimensions: 170mm x 109mm x 35mm;
Analog output: ± 10V and 4 ... 20mA (zero signal = 12mA) via 15-pin SUB-D (female);
limit frequency: 250Hz / 2,5kHz;
input sensitivity: 2.0 | 1.0 | 0.5 mV/V;
supply voltage: 11V..30V DC;
weight: 450 g;
accessories (incl.): mating connector SUB-D15 with cable, desktop power supply 18V/30W;
?
Presentation
The measuring amplifier GSV-1A4 is a measuring amplifier with 4 independent channels for sensors with strain gauges such as force sensors, torque sensors, acceleration sensors or extension sensors. This measuring amplifier is also suitable for connecting strain gauge full and half bridges from 87.5 ohm to 5000 ohm and strain gauge quarter bridges with 350 ohm.
The measuring amplifier GSV-1A4 is supplied with a plug-in 18V power supply and SUB-D15 mating plugs. The voltage and current outputs are at the 15-pin Sub-D socket and one ground for each analogue output. Both outputs have been calibrated and can be used at the same time.
The sensor inputs, bridge completitions and the inputs for automatic zero adjustment of the individual channels are at the 37-pin Sub-D socket. The bridge completion resistance with 0.1% tolerance for 350 ohm strain gauge is maintained. The quarter or half bridge mode can be set by the customer at the 37-pin Sub-D socket (see wiring diagram for 37-pin Sub-D socket). As an option, it is possible to use the 6-wire technology of GSV-1L. The use of 6-wire technology must be configured to the circuit board. GSV-1A4 M12 socket variant.
The GSV-1A4 is optionally equipped with round connectors for the sensor connection. The mating plugs must be ordered separately or are a component of the sensor.
Applications
Electronic type

Signal Conditioning

Input channels

4

Input signal type

SG bridge, Voltage (0-10 VDC)

Analog output signal

4-20 mA, ± 10 VDC

Datalogger

no

Tension d'alimentation

10 Vcc

Protection Class

IP40

Housing

Aluminium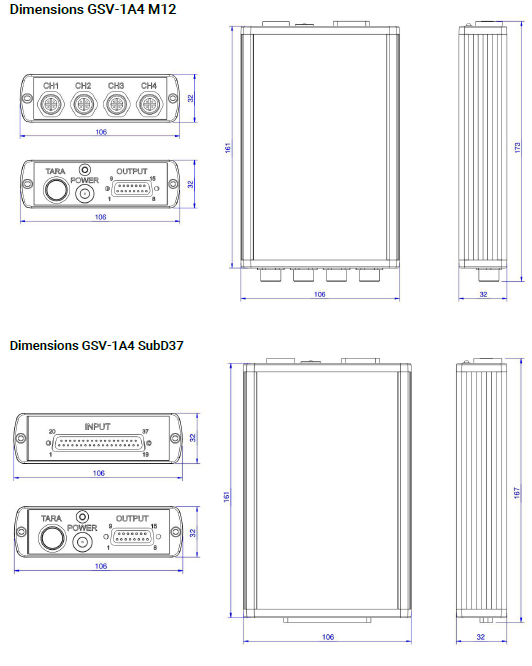 Sensor connector : M12 or SUBD37
cut-off freqency