Ref: GSV-8DS
8-channel analog amplifier and acquisition module
8-channel strain measurement amplifier in aluminum housing;
Dimensions: 172 x 172 x 55 mm;
8 SUB-D15 HD inputs for sensor;
Inputs configurable for strain gauge full-, half- quarter bridge;
Input voltage +10V, Temperature sensor PT1000;
Thermocouple Type K, IEPE Sensors;
1x SUB-D25 connector for 8x analog output +/ -10V or 4 ... 20mA (scalable);
1x USB port
1x SUB-D25 connector for 16x GPIO;
1x SUB-D 9 connector for UART/RS232/RS422;
24-bit resolution;
Sampling Frequency 48kS / s simultaneously on all 8 channels;
configurable fourth order filters: low pass, band pass, band-stop, high-pass;
configurable data rate;
Support 6-axis sensors;
Supply voltage 12V ... 28V DC;
weight: 1.25 kg;
environmental protection: IP64;
?
Introduction
The 8-channel measuring amplifier GSV-8 is characterized by particularly high resolution at data rates from 1 Hz to 48000 Hz. The 8 channels are recorded simultaneously, without multiplexing. As communication interfaces USB port, optional EtherCAT or CANbus are available.
The device has 8 configurable analog outputs (± 10V et al and 4 ... 20mA). There are 8 analog inputs. They are individually configurable as:
DMS input for full bridges in 4- and 6-wire technology
DMS input for half-bridges DMS input for quarter-bridge 120 ohms, 350 ohms, 1kOhm
Single-ended input ± 10V
Input for PT1000 temperature sensor,
Input for thermocouple type K.
Sensors with IEPE (ICP) interface can be connected via an adapter plug with BNC socket, e.g. IEPE
acceleration sensors, IEPE force sensors, etc.
The measuring amplifier GSV-8DS SubD44 is equipped with industrial connectors SubD44HD. This connector is suitable for connection of
1x 6-axis sensor K6D or alternatively with
2x for DMS 0-45-90 rosettes or 2x 3-axis sensors;
1x for 2 DMS T rosette or 1x 2-axis sensors; The inputs 1 to 6 are connected in parallel on the connectors 1/6 to the inputs on the connectors 1/3 and 4/6
Data Acquisition Software
2 options: use of GSVmulti or design your own application under LabView, C, C++ etc.. using the provided SDK
Electronic type

Signal Conditioning, Acquisition system

Input channels

8

Input signal type

SG bridge, Voltage (0-10 VDC), frequency

Application

DAQ universel

Analog output signal

4-20 mA, ± 10 VDC

Digital output signal

RS-485, Ethernet, USB, LTE/3G, WiFi

Datalogger

no

Tension d'alimentation

12-29 VDC

Protection Class

IP64

Housing

Aluminium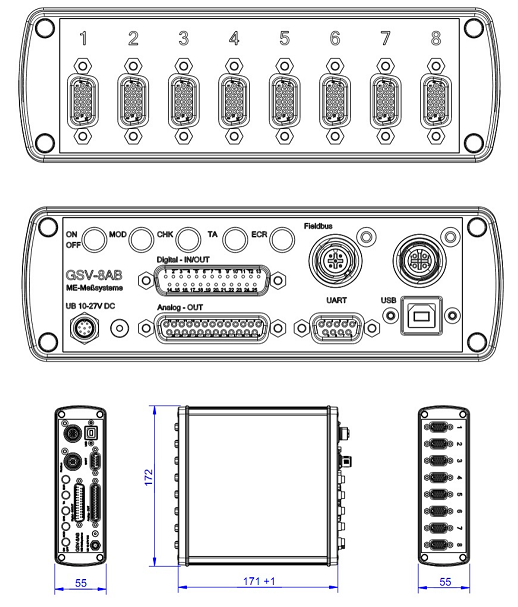 Câble
Capteurs
GSV-Multi
Convertisseurs