Ref: R-812 - Standard ± 250 mm ⌀ 20.6
Stainless Steel LVDT Position Sensor - ± 1mm to ± 250 mm
Ruggedized industrial LVDT sensor
Diameter: 20.6 mm
Measurement range: ± 1.25 mm to ± 250 mm
Power supply: 3Vrms - 400Hz to 10KHz
Output signal: non-amplified
Non-linearity: 0.15 % PE (< 0.1% in option)
Repeatability: 0.01% PE - Resolution: infinite
Material: High strength iron-nickel alloy
Humidity resistance: 90% R.H., 240 hours
Temperature range: -55°C to 135°C (200°C optional)
Possible modifications: measurement range, dimensions, temperature, connectivity etc...
?
Industrial LVDT sensor
The LVDT sensors of the R-812 series are suitable for a large number of industrial applications including severe operating conditions (temperature, radioactive environment, etc...). The measurement ranges are from ± 1.25 mm to ± 250 mm. The sensor body is resistant to corrosion and abrasion. The vibration resistance is 20 g at 2 kHz, the operating temperature range is -55°C to +135°C as standard and can be extended to 200°C as an option.
The output signal (unamplified) of the R-812 sensor is proportional to the position of the core inside the sensor body. The connection system consists of a bundle of insulated wires in an axial Teflon sheath. Other advantages are typical of the LVDT: excellent accuracy (non-linearity: 0.15% of the PE), infinite resolution, long life and no drift.
Options
Measuring ranges
Temperature range extended to 200°C
Metric / imperial threads
Use in radioactive environment
High accuracy
Applications
Industrial metrology
Industrial automation
Hydraulic machines
Level measurement
Position control
Material testing
Technologie

LVDT Sensor

Etendue de mesure linéaire

1.25 / 250 mm

Measuring range

0 à ±50 mm, ±51 à ±250 mm

Nonrepeatability

0.01 % FS

Nonlinearity (% FS)

± 0.15 %

Hysteresis

0.01 % FS

Analog output signal

non-amplifié

Protection Class

IP40

Tension d'alimentation

3 Vrms - 400 Hz à 10 kHz

Housing

Steel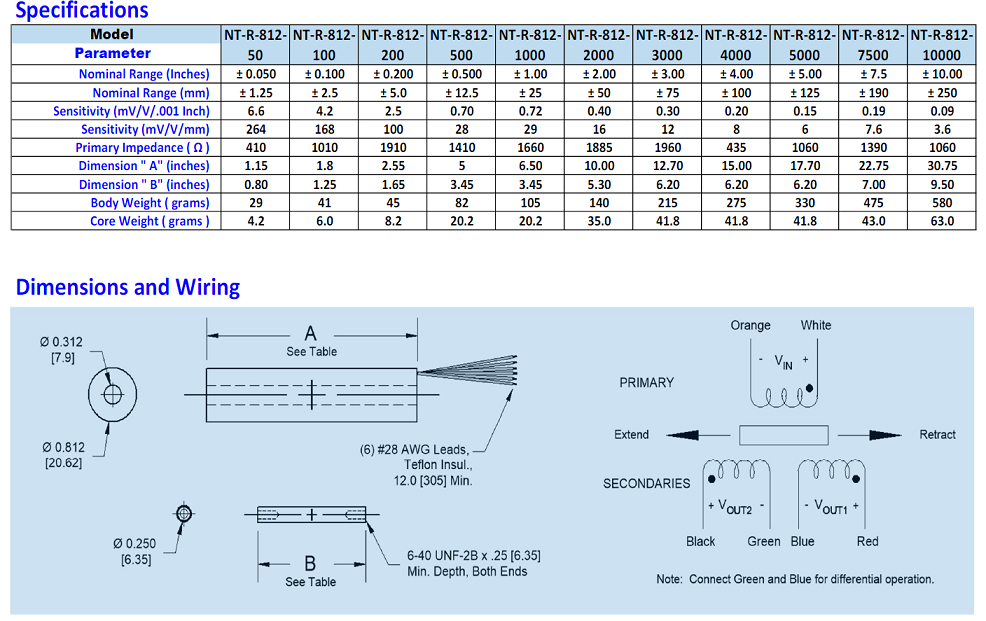 Measuring ranges
Temperature range extended to 200°C
Metric / imperial threads
Use in radioactive environment
Reduced core diameter