Ref: TS11
Static torque transducer flange 10 Nm to 20 kNm - accuracy 0.05%
High precision industrial static torque transducer
Capacities from 10 Nm to 20 000 Nm
Compact
Small through hole design
100% control signal (internal shunt cal)
High accuracy to 0.05% FS
A2LA approved calibration
Connection cable (right angle or straight through)
Threaded hole assembly.
?
Presentation
The flange torque transducer TS11 is designed for measuring the reaction torque (static torque) over measuring ranges from 10 to 20000 Nm. The assembly of the TS11 is extremely simplified thanks to its hollow shaft, the two threaded flanges (M8 to M24) and its compact dimensions. The sensor body is made of stainless steel, the overload protection is 150%, and the operating temperature is between 5°F and 131°F.
Packaging and acquisition
The TS11 torquemeter is powered by 2.5 to 20 Vdc. Possibility of obtaining a complete and configured measurement chain by adding a display, conditioner or acquisition module. See our selection :
Afficheur : allows to visualize the measurement directly in units, to manage thresholds, max-min values and an amplified output.
Conditionneur : amplifies the measurement signal and delivers a voltage or a current (±5, ± 10 Vdc, 0-10 Vdc or 4-20 mA).
Systèmes d'acquisition : transmission of measurement signals to a PC, a PLC, a recorder or a SCADA-type supervision application. Post-processing of measurement data via Excel or Matlab.
Applications
Automotive test bench
Quality control in production
rotatif / statique

static

Moment capacity

10 / 20000 / 20 / 50 / 100 / 200 / 500 / 1000 / 2000 / 5000 / 10000 Nm

Measuring Range (Torque)

10 - 100 Nm, 100 - 1000 Nm, 1000 - 5000 Nm, 5000 - 20000 Nm

Montage_Capteur

flange

Nonrepeatability

0.02 % FS

Signal otuput

analog (mV/V)

Sortie régime

Non

Tension d'alimentation

10 Vcc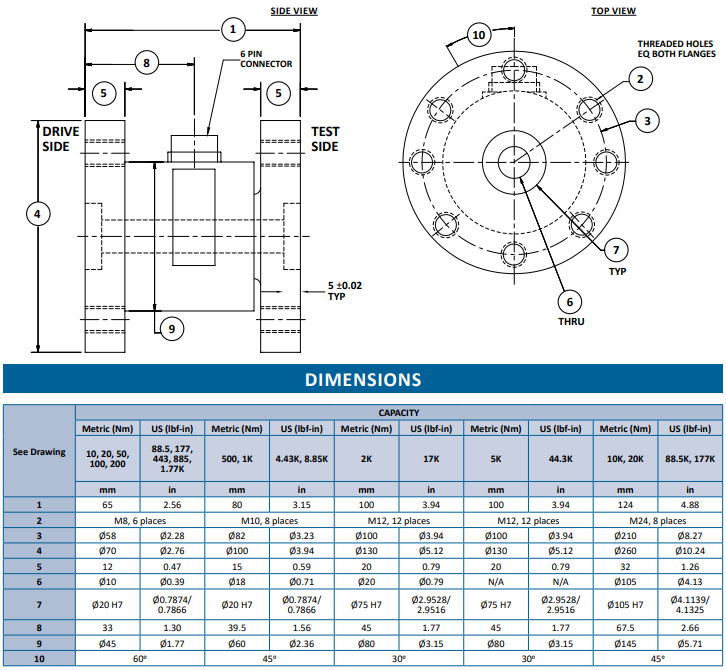 Connections
Custom flange
TEDS IEEE 1451.4 calibration
Integrated conditioner - output 0-5/10VDV,+/- 5/10VDC, 0/4-20mA
Temperature compensation range of the calibration
Custom calibration
Shunt Resistor
Custom color / identification