Ref: TS110a | Reaction torque
Reaction torque sensor - +/- 20Nm to +/-200Nm - high accuracy
Static torque meter
Measuring range : ± 20 Nm; ± 50 Nm, ± 100 Nm; ± 200 Nm
Sensitivity : 1 mV/V
Accuracy : 0.1 % ;
Dimensions : Ø 110 mm x 14 mm ;
External diameter : 100 mm - internal diameter: 50 mm ;
Bore: 25 mm ;
Centering shoulder 30 mm ;
Connection system : 3 m Unitronic FD CP Plus cable / 4x0.14 ;
Material: aluminium or steel ;
Optional calibration certificate
Weight : 800 g
Overload protection: 150%
?
Introduction
The TS110a reaction torque transducer consists of an outer and an inner flange which are connected by 4 shear beams. The outer and inner flanges each have 4 M6 threads for torque input. The output signal is unamplified. 4 measuring ranges are available: ± 20 Nm ± 50 Nm ±100 Nm ±200 Nm The sensor is suitable for measuring the reaction moment in drives and test stands.
Conditionnement
Possibility of obtaining a complete and configured measurement chain by adding a display, conditioner or acquisition module. See our selection :
Display : allows to display the measurement directly in units, to manage thresholds, max-min values and an amplified output.
Conditioner : amplifies the measurement signal and outputs a voltage or current (±5, ±10 VDC, 0-10 VDC or 4-20 mA).
Acquisition systems : Transmission of measurement signals to a PC, PLC, recorder or SCADA-type supervision application. Post-processing of measurement data via Excel or Matlab.
rotatif / statique

static

Moment capacity

20 / 50 / 100 / 200 Nm

Measuring Range (Torque)

10 - 100 Nm, 100 - 1000 Nm

Montage_Capteur

flange

Nonlinearity (% FS)

± 0.1 %

Signal otuput

analog (mV/V)

Sortie régime

Non

Tension d'alimentation

10 Vcc

Température de fonctionnement

-10 to 60 °C

Connecteur

STC-31V-4

Protection Class

IP65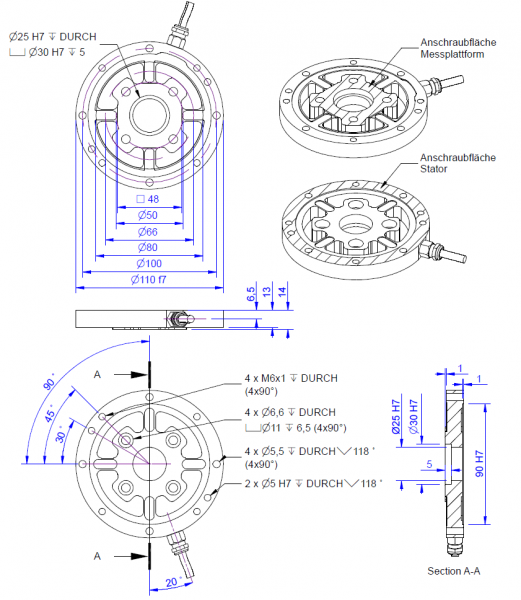 Connections
Calibration certificate
conditioning
acquisition
display