Ref: KD140 - ±50Nà ±1kN
Double bending beam force sensor - 50 to 1000 N - IP67
type: double bending beam force sensor;
nominal force: ±50N, ±100N, ±200N, ±500N, ±1000N
accuracy class: 0,1 %;
Operating force limit: 150%
Lateral force limit : 500%
dimensions: 140 mm x 28 mm x 30 mm
force transmission: 4 x female thread M6x1
Bridge voltage supply : 1 to 10 VDC
connection: 3 m Unitronic FD CP Plus / 4x0,14;
material: Aluminium alloy, gold anodized IP67;
Operating temperature : -10 to 85°C
?
Presentation
The KD140 force sensor is particularly suitable for integration in assembly and testing devices due to the low installation height and the tolerance against displacements of the force introduction and against transverse forces. The mounting can be made either via through-holes Ø8,2mm, or through 4 threaded holes M6.
Due to the design of the sensor as a double beam (parallelogram guide), the force introduction point shifts parallel by approx. 0.2 mm at 100% of the nominal force, while the sensor tolerates displacements of force transmission and lateral forces. (lateral force limit : 500% of nominal force)
Available measuring ranges are : ±50N, ±100N, ±200N, ±500N, ±1000N. The accuracy of 0.1% is already reached at a nominal output of 2mV/V.
Specifications
| Measuring Range | ±50N, ±100N, ±200N, ±500N, ±1000N |
| --- | --- |
| Accuracy | 0,1 % |
| Non-linearity | 0,1 % |
| Dimensions | 140 mm x 28 mm x 30 mm |
| Output signal | 2mV/V |
| Max operating force | 150% |
| Max lateral force | 500% |
| Operating Temperature | -10 à 85°C |
Dimensions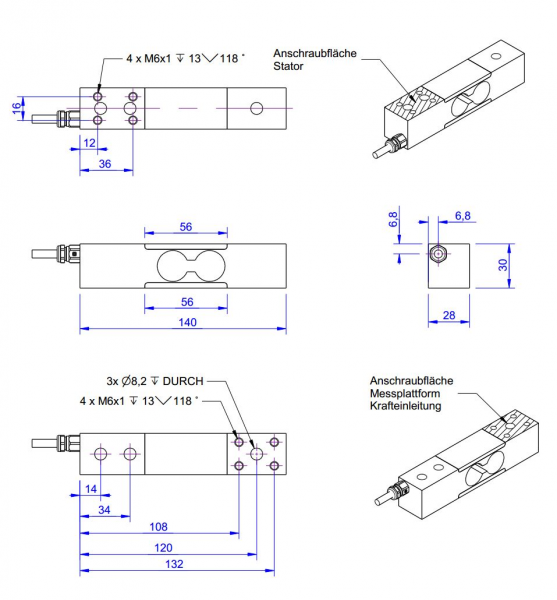 Signal conditioning
Various solutions are offered for the output amplification including:
Indicators
Miniature signal amplifiers as GSV-1M
Applications
weighting
Force measurement
Test rigs
Industrial scales
Type

beam sensor

Measuring Range

±50N , ±100N , ±200N , ±500N , ±1000N

Precision (max error)

≤ 0.1 %

Nonlinearity (% FS)

± 0.03 %

Hysteresis

0.3 % FS

Nonrepeatability

0.01 % FS

Temperature Compensated Range

-10 to 70 °C

Température de fonctionnement

-10 to 85 °C

Zero Balance

0.008 %PE/°C

Analog output signal

non-amplifié

Output Signal

0.5 mV/V

Résistance du pont

350 Ω

Tension d'alimentation

10 Vcc

Cable

cable 1 m STC-31V-4

Measurement direction

Flexion

Déflection

0.1 mm

Surcharge

400 %PE

Aluminium ou Acier inoxydable

Protection Class

IP65

Measuring Range (Force)

⩽ 1 kN, 1 - 100 kN

Application

High Accuracy, low cost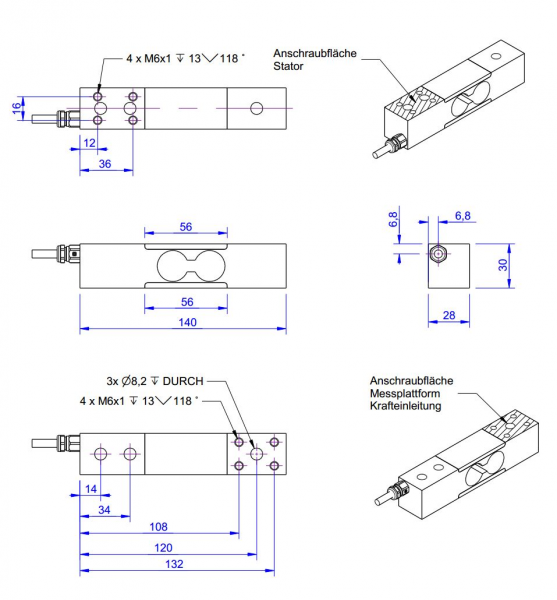 operating temperature
material
measuring range
calibration