Ref: LP3030
Multiaxis Load Platform - ±15kN to ±75 kN
Measures forces and moments on 3 directions
Measuring Range Fxyz: ±15kN to ±75kN per axis
Moment limit : up to 12kNm
Nonlinearity: < +/- 0.5 % FSO
Dimensions: 400 x 300 x 100 mm
Output Signal : 12 x 3,3 mV/V
Housing: Aluminium / Stainless Steel IP65
Universal mounting pattern
Operating temperature range: -40°C à +149°C
Temperature compensated
3,05 m cable output
NIST traceable calibration certificate included
?
Introduction
The LP-3030 TR3D Load Platform is a compact load platform designed to have higher force and moment capacity than individual load cells. The load platform uses four three-axis load cells to measure the net forces and moments acting on the platform. The 12 individual load cell channels can be used to calculate the net forces and moments, or the load cells can be connected to the which combines the signals and outputs the net forces in three channels.
The load cells are made of high-grade stainless steel and have waterproof coatings, making them resistant to corrosion and harsh environmental conditions. Temperature compensation of the load cells ensures stable output throughout a wide temperature range. The top plate has an array of tapped holes to which the user can attach equipment, test pieces, or machining fixtures. Custom platform sizes or mounting patterns can be designed upon request.
Specifications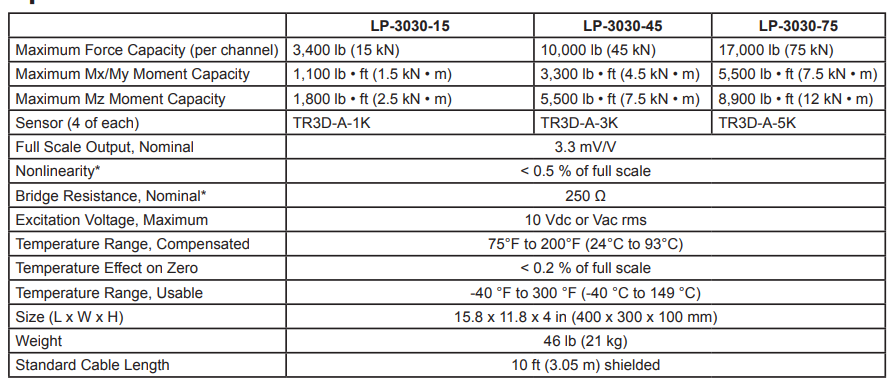 Installation
The force is introduced via the tapped holes on the top plate. On the lower side, the installation is done via 4 eccentric screws. The compact dimensions facilitate the integration and simplify the machining of the adaptation parts
The LP3030 platform is powered with 2.5 to 10VDC, the output signal is 3.3mV/V for each of the 12 channels. The platform is delivered with a 3,05m long cable and a NIST calibration certificate. Optional conditioning modules, junction boxes and acquisition systems are available.
The JB3 is a junction box that can connects the signals from the four Three Axis Load Cells contained in the platform, and outputs three force channels. For example, the Fx channels from each load cell are combined into one Fx output channel. The JB3 contains precision sensitivity trimming circuits for each input channel to make all of the load cell sensitivities equal. This ensures that the output will remain constant regardless of where the load is applied.
The JB3-P combines the load cells in parallel using passive components, so it requires no additional hardware. The JB3-P can be hooked up to a three-channel strain gauge module as if it were a single Three Axis Load Cell. The JB3-A is an amplified version, which has all of the same components as the JB3-P but adds strain gauge amplifiers to the three output channels after they have been paralleled. The JB3-A outputs ± 10 V and can be used with any high-level voltage recorder.
Architecture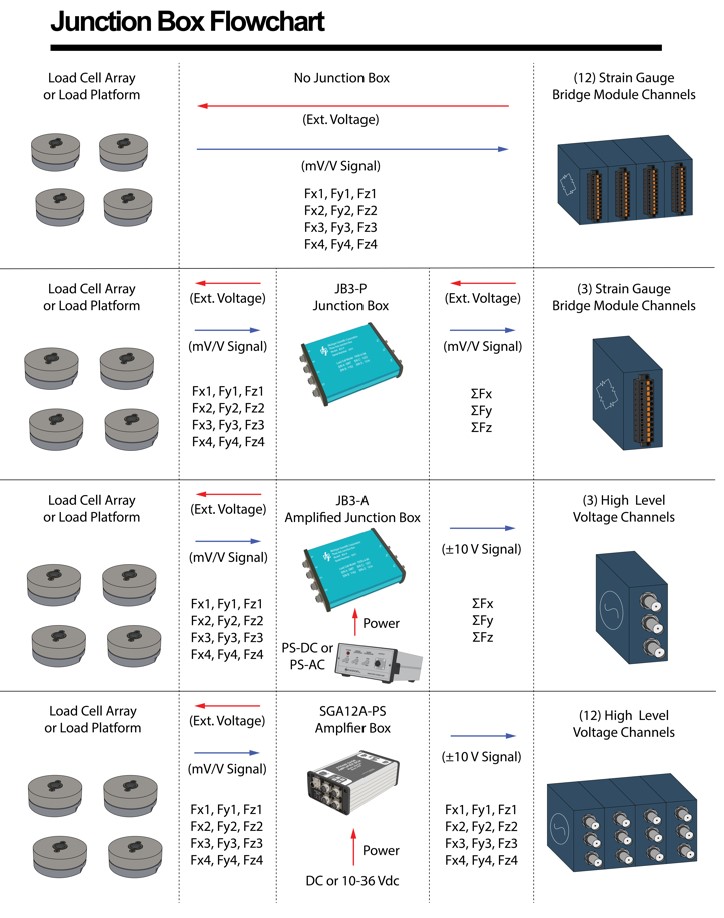 Applications
Endurance test bench
Vehicle testing
Machine building
Multiaxis Scales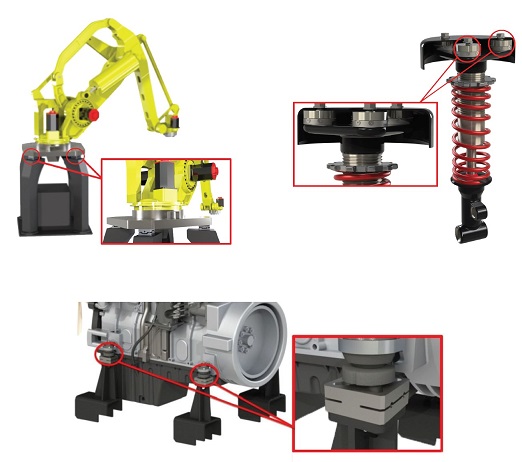 Type

Platform

Measuring Range

15000 , 45000 , 75000

Number of Axis

3 Axis

1500 2500 4500 7500 12000 Nm

Precision (max error)

1 %

Nonlinearity (% FS)

± 0.5 %

Temperature Compensated Range

24 to 93 °C

Température de fonctionnement

-49 to 150 °C

Zero Balance

0.2 %PE/°C

Output Signal

3.3 mV/V

Résistance du pont

250 Ω

Tension d'alimentation

10 Vcc

Measurement direction

Traction & Compress.

Housing

Steel

Protection Class

IP65

Measuring Range (Force)

100 - 250 kN

Application

Durability
Connectors and optional cable length may be specified by the customer
Custom wiring (cable length, connectors)
Data acquisition system
Encoder / Amplifier (with or without display)