Ref: TR6D-C-40K
6 Axis Load Cell - Square - 178 kN / 9.5kNm - Fatigue rated
Measuring Range Fyxz : 178 kN, Mxyz : 9.5 kNm
Nonlinearity : Forces ≤ 0.5% of full scale for X and Y axes; ≤ 1.5% of full scale for Z axis, Moments ≤ 0.5% of full scale for all channels
Dimensions (mm) : 152,40 x 152,40 x 76,20
Output Signal : 1.5 mV/V nominal, Fx, Fy, Fz, 5.0 mV/V nominal, Mx, My, 1.75 mV/V nominal, Mz
Housing: Stainless Steel IP65
Operating temperature range: -40°C à +149°C
Connector + 3,05 m cable included
NIST traceable calibration certificate included
Description:
Michigan Scientific's TR6D-C-40K Square Six Axis Load Cell is designed for applications that require both force and moment measurements. With 178kN force and 9500 Nm moment capacities, this rugged transducer is ideally suited for both field data acquisition and laboratory testing. The transducer has identical top and bottom mounting surfaces and bolt patterns, and can be easily adapted to an unlimited variety of applications.
High grade stainless steel material, in addition to weatherproof sealing, combine to provide excellent resistance to corrosion and environmental conditions. Temperature compensation of the transducer ensures stable output throughout a wide temperature range.
Specifications:
| Model | TR3D-C-40K |
| --- | --- |
| Measuring Range | Fxyz : 178 kN |
| Max moment per axis - Nm | 9500 |
| Output signal | 1.5 mV/V nominal, Fx, Fy, Fz, 5.0 mV/V nominal, Mx, My, 1.75 mV/V nominal, Mz |
| Dimensions [mm] | 152,40 x 152,40 x 76,20 |
| Weight | 7,5 kg |
| Thread | 8 x M20x2.5 |
Installation
The force is introduced thru 8 threads M20x2.5 located on both upper and lower surfaces of the sensor. The integration requires the design of specific mounting flanges. TR3D-D is powered over a voltage supply of 2.5 to 10VDC, the output signal is 1.25 to 1.5 mV / V for each of the 6 axes. A detachable cable of 3.05m and a calibration certificate are included. Optional signal conditioning and acquisition modules are available.
Dimensions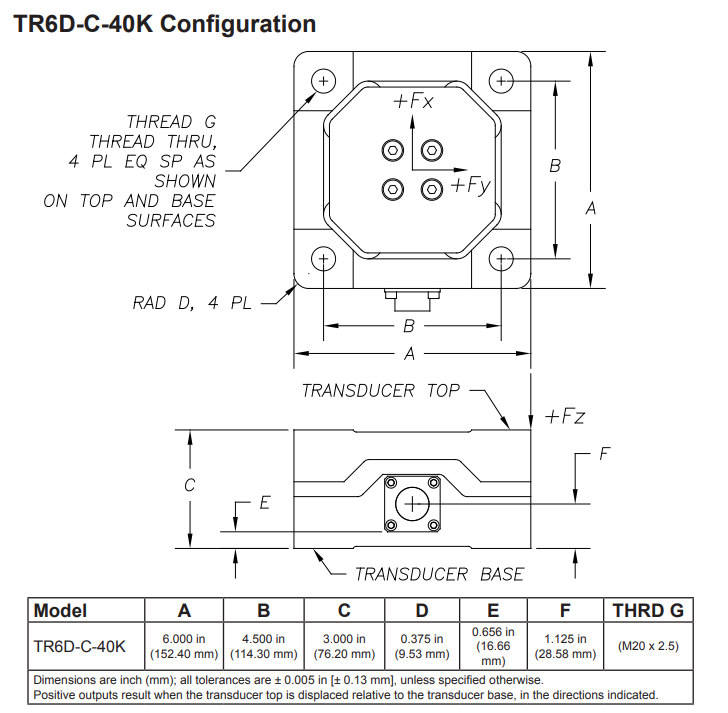 Applications
Vehicle testing
Agriculture
Durability testing
Type

6 axis sensor

Measuring Range

178000

Moment capacity

9500 Nm

Number of Axis

6 Axis

9500 Nm

Nonlinearity (% FS)

± 0.5 %

Hysteresis

0.5 % FS

Temperature Compensated Range

24 to 93 °C

Température de fonctionnement

-40 to 149 °C

Zero Balance

0.2 %PE/°C

Analog output signal

± 10 VDC

Output Signal

1.5 mV/V

Tension d'alimentation

10 Vcc

Measurement direction

Traction & Compress.

Housing

Steel

Protection Class

IP65

Measuring Range (Force)

100 - 250 kN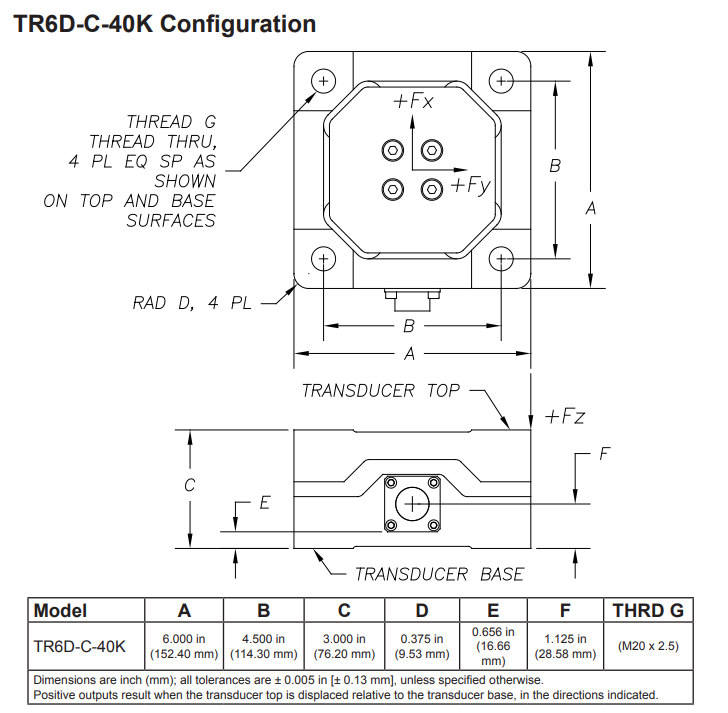 Custom wiring (cable length, connectors)
Special Calibration
Temperature range compensated
Data acquisition system
Encoder / Amplifier (with or without display)