Ref: TWHR2000
High Resolution Truck Wheel Torque Transducer – 2700 Nm
2700 N.m full scale measurable load and 27000 N.m maximum load capacity
Resolves 1,5 N.m
Use to measure Rolling Resistance, Brake Drag & Bearing Drag
Adapts to 22.5" and larger wheels
Environmentally protected
Temperature compensated
Rugged stainless steel construction
?
Introduction
The high-resolution wheel torque sensor TWHR2000 is intended for the instantaneous measurement of low wheel torques up to 1085 Nm. This torque range corresponds essentially to the loss torques in the absence of motor torque. The sensor is highly accurate (non-linearity ≤ 0.1% of span, hysteresis < 0.05% of full scale) and can be used over a wide temperature range without affecting the measurement (temperature compensation from 24 to 121 °C). The very fine resolution (0.27 Nm) makes it easy to calculate friction torques (transmission, braking) and rolling resistance in order to optimise fuel consumption.
Installation and use
The installation of the TWHR2000 sensor on the vehicle is done by means of a rim and a hub reproducing the dimensions and inertia of the serial parts. The design and manufacture of these parts are supervised by us. The rigidity of the sensor/adaptor assembly is verified by calculation. This approach allows the same transducer to be used on any type of vehicle, as long as the rim size is >= 14", and the torque at the wheel does not exceed 8.1 kNm. The sensor, made of stainless steel, is perfectly waterproof and can be used under all conditions, especially on wet, snowy and muddy tracks. The temperature range is very wide (-40°C to +177°C)
Acquisition
The power supply of the TWHR2000 sensor, and the feedback of the measurement signal to the data acquisition unit, is done by wire (rotating collector) or by telemetry. On the rotating collector version, it is possible to retrieve the wheel rotation speed as well as other measurement signals from the wheel (e.g. thermocouple, strain gauges, etc.).
| Rotating Collector | Telemetry |
| --- | --- |
| | |
The output signal is unamplified (3.25mV/V), signal conditioning solutions positioned at the wheel are available as options.
Applications
Transmission efficiency measurement
Aerodynamic drag measurement
Rolling resistance measurement
Study of braking efficiency
Measurement of actual consumption
Options and accessories
Rotating collector or telemetry
Output signal conditioning
Extension of the operating temperature range
Adapter parts
Strain gage bridge power supply module
Wheel speed
Wheel connector fixing kit (rotating collector)
Application

Automotive - LD veh.

Moment capacity

2700 Nm

High resolution Version

yes

Rim Size

22.5 - 23 - 24 - 25 - 26 "

Nonlinearity (% FS)

± 0.1 %

Hysteresis

0.05 % FS

Analog output signal

non-amplifié

Tension d'alimentation

10 Vcc

Température de fonctionnement

-40 to 177 °C
Outter diameter: 340,18
Inner diamerter: 198,02
Width: 25,65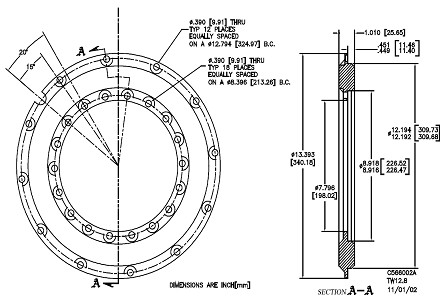 Rotating collector or telemetry
Output signal conditioning
Extension of the operating temperature range
Adapter parts
Strain gage bridge power supply module
Wheel speed
Wheel connector fixing kit (rotating collector)
Rotating collector or telemetry
Output signal conditioning
Extension of the operating temperature range
Adapter parts
Strain gage bridge power supply module
Wheel speed
Wheel connector fixing kit (rotating collector)