Ref: TW12.8HRMS175
High Resolution Wheel Torque Transducer – 237 Nm - Resol 0,1 Nm
Measuring range: 237 N.m
Measures low torques with 0.1Nm resolution
Torque capacity: 8.1 kN.m
For passenger cars, SUVs and small commercial vehicles
Non-linearity: 0.1% of full scale
Hysteresis: < 0.05% of full scale
Mounting on 14" and larger wheels
All weather use
Temperature compensation from 24 to 121°C
Signal transmission via rotating collector or telemetry
Optional temperature and speed measurement
?
Introduction
The wheel torque transducer TW12.8HRMS175 provides a real time highly sensitive measurement of the small torque fluctuations at the wheel (My) within a range of 237 Nm. Mechanical protection allows the transducer TW12.8HRMS175 to be used under normal driving conditions, supporting a maximum load of 8,1kNm, which hence fits most of the passenger cars, SUV and light duty vehicles. Highly accurate (non-linearity ≤ 0.1% of FSO, hysteresis < 0,05% of FSO), it is very stable to the temperature, thanks to the temperature compensated calibration between 24 and 121°C.
Installation
TW12.8HRMS175 is designed to attach itself to adapters that simulate production wheel rims. The adapter system is fabricated by generating a profile of the original wheel rim and designing a hub adapter and rim adapter, which fasten to the interior and exterior bolt circle respectively and duplicate the critical dimensions of the original rim. The versatility of this system allows the torque transducer to be used with various wheel rim designs, as long as the rim size is >= 14", and the maximum wheel torque does not exceed 8,1 kNm. High grade stainless steel material and weatherproof sealing combine to provide excellent resistance to corrosion and environmental conditions (rain, snow, ice, mud). The measure is stable over a wide operating temperature range (-40°C à +177°C). In addition, all wires are precisely located to reduce sensitivity to magnetic effects.
Signal acquisition
TW12.8HRMS175 strain gage bridge powering and the output signal transmission to the data acquisition system can be achieved by wire (slip ring) or wireless (telemetry). The transducer outputs a non-amplified signal (1,5mV/V), an amplifier can be added to the slip ring or telemetry in option. The slip ring version can include wheel speed information, as well as addition measurements (temperature, etc...).
| Slip ring | Telemetry |
| --- | --- |
| | |
Applications
Driveline efficiency measurement
drag torque measurement
rolling resistance measurement
braking system assessment
fuel consumption assessment
Options and accessories
Slip ring or telemetry
Signal conditioning (amplifier)
higher temperature capability
adapters (rim, hub)
Power supply
Wheel speed information (encoder)
slip ring mounting kit
Application

Automotive - LD veh.

Moment capacity

237 Nm

High resolution Version

yes

Rim Size

14 - 15 - 16 - 17 - 18 - 19 - 20 "

Nonlinearity (% FS)

± 0.1 %

Hysteresis

0.05 % FS

Analog output signal

non-amplifié

Tension d'alimentation

10 Vcc

Température de fonctionnement

-40 to 177 °C
Outter diameter: 340,18
Inner diamerter: 198,02
Width: 25,65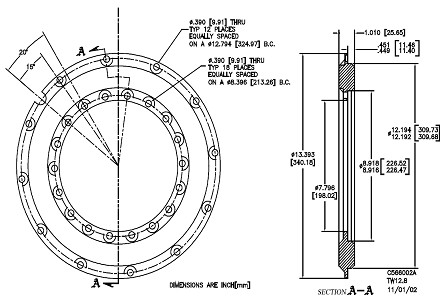 Rotating manifold or telemetry
Output signal conditioning
extension of the operating temperature range
Adaptation parts
Strain gage bridge power supply module
Wheel speed
Wheel connector fixing kit (rotary manifold)
Optional high resolution version (0.1 Nm) (TW12.8HRMS175)
Rotating manifold or telemetry
Output signal conditioning
extension of the operating temperature range
Adaptation parts
Strain gage bridge power supply module
Wheel speed
Wheel connector fixing kit (rotary manifold)
Optional high resolution version (0.1 Nm) (TW12.8HRMS175)