Ref: LIPS P118 - palpeur - ⌀ 19
Inductive probe - 0-2 to 0-50 mm - IP67 - ⌀ 19 - ATEX option
Type: Inductive probe
Measuring range: 0-5 to 0-50 mm
Non-linearity: 0.25% (0.1% optional)
Bandwidth: 0-10 kHz
Analogue voltage output
MTBF: 350,000 hrs at 104°F
Axial output connector or cable
Mounting: flange
Operating temperature: -40°F to 257°F
Construction: Stainless steel IP 67
Diameter: 19 mm
ATEX version (if Ex II 1G and Ex ia IIC T4 Ga optional)
?
Introduction
The LIPS P118 inductive probe allows precise measurement of position or displacement over ranges from 0-5mm to 0-50mm. Incorporating inductive technology, the P118 is designed for the harshest environments: operating temperature: -40 to +257°F, IP67, excellent durability (MTBF > 350,000 hours), 10g vibration resistance.
The analogue output signal is proportional to the absolute position (non-linearity: < ± 0.25mm for 100mm displacement, optionally reduced to ± 0.1mm). The resolution is infinite, the frequency response very high (> 10 kHz).

Installation
The sensor body is made of stainless steel, with a diameter of only 19mm. The fixed part (body) of the sensor P118 is fixed by a flange or clamps. The moving part, corresponding to the displacement measurement, is actuated by the spring in the sensor body. Clamps are also available.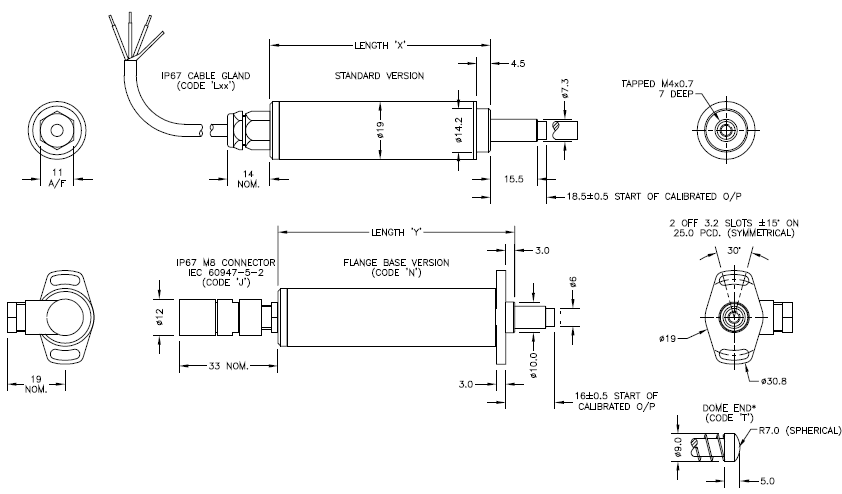 The electrical connection is either a connector or a cable, in axial position. Two potentiometers allow fine adjustment of zero and gain. The transducer is powered by a DC voltage, and incorporates conditioning electronics for a voltage type output signal :

ATEX version / Intrinsic safety
The LIPS X118 is the ATEX version of the P112. The LIPS X118 is certified Intrinsically safe Ex II 1G and Ex ia IIC T4 Ga (Ta= -40°F to 176°F) . The measurement performance and size are identical. The X118 must be used with an ATEX galvanic barrier, like the X005. The output signal is analogue, type 0.5 - 9.5V or 4-20 mA.
See LIPS X118 data sheet.
Applications
Linear displacement measurements
Vibration measurement
Displacement and control servoing
Position monitoring
Actuators on construction machinery
Technologie

Linear inductive

Etendue de mesure linéaire

50 mm

Measuring range

0 à ±50 mm

Nonlinearity (% FS)

± 0.25 %

Bande passante (-3 dB)

10000 Hz

Signal otuput

0-5 VDC, 0-10VDC, 4-20 mA

Analog output signal

0-5 VDC

Température de fonctionnement

-40 to 125 °C

Protection Class

IP67

Tension d'alimentation

5 Vcc

Housing

Steel

Application

ATEX, Taster
Dimensions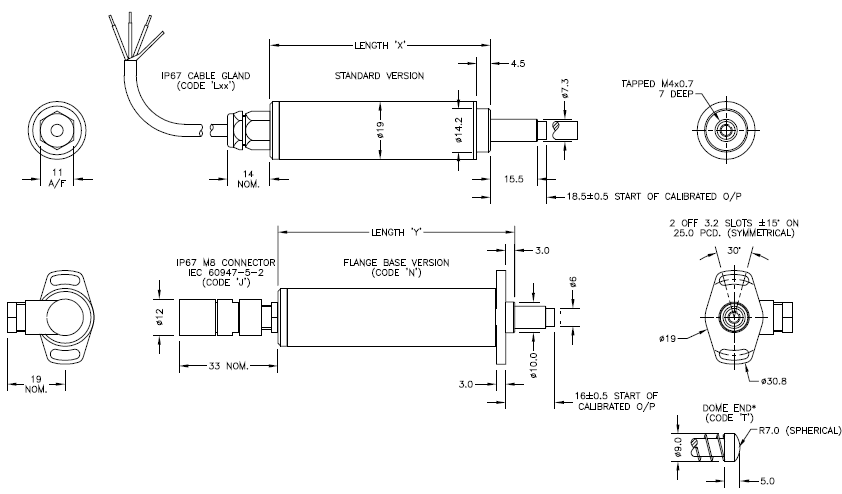 Option
Connector - Hirschmann GD series Axial, IP65
Connector - Axial IP67, M12 - 4 pin. Without trim adjustment
Connector - Axial IP67, M12 - 4 pin. With trim adjustment
Cable with M12 gland Axial, Gland, IP67
Cable with short gland Axial, Gland, IP67
Cable extension
Connector