Ref: LIPS P138
Inductive linear displacement sensor - 0-51 to 0-100 mm - IP67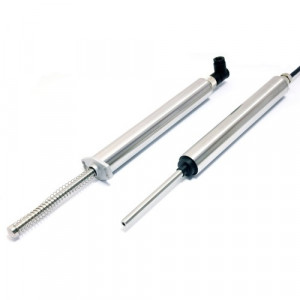 Type: Inductive probe or free core
Measuring range: 100 mm
Construction: Steel
Protection: IP 67
Operating temperature: -40°F to 257°F
Frequency response: 10 kHz
Body diameter: 19 mm
?
Introduction
The P118 family of probes has measuring ranges from 0 mm to 50 mm with a variety of options such as connector or cable outlet, ball and socket mounting. This probe is used for displacement or position measurement under particularly difficult conditions. The P118 inductive displacement transducer is a simple and cost-effective way to achieve accurate and complex displacement measurement. Electrical integration is facilitated by a number of options for the analogue output e.g. 0.5 to 4.5 Vdc, ± 5Vdc or 4-20mA. The sensor can be supplied with 5VDC, 24VDC or with a bipolar supply of ±5VDC or ±15VDC. The P103 has very good linearity and infinite resolution. The bandwidth is 10 kHz.
Mounting and measuring principle
The fixed part (body) of the sensor is fixed by means of a ball joint or a mounting flange. The movable part, corresponding to the displacement measurement, can be actuated by a spring (feeler) that pushes it permanently against the part to be measured. It can also be connected by a ball joint or by the threaded hole at the end of the rod. The measurement is made without contact between the fixed part and the moving element, by induction, allowing a very high number of cycles, MTBF > 350 000 hours.
Applications
The LIPS P118 sensor is recommended for :
Displacement measurements
Vibration measurement
Displacement and control monitoring
Position monitoring
Laboratory measurements
The table below shows the possible options for the P118
| Signal | Power supply | Charge |
| --- | --- | --- |
| 0.5-4.5 Vcc Ratiometric | + 5Vcc ± 0.5 Vcc, 10 mA | 5kΩ min |
| 0.5-4.5 Vcc | +24Vcc ou + 9-28Vcc -10 mA | 5kΩ min |
| 0.5-9.5 Vcc | +24Vcc ou + 9-28Vcc -10 mA | 5kΩ min |
| ± 10 Vcc | ± 15 Vcc ou ± 13.5-28 Vcc | 5kΩ min |
| 4-20 mA (2 files) | +24Vcc ou + 18-28Vcc -10 mA | 300Ω min |
Technologie

Linear inductive

Etendue de mesure linéaire

100 mm

Measuring range

±51 à ±250 mm

Nonlinearity (% FS)

± 0.25 %

Bande passante (-3 dB)

10 Hz

Analog output signal

0-5 VDC

Protection Class

IP67

Tension d'alimentation

5 Vcc

Housing

Steel
|-------------------------------------------------| | 51 mm to 70 mm 132.5 mm 138 mm | | 71 mm to 100 mm 162.5 mm 168 mm | | Plunger Ø 6mm | | For full mechanical details see drawing P138-11 | | Independent Linearity ≤ ± 0.25% FSO @ 20°C |19mm X 132.5mm X 162.5mm
Option
|--------------------------------------------------------------| | Connector - Hirschmann GD series Axial, IP65 | | Connector - Axial IP67, M12 - 4 pin. Without trim adjustment | | Connector - Axial IP67, M12 - 4 pin. With trim adjustment | | Cable with M12 gland Axial, Gland, IP67 | | Cable with short gland Axial, Gland, IP67 | | |
Cable extension
Connector