Ref: GA-750 - Palpeur LVDT ± 50 mm
Ruggedized industrial LVDT probe - 0 to ± 50 mm - AC or DC - Analog output
Industrial LVDT probe
Measuring range: ± 1.25 mm to ± 50 mm
Power supply: ± 15VDC, 24VDC or AC (3Vrms - 400Hz to 10KHz)
Output signal: unamplified, ± 10 VDC, 0-10VDC or 4-20mA
Non-linearity: 0.15 % PE
Repeatability: 0.6 µm - Resolution: infinite
Material: Nickel-iron alloy - Tightness: IP 67
Humidity resistance: 90% R.H., 240 hours
Operating temperature: -55 °C to 135 °C
High temperature versions, submersible, radioactive environment, etc. ...
?
High strength LVDT probe
The GA-750 series LVDT touch probe sensors provide instantaneous position measurement with excellent accuracy, high sensitivity and infinite resolution. The measuring ranges are from ± 1.27mm to ± 50mm.
The output signal of the GA-750 is proportional to the position of a core inside the sensor body, the core being moved by the probe. The output signal is either unamplified, a 0-10VDC voltage, a +/-10VDC voltage or a 4-20 mA current.
The sensor body is made of high-strength, corrosion-resistant nickel-iron alloy. The electrical connector is directly mounted on the sensor either axially or radially. The vibration resistance is 20 g at 2 kHz, the operating temperature range is -55°C to +135°C as standard and can be extended as an option.
Setup
The range
| Modèel | Profil | Connector | Operating temperature | Power supply | Output signal |
| --- | --- | --- | --- | --- | --- |
| GA-750 | Droit | axial | -55°C - 135°C | 3Vrms - 400Hz à 10KHz | non-amplifié |
| GAR-750 | Coudé | radial | -55°C - 135°C | 3Vrms - 400Hz à 10KHz | non-amplifié |
| GD-750 | Droit | axial | -20°C to 85°C | ± 15VDC | ± 10 Vcc |
| GDR-750 | Coudé | radial | -20°C to 85°C | ± 15VDC | ± 10 Vcc |
| GE-750 | Droit | axial | -20°C to 85°C | 24VDC | 0-10 VDC |
| GER-750 | Coudé | radial | -20°C to 85°C | 24VDC | 0-10 VDC |
| GI-750 | Droit | axial | -20°C to 85°C | 11-28 VDC | 4-20 mA |
| GIR-750 | Coudé | radial | -20°C to 85°C | 11-28 VDC | 4-20 mA |
Customization
extension of the operating temperature range
choice of probe (Standard: AGD #9 contact tip)
Applications
Industrial metrology
Flatness verification
Hydraulic machines
Nuclear power
Position control
Material testing
Monitoring of structures
Technologie

LVDT Sensor

Etendue de mesure linéaire

50 / 1.27 mm

Measuring range

0 à ±50 mm

Nonrepeatability

0.01 % FS

Nonlinearity (% FS)

± 0.15 %

Hysteresis

0.01 % FS

Signal otuput

analog (mV/V), 0-10VDC, ± 10 VDC, 4-20 mA

Analog output signal

0-10 VDC, 4-20 mA, ± 10 VDC, non-amplifié

Température de fonctionnement

-55 to 135 °C

Protection Class

IP67

Tension d'alimentation

3 Vrms - 400 Hz à 10 kHz

Housing

Steel

Application

High temperature, Taster
Axial connector version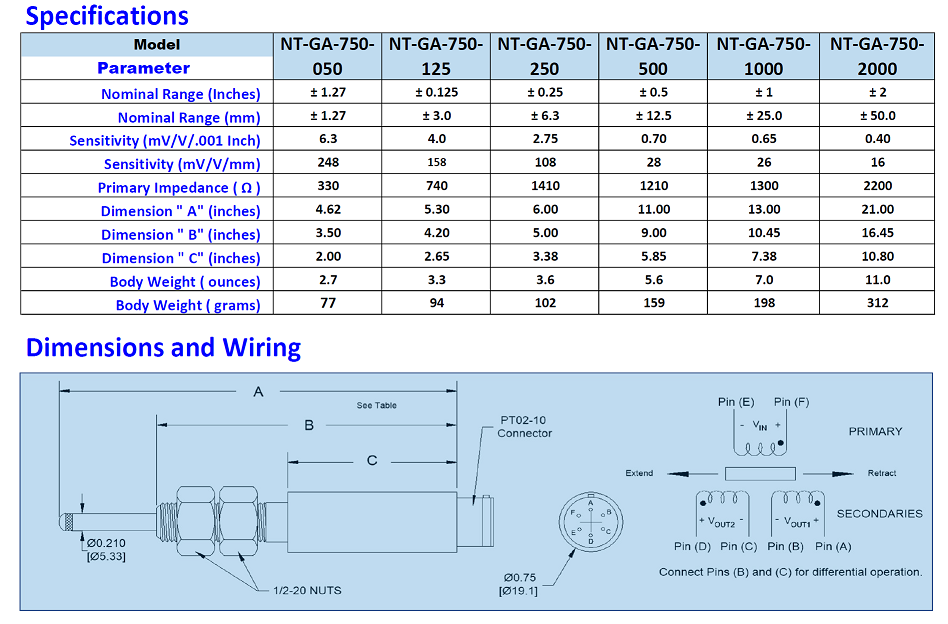 Radial connector version (angled)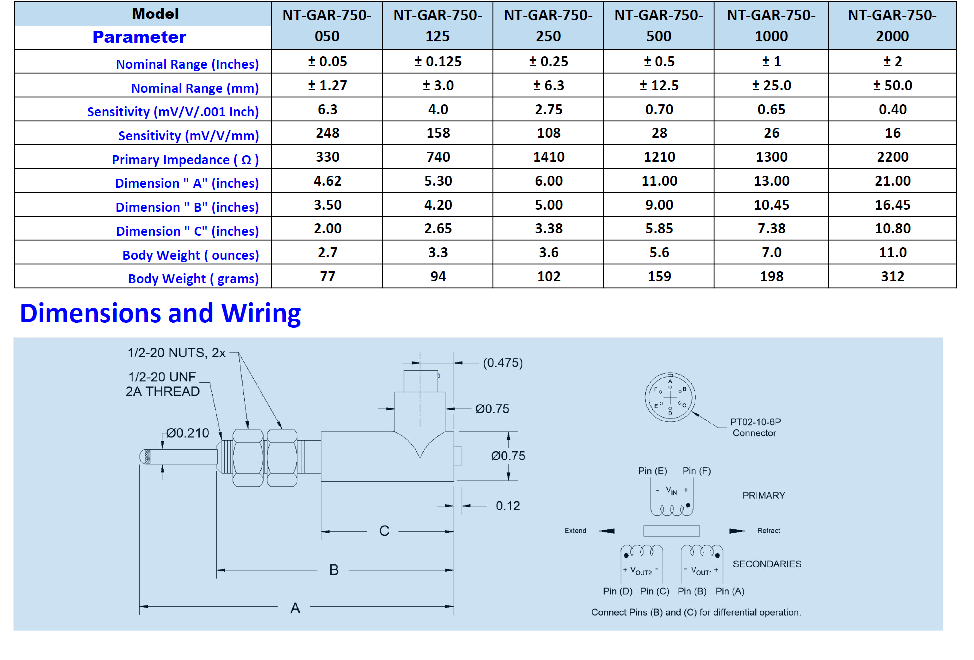 Special calibration with non-standard measuring range,
Temperature compensation of the sensors.
Special cable; connector on the cable, waterproof feedthrough.
Sensor cable length
Data acquisition
Calibration micrometer
Thickness gauge
12 or 24Vdc power supply
Product training and calibration technique
Display conditioner or conditioning electronics