Ref: MC12
6 components force platform - test bench, robotics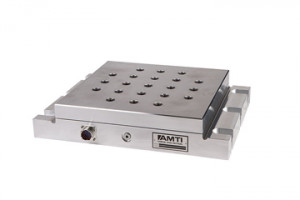 Measuring ranges: 4500 to 18000 N
Natural frequency: continuous to 880 Hz
Non-linearity : +/- 0.2 % PE
Transverse sensitivity: < 2 % PE CoF
Operating temperature: -18°C to 52°C
Dimensions: 305 x 406 x 78.74 mm
Protection class: IP61
Material: High resistance aluminum
Weight: 22.7 Kg
Force/torque platform 6 components - 20 kN
The 6-component platform MC12 simultaneously measures forces and moments in all 3 directions. The capacities Fxyz reach 9 kN / 9 kN / 18 kN, the torque capacities Mxyz 2,7 kNm / 2,7 kNm / 1,3 kNm. Other ranges are possible on request. The force is introduced via threaded inserts over the entire platform surface, and installation on machine tools and test benches is facilitated by the T-slot flange on the transducer base.
The MC12 platform has been designed to meet two expectations: robustness and accuracy. The measurement is accurate (non-linearity: 0.2%, cross-talk: 0.5%), repeatable and stable. The platform is made of a high strength aluminum alloy (7075-T6), the anodized surfaces provide protection against corrosion. The internal components are protected from dust and moisture intrusion by O-rings and protective coatings applied to the strain gauges.
Packaging
The platform generates 6 non-amplified analog signals, which are ideally processed with the dedicated conditioning module GEN5. This conditioning module automatically reads the calibration information stored in the internal memory of the platform and restores the real forces after application of the decoupling matrix and the real sensitivities on all axes in the form of an amplified analog signal (voltage), or a digital signal.
Specifications
| Model | MC12-1000 | MC12-2000 | MC12-4000 |
| --- | --- | --- | --- |
| Fz [N] | 4500 | 9000 | 18000 |
| Fx,y [N] | 2250 | 4500 | 9000 |
| Mz [Nm] | 340 | 680 | 1350 |
| Mx, My [Nm] | 680 | 1350 | 2700 |
| Fréquence de résonnance [Hz] | 450/880 | 580/1100 | 750/1400 |
Applications
Machining center / test bench
Robotics
Ergonomics and comfort
Biomechanics
Production surveillance
Type

Platform

Number of Axis

6 Axis

Precision (max error)

0.5 %

Nonlinearity (% FS)

± 0.2 %

Température de fonctionnement

-18 to 52 °C

Analog output signal

non-amplifié

Tension d'alimentation

10 Vcc

Measurement direction

Traction & Compress.

Housing

Aluminium

Protection Class

IP65

Measuring Range (Force)

1 - 100 kN

Application

High Accuracy, OEM
Analog output ± 5Vdc, 14 bits
Decoupling calculation
USB connection.
Digital output 16 Bits