Ref: SML
S-Beam load cell | Low height | ±22N to ±4500 N
low height S-Beam force transducer
Measuring direction : tensile and compression
Measuring range: ±22 N to ±4500 N
Non-linearity: ±0.05% FS
Non-repeatability: ±0.03 % FSO
Load drift: ±0.05% (20 minutes)
Compensated temperature: -15 to 65°C
Height: 18.6 mm
Connectez-vous à votre compte pour afficher les prix
Se connecter
Usual lead time : 2 to 8 weeks
Presentation
SML is a compact, high-performance force transducer designed to measure compressive or tensile loads up to 4.5 kN in the smallest possible space. Available in 10 measuring ranges from ±22 to ±4500N, its measurement accuracy is 0.03% of full scale, with a sensitivity of 3 mV/V. The S-shaped transducer is a very good compromise between price and metrological characteristics.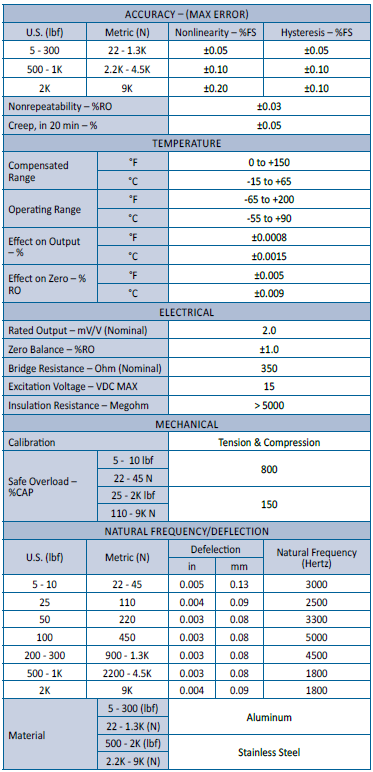 Installation
The force is applied via 2 M5 or M8 threads on either side of the sensor. SML load cell is supplied with a 2m cable, and has an operating temperature range of -15 to +65°C. S-shaped force transducers are used for force measurements on test machines and other general-purpose applications.
Dimensions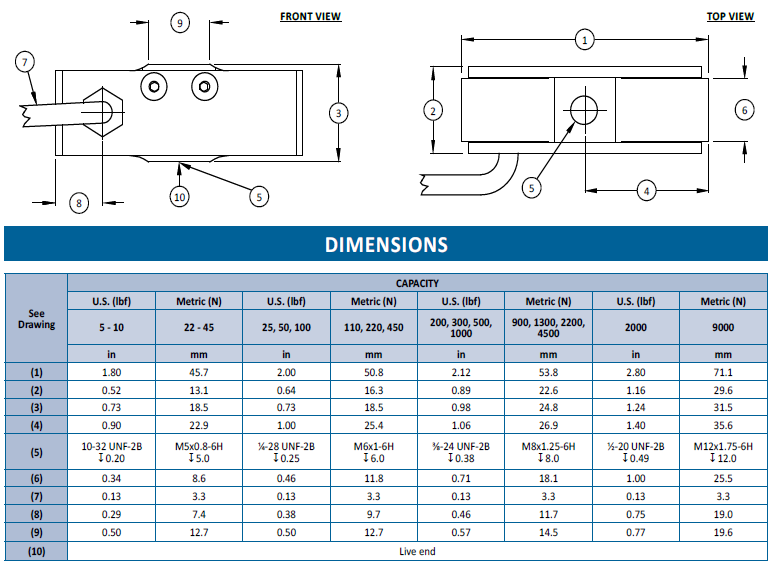 Signal conditioning and acquisition
The SM S-type load cell requires a voltage supply comprised between 2.5 and 10VDC.
Displays, Amplifiers and Data acquisition modules are offered wherever needed.
Refer also to selection below:
| GSV-2TSDI | MICRA-M | PMI-520AJ | GSV-1A | GSV-6K | GSV-6L | GSV-3USB |
| --- | --- | --- | --- | --- | --- | --- |
| 24-bit display with acquisition function | Display, 5 Digits | High accuracy analog amplifier, Rail Din | IP66 1-channel amplifier, Voltage or current output | In-line miniature amplifier, voltage / current output | Miniature PCB amplifier for OEM applications | Data acquisition module with USB interface |
| | | | | | | |
Applications
Production quality control
Material inspection
Material strength testing
Simple breaking force measurement
Practical work in technical training
Model testing
Special machine
Type

S-beam

Precision (max error)

0.25 %

Nonlinearity (% FS)

± 0.2 %

Hysteresis

0.10 % FS

Nonrepeatability

0.03 % FS

Temperature Compensated Range

10 to 45 °C

Température de fonctionnement

-55 to 90 °C

Zero Balance

0.009 %PE/°C

Output Signal

2.5 mV/V

Résistance du pont

350 Ω

Tension d'alimentation

10 Vcc

Measurement direction

Traction & Compress.

Surcharge

800 %PE

Protection Class

IP63

Measuring Range (Force)

⩽ 1 kN, 1 - 100 kN

Application

High Accuracy, Miniature
Dimensions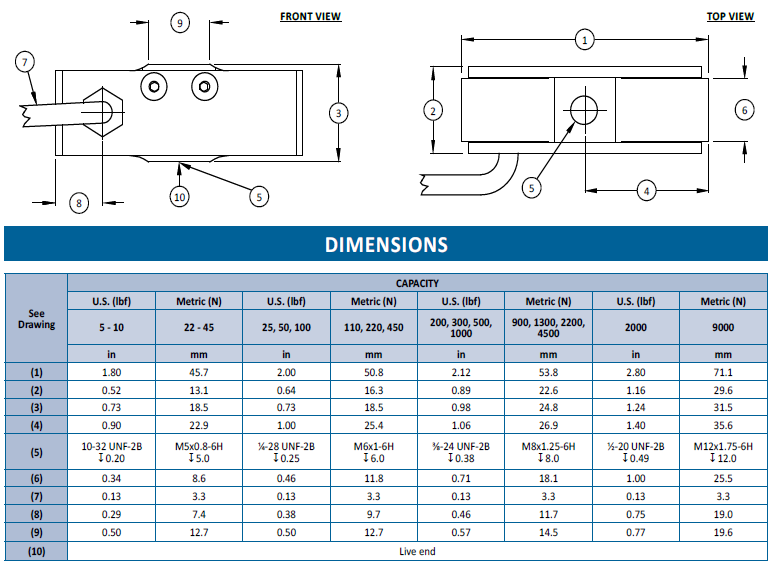 Electrical wiring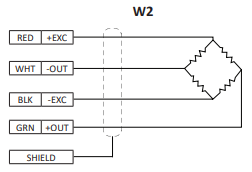 Standardized outputs
TEDS
Cable connector for data acquisition
Extended temperature compensation
Conditioning and acquisition electronics
Cable output on request
5-point calibration report
Display
Data acquisition module