Ref: ALW
Bolt force sensor - M4 to M38 - 0-20N to 0-133 kN - IP64
Load washer force transducer
For measuring compression forces on bolted assemblies
Measuring range: 0-20N, 0-40N, 0-100N, 0-200N, 0-450N, 0-1,1kN, 0-2,2kN, 0-4,5kN-0-9kN, 0-20kN, 0-32kN, 0-45kN, 0-90kN, 0-135kN
Inside diameter: M4 to M38
Dimensions: Ø 25.4 x 7 mm to Ø 76.2 x 25.4 mm
Non-linearity: 0.5% PE
Accuracy class: 1%.
Operating temperature : -15 to +80 °C
Output: 0.2mV/V (20N), 0.4mV/V (45N), 1mV/V (110N), 2mV/V (>220N)
Construction: IP64 stainless steel
Output: 1m, 2m or 3m cable as standard
5pts compression calibration certificate included
?
Presentation
The ALW load washer is a robust, cost-effective solution for measuring the compression force of bolted assemblies with bolt diameters from M3 to M38. Accuracy is around 1% of full scale.
Available in a wide range of size/capacity combinations, the ALW features robust design (stainless steel, IP 64, 150% overload protection) with an operating temperature range from -20 to 80°C.
Dimensions and versions available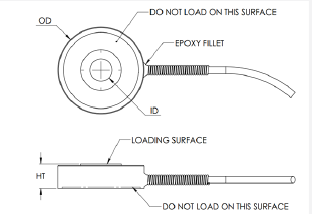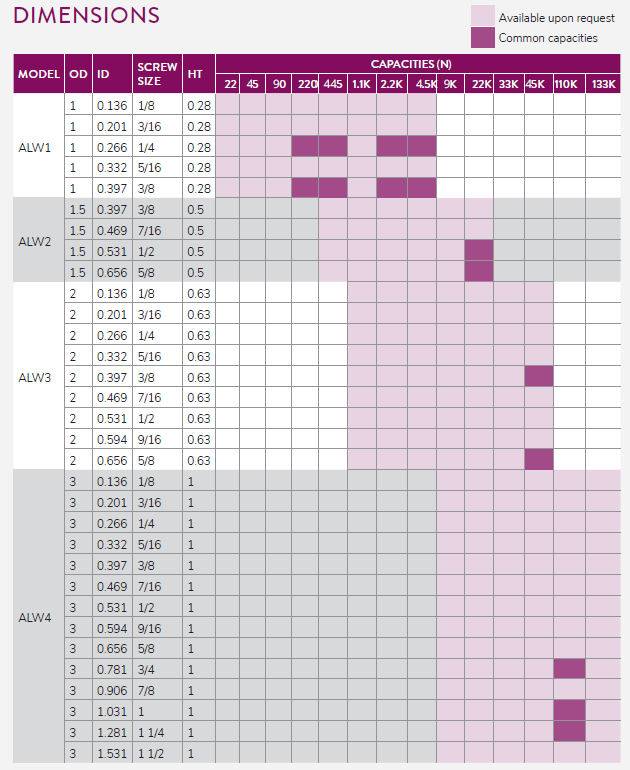 Operation
5 or 10VDC power supply. Unamplified output signal. Default connection: 1 x 3m cable.
GSV conditioning modules are recommended for output signal conditioning:
Electrical connections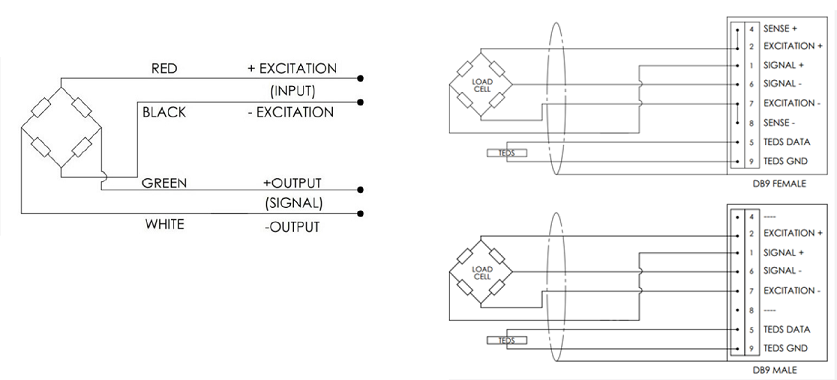 Applications
Clamping force measurement
Pre-stress measurement on bolted assemblies
Options and accessories
Temperature compensation extension
Cable length
Calibration
TEDS plug
Conditioning module
Display
Acquisition system
Type

Load washer

Measuring Range

30kN , 60kN , 15kN , 80kN , 120kN , 160kN

Precision (max error)

> 1 %

Nonlinearity (% FS)

± 2% %

Hysteresis

2 % FS

Nonrepeatability

0.3 % FS

Temperature Compensated Range

-15 to 70 °C

Température de fonctionnement

-20 to 80 °C

Zero Balance

0.03 %PE/°C

Sensibilité du gain

0.03 %/°C

Analog output signal

non-amplifié

Output Signal

1 mV/V

Résistance du pont

350 Ω

Tension d'alimentation

10 Vcc

Measurement direction

Compression

Déflection

- mm

Surcharge

150 %PE

Protection Class

IP65

Measuring Range (Force)

100 - 250 kN

Application

OEM, low cost
Dimensions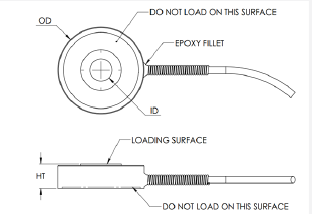 Electrical connections
3m Cable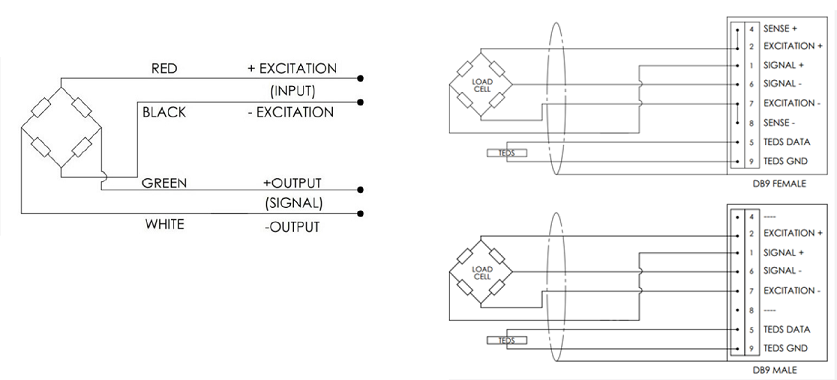 | Pin | Description | Wire color |
| --- | --- | --- |
| +Us | Supply + | red |
| -Us | Supply - | black |
| +Ud | Output + | green |
| -Ud | Output - | white |
Options and accessories
extended compensation temperature area
cable length
calibration
TEDS module
Amplifier, display
Acquisition module
Amplifier / Display
Acquisition module