Ref: 5511 LN | 5515 LN - 3 axes - IP67
3 axis accelerometer - MEMS capacitive - ±2g à ±400g - IP67
Very low noise capacitive triaxial accelerometer
Measuring range: from ± 2g to ± 400g
Accuracy: 1% of measuring range
Output: ± 4VDC
Bandwidth: 300 Hz to 1000 Hz depending on measurement range
Spectral noise density: 7 to 400 µg/√Hz
Housing IP67 Aluminium - 22g or steel (42g)
Power supply: 8 to 30 Vdc
Temperature: -40 to +100°C
Shock resistance: ± 4000g
Cable output, 8 or 12 wire differential output, 6 m long as standard
Calibration certificate included
Optional ISO 17025 calibration
?
Overview
The ASC 5511 LN / 5515 LN is a triaxial accelerometer based on capacitive MEMS technology, allowing, thanks to its high resolution and low noise sensitivity, the precise and reliable measurement of small variations in acceleration over measurement ranges from ±2g to ±400g on 3 x, y, z axes simultaneously.
The ASC 5511 LN / 5515 LN acceleration sensor has a frequency range between 100 and 1000 Hz depending on the model and is therefore suitable for the study of low and medium frequency dynamic behaviour. The good accuracy (less than 1% non-linearity) is achieved by compensating the calibration over a wide temperature range.
Operation
Signal output and installation
The amplified signal output of the ASC 5511 LN / 5515 LN (±4VDC) is independent of the supply voltage (8 to 30 VDC). With an IP67-rated housing made of hardened aluminium (20 g) or steel (40 g), an operating temperature range of -40 to +100°C, and a shock resistance of up to 4000g, the ASC 5511 LN / 5515 LN sensor is suitable for use in harsh industrial environments. Mounting is by screwing or gluing.
Wiring
The standard cable (30 gram/meter; PUR; AWG 30; Diameter: 4.4mm) is available in 8 or 12 wires. The standard length (6m) can be adjusted as required (limit of about 30m). A LEMO, Jaeger, BNC or other connector can be added as an option. A trident arrangement of the wires is also available as an option to simplify the connection to the acquisition system.

Options
Cable length
Connectors
ISO-17025 Calibration certificate
TEDS module
Applications
Automotive testing
Braking tests
Durability testing
Railway
Number of Axis

3 Axis

Technologie

MEMS capacitive

Type de produit

Accelerometer

Sensibility

2000 / 800 / 400 / 160 / 80 / 40 / 20 / 10 mV/G

Etendue de mesure linéaire

2 / 5 / 10 / 25 / 50 / 100 / 200 / 400 G

Bande passante (-3 dB)

100 , 300 , 500 , 650 , 1000 Hz

Analog output signal

± 5 VDC

Signal otuput

± 4 VDC

Tension d'alimentation

10 Vcc

Protection Class

IP67

Housing

Aluminium

0-5 g, 5-50g, 50-500g
Dimensions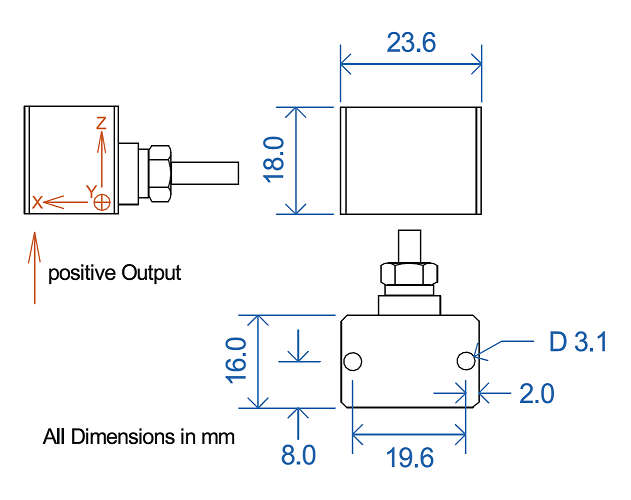 Connectique
8 wires : differential output with shared voltage supply
12 wires : Differential output with one voltage supply per channel

Cable length
Connectors
ISO-17025 Calibration certificate
TEDS module
Connectors
Mounting plates