Some equipment needs to be designed with the ability to perform under any conditions. A pintle hitch, for example, is used on vehicles and trailers in environments where standard ball mount trailer hitches may not be up for the job. Michigan Scientific is proud to provide instrumentation strong and accurate enough for testing equipment like the pintle hitch to ensure it really can perform in any environment.
A pintle hitch consists of a stationary mounting horn that creates the underside of a half circle and a latch that creates the upper side of the circle. The latch on the hitch closes around a pintle hitch ring secured to the trailer. This circular hitch mechanism entraps the ring completely but allows it to pivot as necessary. A pintle hitch is suitable for heavy-duty towing in off-road and all-terrain applications where a ball mount trailer hitch would become disconnected from its load. Pintle hitches also generally have a higher towing capacity because the tongue weight is comparatively less. Tongue weight is the vertical force the trailer tongue exerts on the hitch ball. Because of the pintle hitch and ring's flexible design, there is less downward force being exerted on the hitch which means it can pull more weight.
Integrating a load cell into the pintle hitch allows engineers to measure real world forces in different towing situations. The can be used to measure the forces at play in the system. The TR3D-C-40K can be mounted behind the pintle hitch ring on the trailer to provide accurate force data.
Three axis load cells measure forces in three orthogonal directions. The TR3D-C-40K has a maximum load capacity of 40,000 lbs (177 kN) per channel. It also has an 8,000 lb-ft (10.8 kN-m) moment capacity maximum per channel. The bolt pattern on a TR3D-C-40K corresponds to some pintle hitch ring bolt patterns perfectly, meaning easy installation. Michigan Scientific load cells are environmentally protected, temperature compensated, and housed in a compact unit designed to fit in testing environments with limited space. This durability and versatility makes them equally suitable for laboratory and field testing.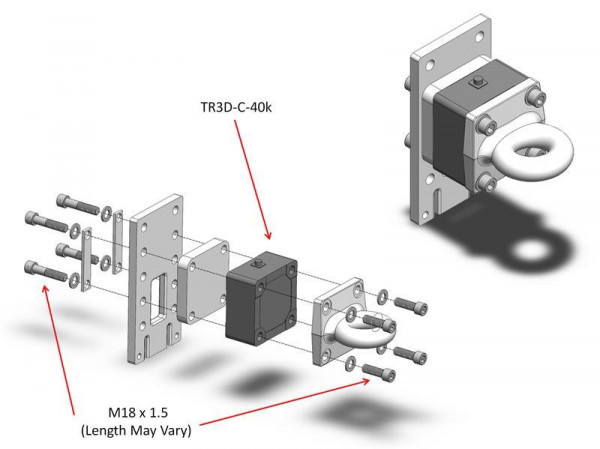 Michigan Scientific load cells come in a variety of models and can be used in any industry. with any questions regarding measuring forces on a pintle hitch or to inquire about other testing options and custom solutions.