Ref: AMP-SGx-U2
Modular Spinning 1 to 3 channel Strain Gage Amplifier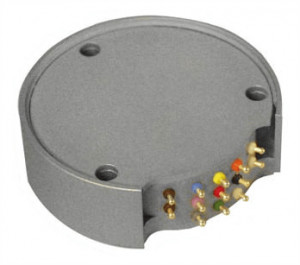 Highly accurate bridge excitation
1 to 3 channels for full-bridge strain gage
Provides high level voltage signal output
Externally adjustable shunt resistance
Externally adjustable gain
Precision low noise differential amplifier
Remote bridge excitation On/Off capability
Remote shunt calibration capability
Pilots on SR series slip ring rotors
Amplifiers are stackable for multi-channel use
?
Description
The Modular Spinning Strain Gage Amplifier is designed to mount on the rotor (spinning side) of all Michigan Scientific SR series slip rings. Superior data accuracy is achieved by locating the signal amplifier on the rotating side of the slip ring. This configuration greatly improves signal quality because the amplifier is located closer to the sensor which reduces errors due to long lead wires, connector resistance variations, and electro-magnetic interference.
These Modular Spinning Strain Gage Amplifiers incorporate a precision low drift bridge excitation supply, a stable differential amplifier, and a remotely activated shunt calibration resistor for system span verification.
Each amplifier module provides strain gage bridge excitation and amplification for two channels. For more than two channels, the amplifiers may be stacked or arrayed around an adapter plate. There is also a two and a three channel amplifier, resp. AMP-SG2-U2 and AMP-SG3-U2.
Specification
| Parameter | Specification |
| --- | --- |
| Bridge excitation voltage | ±2.5V, ±5V, ±8.5V or ±17V |
| Accuracy | 0,20% |
| Temperature coefficient | 0,0005%/°C |
| Gain | 100 & 2000 V/V |
| Output | ±10V |
| Frequency response | 1 to 10 kHz |
| Operating temperature | -55 to +125°C |
| Weight | 64 to 82 g |
Available models
| Models | Channels | Excitation Voltage |
| --- | --- | --- |
| AMP-SG-U2 | 1 | 5V |
| AMP-SG-U2-10 | 1 | 10V |
| AMP-SG-U2-17 | 1 | 17V |
| AMP-SG-U2-20 | 1 | 20V |
| AMP-SG-U2-BC | 1 | 5V + Complétude du pont |
| AMP-SG2-U2-2.5 | 2 | +/- 2,5V |
| AMP-SG2-U2-5 | 2 | +/- 5V |
| AMP-SG2-U2-10 | 2 | +/- 10V |
| AMP-SG3-U2-2.5 | 3 | +/- 2,5V |
| AMP-SG3-U2-5 | 3 | +/- 5V |
| AMP-SG3-U2-10 | 3 | +/- 10V |
Electronic type

Amplifier for Slip Ring

Input channels

1 , 2 , 3

Input signal type

SG bridge

Analog output signal

± 10 VDC

Datalogger

no

Tension d'alimentation

10 Vcc

Connecteur

Terminal 4 pin

Protection Class

IP40

Housing

Aluminium
Dimensions
37.5 x 8 x 15.2 mm
Housing for Slip ring
Power supply unit
Display