Ref: GSMTM - ±4.5 à ±445N - low cost
S beam low cost force transducer - ±4.5 to ±445N, overload protection: 10x
Miniature S-Beam Force Sensor - Tension / Compression
Measuring range: ± 4.5N, ± 9N, ± 20N, ± 45N, ± 110N, ± 225N, ± 445N
Dimensions: 16 X 19 X 8 mm
Weight: 9g
Non-linearity: ± 0.1% FS
Overload protection: 10x
Deflection: 0.1mm
Operating temperature: -51 to 93 ° C
Temperature gain sensitivity: 0.018% FS / ° C
Low drift: 0.025% (20 minutes)
Installation: 2 M3 threads
1.5m cable outlet
5 pts traction / compression calibration certificate included
?
Presentation
The GSMTM model is a precision S-beam force transducer for OEM applications. Available in 7 capacities from ± 4.5N to ± 445N, the GSMTM measures efforts in tension and / or compression with a non-linearity of 0.1% and with a minimal space requirement (only 16 X 19 X 8 mm and 9g).
The calibration is temperature compensated from -15 to 65 ° C, the operating temperature range is -50 to 95 ° C. The nominal sensitivity is of 2mV / V, and the output signal is unamplified. The sensor body is made of aluminum or stainless steel, and offers 1000% overload protection (200% in traction for the 225 and 445N versions).
Specifications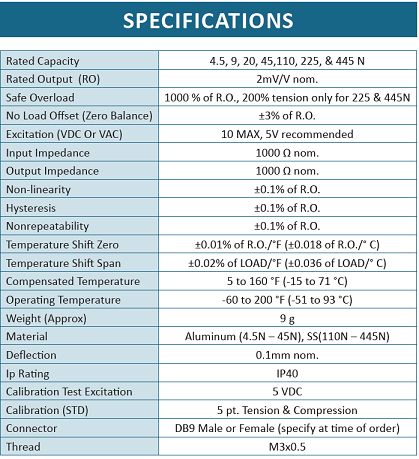 Installation
The force is applied via M3x0.5 threads on either side of the sensor. The GSMTM sensor is supplied with a 1.5m cable.
Signal conditioning and acquisition
The S GSMTM requires a voltage input of 5 to 10 Vdc. Instrumentation devices and data acquisition modules are available as well
Display: used to view the measurement directly in units, to manage thresholds, max values -min and an amplified output.
Amplifiers: Amplifies the measurement signal and delivers a voltage or a current (± 5, ± 10 VDC, 0-10 VDC or 4-20 mA).
Data Acquisition systems: Transmission of measurement signals to a PC, a programmable logic controller, a recorder or a SCADA type supervision application. Post-processing of measurement data via Excel or Matlab.
Applications:
Quality control in production
Instrumentation of machines / tools, test benches
Type

S-beam

Measuring Range

±4.5N , ±9N , ±20N , ±45N , ±110N , ±225N , ±445N

Precision (max error)

≤ 0.1 %

Nonlinearity (% FS)

± 0.1 %

Hysteresis

0.1 % FS

Nonrepeatability

0.5 % FS

Temperature Compensated Range

-15 to 65 °C

Température de fonctionnement

-50 to 95 °C

Zero Balance

0.018 %PE/°C

Sensibilité du gain

0.010 %/°C

Analog output signal

non-amplifié

Output Signal

2 mV/V

Résistance du pont

350 Ω

Tension d'alimentation

10 Vcc

Measurement direction

Traction & Compress.

Surcharge

1000 %PE

Protection Class

IP65

Measuring Range (Force)

⩽ 1 kN

Application

High Accuracy, low cost, Miniature
Standardized outputs
TEDS
Connector on cable for acquisition
Extended temperature compensation
Packaging and acquisition electronics
Cable outlet on request
Standardized outputs
TEDS
Connector on cable for acquisition
Extended temperature compensation
Packaging and acquisition electronics
Cable outlet on request