Ref: TD175 | couple statique Ø108
Hollow shaft torque meter | 10 Nm to 50 Nm | flange mounted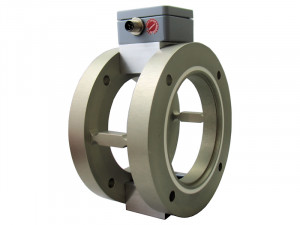 Static torque meter
Measuring range: +/-10 Nm; +/-20 Nm or +/-50 Nm
Accuracy class: 0.1 % ;
Dimensions: Ø175 mm x 98 mm;
Mounting diameter: 149 mm;
Bore: 108 mm;
Connection: M12 connector + 5m cable SAC-5P- 5,0-PUR/M12FS SH ;
Materials: aluminium IP65
Axial and radial force limit: 500N
Weight: 2092 g;
?
Introduction
The TD175 torque transducer is used in test benches to measure reaction torque (non-rotating). The torque transducer consists of two flanges connected by 4 strands of strain gauges. Both flanges have the same primary diameter of 149 mm. The centering is done by a Ø114.3 flange. The TD175 torque meter is available in 3 measuring ranges: +/- 10Nm, +/- 20Nm, +/- 50Nm. The accuracy is 0.1%.
Due to the large diameter of the TD175 torque transducer and the arrangement of the measuring radii in the axial direction, this torque transducer can also withstand bending moments of up to 200 Nm, and maximum axial and lateral forces of 500N.
Packaging and acquisition
The TD175 torque meter is powered by 2.5 to 10 Vdc. Possibility of obtaining a complete and configured measurement chain by adding a display, conditioner or acquisition module. See our selection :
Display : allows to display the measurement directly in units, to manage thresholds, max-min values and an amplified output.
Conditioner : amplifies the measurement signal and outputs a voltage or current (±5, ±10 VDC, 0-10 VDC or 4-20 mA).
Acquisition system : Transmission of measurement signals to a PC, PLC, recorder or SCADA application. Post-processing of measurement data via Excel or Matlab.
Applications
Applications where junction devices, hydraulic or electrical lines must pass through the sensor.
rotatif / statique

static

Moment capacity

10 / 20 / 50 Nm

Measuring Range (Torque)

1 - 10 Nm, 10 - 100 Nm

Montage_Capteur

flange

Max rotation speed

0 rpm

Nonlinearity (% FS)

± 0.1 %

Nonrepeatability

0.05 % FS

Hysteresis

0.25 % FS

Signal otuput

analog (mV/V), 0-10VDC, 4-20 mA

Sortie régime

Oui

Tension d'alimentation

10 Vcc

Protection Class

IP40

Poids

2,092

Cable

connection: M12 round plug, 5 m cable SAC-5P- 5,0-PUR/M12FS SH
Measuring range
Integrated packaging
Display
Acquisition system