Ref: LIPS S115 - immergeable - durci
Submersible Slim-Line Linear Position Sensor - 0 to 800mm
100m submersible inductive linear displacement transducer
waterproof: IP68 10 bar
measuring range: from 0-5mm to 0-800mm
Material: stainless steel
Mounting: threaded rod or ball joint
Output signal: analog (voltage or 4-20 mA)
Connection: IP68 cable output
Operating temperature: -40 °C to 125 °C
Frequency response: 10 kHz (300 Hz in 4-20 mA output)
Body diameter: 35mm
MTBF > 350.000 h
?
Introduction
The S115 inductive linear displacement transducer is a hardened version of the S114. It offers a better resistance to vibratory environments. Like the S114, it can measure displacements up to 800mm, and up to 100m in depth, with an accuracy better than 0.5%, a bandwidth of 10kHz and a virtually infinite resolution. The measurement range is customizable between 0-5 mm and 0-800 mm in 1 mm increments. The output signal is perfectly linear with the displacement.

The sensor is characterized by its excellent robustness and stability, obtained thanks to the hardened 316 stainless steel construction and the inductive measurement principle, which generates no contact between the fixed part (the body) and the moving element. This design allows to obtain an extremely stable and repeatable measurement even in severe industrial environment in temperature (temperature range: up to -40 to + 257°F), vibration, EMC, corrosive, dusty or wet.
Installation
The fixed part (body) of the sensor S115, with a diameter of 35mm, is fixed by means of a ball joint M5 or clamps. The mobile part, corresponding to the displacement measurement, can be connected either by a ball joint or by an M8 threaded rod. A probe version is possible up to 300mm stroke. The electrical connection is an IP68 waterproof cable, in axial or radial position.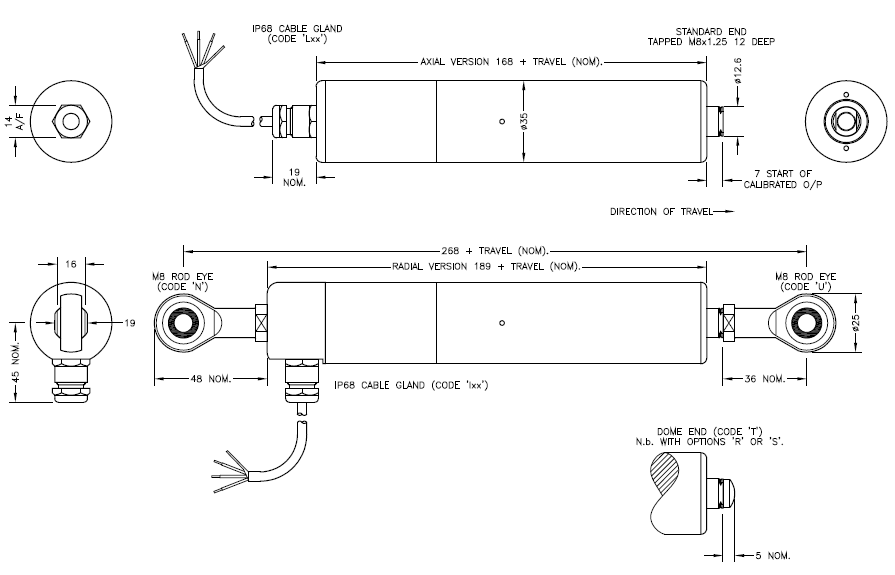 The sensor is powered by a DC voltage, and integrates the conditioning electronics for a voltage or current type output signal compatible with any analog acquisition system.

2 potentiometers allow fine adjustment of zero and gain.
Applications
The LIPS S115 sensor is recommended for:
Seawater displacement measurements
Vibration measurement
marine instrumentation
Off-shore platforms
Offshore wind turbines
Position monitoring
Technologie

Linear inductive

Etendue de mesure linéaire

800 mm

Measuring range

0 à ±50 mm, ±51 à ±250 mm, ± 251 à ±2 m

Nonlinearity (% FS)

± 0.25 %

Bande passante (-3 dB)

10000 Hz

Signal otuput

0-5 VDC, 0-10VDC, ± 5 VDC, ± 10 VDC, 4-20 mA

Analog output signal

0-5 VDC

Protection Class

IP68

Tension d'alimentation

5 Vcc

Housing

Steel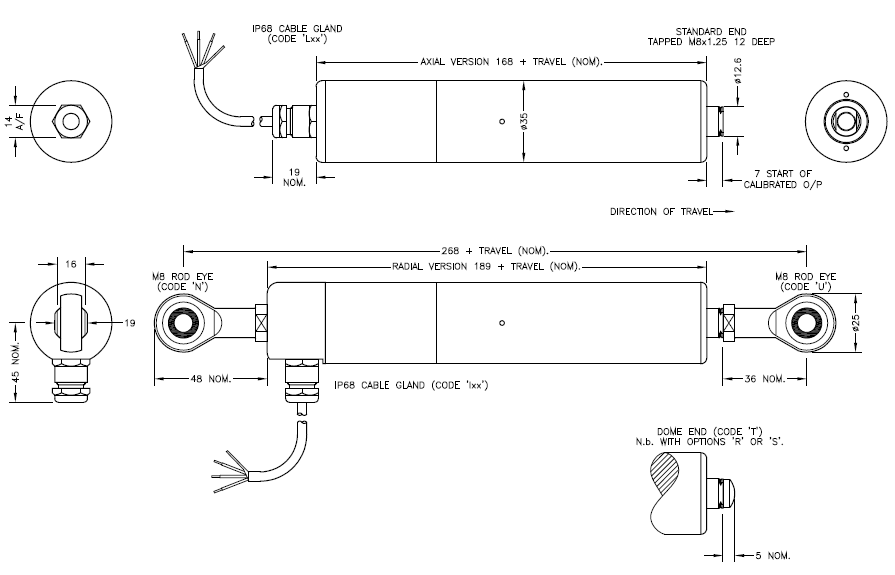 Cable extension
Connector