Ref: KM70z - ⌀70 - IP67
Miniature tension force transducer - 200 kN - IP67
type: tensile and compressive force sensor;
nominal force: 200 kN;
accuracy class: 0,5/1 %;
dimensions: Ø70 mm x 260 mm;
force transmission: 2 x 80 mm male thread M45x3;
connection: integrated round plug connector M12, 4-pole, male;
incl. 10m cable with round plug connector M12, 4-pole, female;
material: stainless steel;
?
Overview
The KM70z force sensor is a tension/compression force sensor with compact dimensions. Two M45x3 coarse-feeding threads are provided for application of force.
The protection class is IP67. Connection is made with an M12 connector. 10m assembled connecting cable is included in scope of delivery.
The KM70z sensor is designed for use in harsh industrial environments. It has a wide operating temperature range (-10 to +85°C), a stainless steel body with IP67 sealing, and an ultra-rigid design for high bandwidth and vibration resistance (resonance frequency: 10 kHz).
Dimensions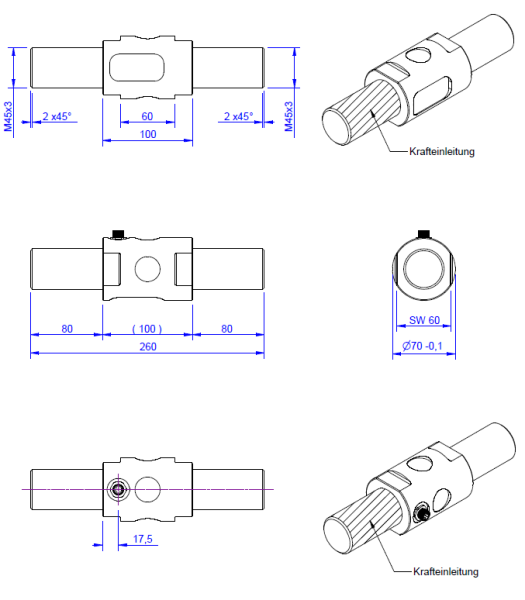 Applications
Tensile force measurement
marine
Type

Column

Measuring Range

200000

500 Nm

Precision (max error)

0.5 %

Nonlinearity (% FS)

± 0.5 %

Hysteresis

0.05 % FS

Temperature Compensated Range

-10 to 70 °C

Température de fonctionnement

-10 to 85 °C

Zero Balance

0.02 %PE/°C

Sensibilité du gain

0.02 %/°C

Analog output signal

non-amplifié

Output Signal

1 mV/V

Résistance du pont

350 Ω

Tension d'alimentation

10 Vcc

Measurement direction

Traction, Traction & Compress.

Déflection

0.04 mm

Surcharge

200 %PE

Housing

Stainless Steel

Protection Class

IP67

Measuring Range (Force)

100 - 250 kN

Application

OEM, low cost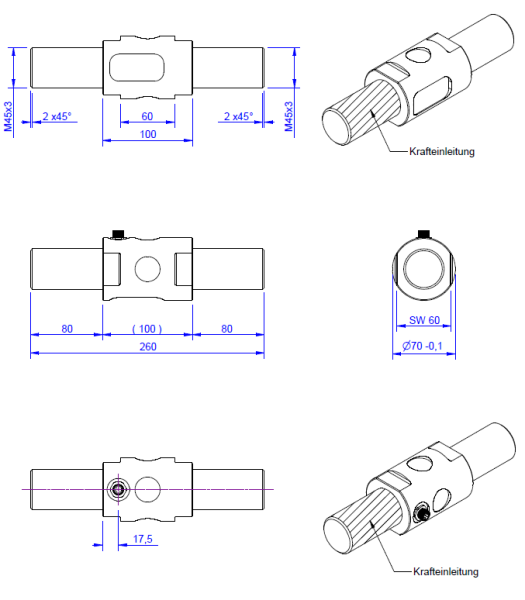 Connector on cable for acquisition
Extended temperature compensation
Electronics for conditioning and acquisition
Connector output on request
TEDS
Amplifier
Display
Specific wiring