Ref: KD34s- ±250 mN à ±10N
S-Beam force transducer | ±250mN to ±10N | accuracy 0,1% | IP65
type: s-form force sensor;
nominal force: ±250mN, ±500mN, ±1N, ±2N, ±5N, ±10N
Direction: Tension and compression
Signal output: 0.5 mV/V
accuracy class: 0,1 %
Dimensions: 34 mm x 10 mm x 24 mm
force transmission: 2 threads M3x0,5 + 2 x centering pin holes diameter 5 H7
Operating temperature : -10 à 85°C
connection: 2 m STC-31V-4
material: aluminium alloy IP65
weight: 30 g;
?
Introduction
The force sensor KD34S is designed to measure the smallest efforts (25gr to 1 kg). It is excellently suited for testing tasks in quality assurance as well as in material testing and medical. The accuracy of 0.1% is already reached at an output of 0.5 mV/V.
Due to integrated stop against overload is this sensor also in measuring range of 0,25 N and 0,5 N even safer to use. In the 0,5 N version special strain gauges of platinum- nickel alloy are used with higher input sensitivity by factor 2 to conventional strain gauges of constantan. The stiffness of the sensors 0.25N and 0.5N is therefore identical.
Installation
Inward and outward force transmission are arranged centrically. In addition to M3 threads for the force transmission, force sensor also has boreholes diameter Ø2, which are used for orientation of the force sensor or for mounting of adapters.
Signal conditionning
KD34S requires a voltage supply between 2.5 and 10V. Displays, Amplifiers and Data acquisition modules are offered wherever needed.
Applications
Weighing
Material testing
Medical
Type

S-beam

Measuring Range

±2N , ±10N , ±500mN , ±1N , ±5N , ±10N , ±250mN

Precision (max error)

≤ 0.1 %

Nonlinearity (% FS)

± 0.02 %

Hysteresis

0.02 % FS

Nonrepeatability

0.1 % FS

Temperature Compensated Range

-10 to 70 °C

Température de fonctionnement

-10 to 85 °C

Zero Balance

0.02 %PE/°C

Sensibilité du gain

0.01 %/°C

Analog output signal

non-amplifié

Output Signal

0.5 mV/V

Résistance du pont

350 Ω

Tension d'alimentation

2.5 - 5 VDC

Measurement direction

Traction & Compress.

Déflection

0.02 mm

Surcharge

200 %PE

Protection Class

IP65

Measuring Range (Force)

⩽ 1 kN

Application

High Accuracy, OEM, Miniature
Dimensions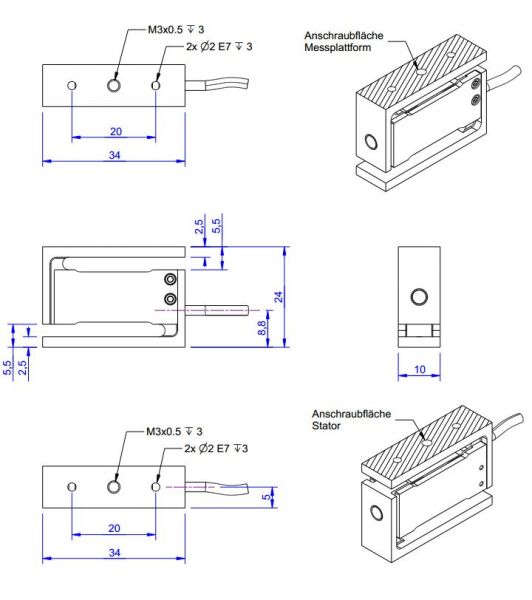 ​
Electrical connection
Câble STC-31V-4 2m 4 fils open ​
| Pin | Signal | Wire color |
| --- | --- | --- |
| +Us | Supply + | Red |
| -Us | Supply - | Black |
| +Ud | Signal + | Green |
| -Ud | Signal - | White |
Connector on cable for acquisition
Extended temperature compensation
Packaging and acquisition electronics
Connector output on request
TEDS module