Ref: LCS130 - 500 à 2000 kg
bending beam load cell - 500kg to 2 tons
type: shear beam load cell;
nominal force: 500kg, 1t, 2t;
accuracy class: C3 (0,04%);
dimensions: 130mm x 32mm x 32mm;
force transmission: 1x tap hole M12x1,75;
connection: 3m/6m cable PVC;
material: stainless steel 1.4542;
weight: 778 to 1030 g;
Connectez-vous à votre compte pour afficher les prix
Se connecter
Presentation
The load cell LCS130 is used in platform-type weighing scales. Three to four load cells support a platform of any size. The output current calibration allows parallel connection of the load cells for operation at a common measuring amplifier without additional equalization.
The platform is placed on the weighing platform using three or four height-adjustable elastomer bearings (EL 120), in order to avoid twisting.
The load cell LCS 130 conforms to the stringent European requirements for use in calibration-obligatory weighing scales. The method of protection is IP 67.
Various solutions are offered for the output amplification including:
Indicators
Miniature signal amplifiers as GSV-1M
Specifications
| Measuring Range | 500 kg, 1 or 2 tons |
| --- | --- |
| Accuracy | C3 (0,04) % |
| Dimensions | 130mm x 32mm x 32mm |
| Output signal | 2mV/V |
| Max operating force | 300% |
| Electrical connection | Cable output, 6 conductors, 6m |
Dimensions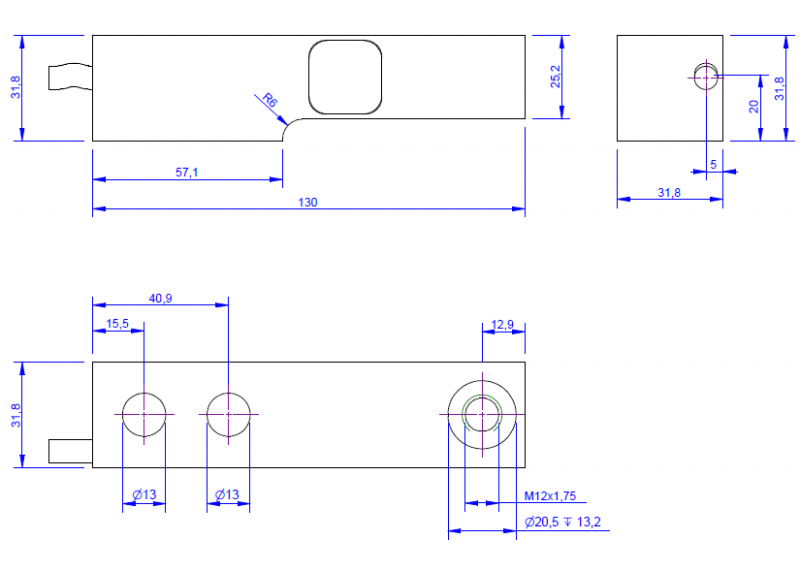 Applications
weighting
Test rigs
Industrial scales
Type

beam sensor

Measuring Range

500kg , 1000kg , 2000kg

Precision (max error)

≤ 0.1 %

Nonlinearity (% FS)

± 0.03 %

Hysteresis

0.3 % FS

Nonrepeatability

0.01 % FS

Temperature Compensated Range

-30 to 70 °C

Température de fonctionnement

-10 to 85 °C

Zero Balance

0.008 %PE/°C

Analog output signal

non-amplifié

Output Signal

0.5 mV/V

Résistance du pont

350 Ω

Tension d'alimentation

10 Vcc

Cable

cable 1 m STC-31V-4

Measurement direction

Flexion

Déflection

0.1 mm

Surcharge

300 %PE

Aluminium ou Acier inoxydable

Protection Class

IP65

Measuring Range (Force)

100 - 250 kN

Application

High Accuracy, low cost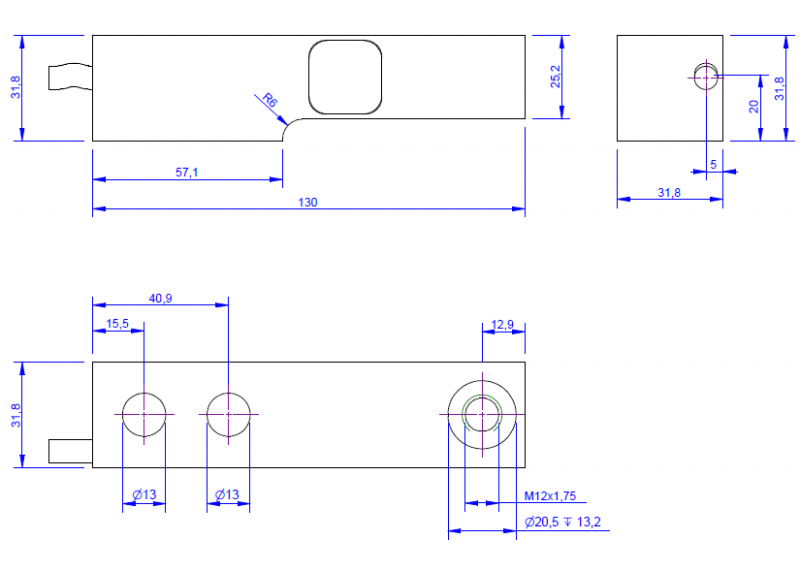 operating temperature
material
measuring range
calibration