Ref: LFM
Linear displacement sensor - 0-10 to 0-300 mm - Rod-eye bearing
Type: Potentiometric linear displacement sensor
Measuring range: 0-10 to 0-300 mm
Non-linearity: 0.25%
Output: potentiometric, 0-10V or 4-20 mA
Radial output connector (DIN43650) or cable
Mounting: 2 rod-eye, M5
Temperature range: -30°C to 100°C
Construction: Aluminium & Stainless Steel
Lifetime: 100 million cycles
Protection: IP40 (IP65 in option)
?
Présentation
The LFM is a potentiometric linear displacement sensor available in 10 ranges from 0-10mm to 0-300mm, it is DC powered, and is available in 3 output types: potentiometric, 0-10V or 4-20 mA
The output signal is linear with the absolute position (e.g. non-linearity: < ± 0.20mm for 100mm displacement)
Specifications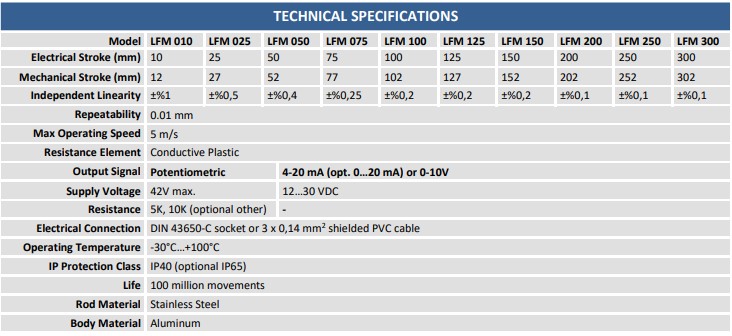 Installation
The sensor body is made of aluminium, the moving part of stainless steel. The sensor LTP is installed with the help of 2 rod-eyes M5.
Dimensions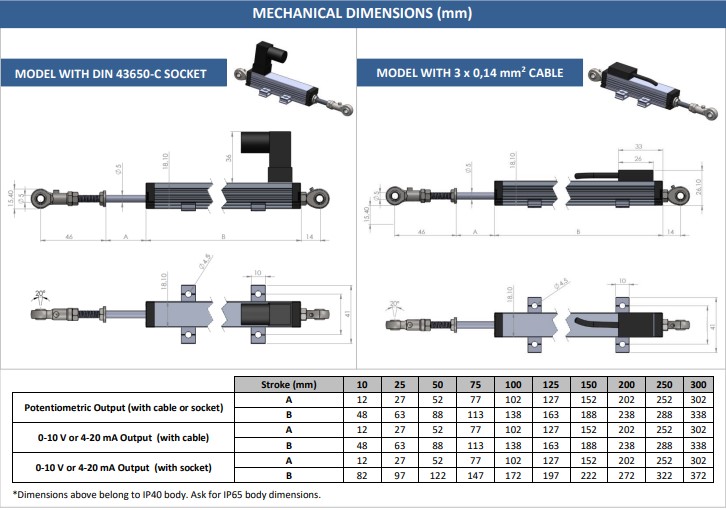 The electrical connection is either a connector (DIN 43650) or a cable, in radial position.

Applications
Linear displacement measurements
Machine tool instrumentation
Position monitoring
Test benches
Press instrumentation
hydraulic machinery
textile machinery
Technologie

linear potentiometric

Etendue de mesure linéaire

50 / 75 / 100 / 125 / 150 / 200 / 250 / 300 / 10 / 25 mm

Measuring range

±51 à ±250 mm, ± 251 à ±2 m

Nonrepeatability

0.01 % FS

Nonlinearity (% FS)

± 0.25 %

Signal otuput

0-10VDC, 4-20 mA

Température de fonctionnement

-30 to 100 °C

Protection Class

IP40, IP65

Housing

Aluminium

Cable

Connector or cable
Dimensions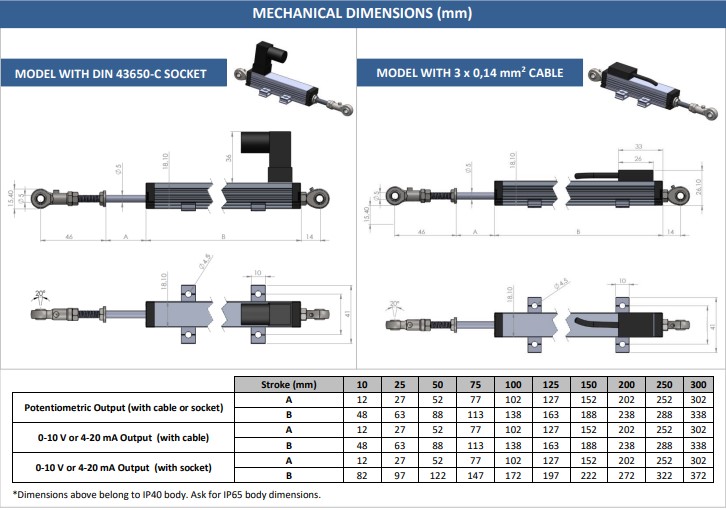 Connectivity

Connection (connector or cable, position)
Mounting
Probe
Range