Ref: LIPS P137 - ⌀ 19 mm
Inductive linear displacement transducer 0-350 to 0-600 mm - IP67 - Slim line
Non-contact linear displacement transducer
Measuring range : 0-350 to 0-600 mm
Non-linearity : 0.25% (0.1% optional)
Bandwidth : 0-10 kHz (0-300Hz in 4-20 mA)
Analog voltage or current output
MTBF : 350,000 hrs at 25°C
Axial output connector or cable
Mounting : threaded rod or ball joint
Operating temperature : -40°C to +125°C
Construction : Stainless steel IP67
very compact - Diameter: 19mm
Calibration certificate included
Introduction
P137 is an affordable, durable, high-accuracy position sensor designed for industrial and scientific feedback applications. It is particularly suitable for OEMs seeking good sensor performance for arduous applications such as industrial machinery where cost is important.
The non-contact, inductive technology offers excellent durability (MTBF > 350,000 hours). Another advantage is the infinite resolution and excellent frequency response (> 10 kHz) for high dynamic control or vibration studies. The unit is very compact and space-efficient with a small 19mm diameter body. The sensor is very robust, the body and push rod being made of stainless steel.
The sensor is easy to install with mounting options including M5 male stud and M5 rod eye bearing. The push rod can be supplied free or captive, with male M5 thread, M5 rod eye or magnetic tip. 1/4" rod eye option available.
Each unit is supplied with the output calibrated to the travel required by the customer, this can be any stroke length up to 600mm. The sensor is powered by DC voltage and offers a wide range of analog output options (voltage or 4-20mA).
The analogue output signal is linear with the absolute position (non-linearity: < ± 0.25mm for 100mm of displacement, optionally reduced to ± 0.1mm)

Installation
The sensor body is made of stainless steel. The fixed part (body) of the sensor P137 is fixed with an M5 ball joint or a flange. The movable part, corresponding to the displacement measurement, can be connected either by a ball joint or by an M5 rod. A probe option is available up to 300 mm in length. Clamps are also available.
Dimensions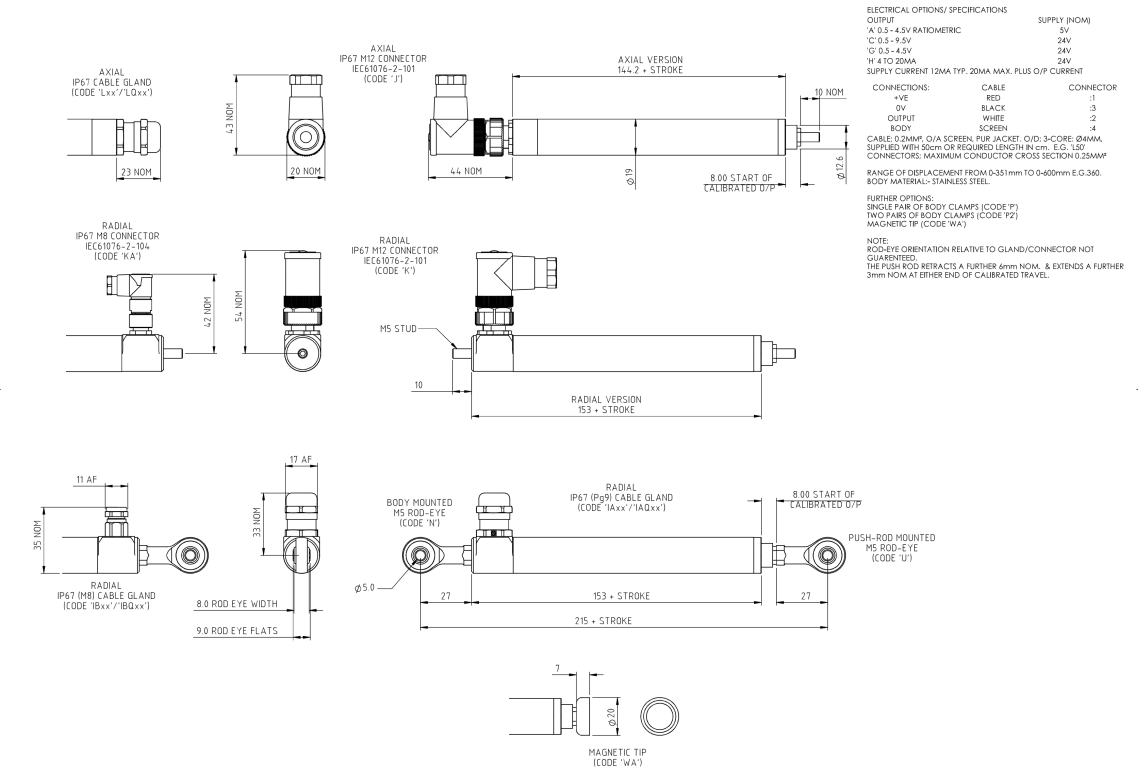 Electrical connections
The electrical connection is either a connector or a cable, in axial or radial position. Two potentiometers allow fine adjustment of zero and gain. Several types of output signals are available :

Applications
P137 is particularly recommended for position measurement or monitoring in severe environments and/or where high durability is needed.
position measurement in machine
Civil engineering
Bridge monitoring
Wind turbine instrumentation
Technologie

Linear inductive

Etendue de mesure linéaire

350 / 600 mm

Measuring range

± 251 à ±2 m

Nonrepeatability

0.01 % FS

Nonlinearity (% FS)

± 0.25 %

Bande passante (-3 dB)

10000 Hz

Signal otuput

0-5 VDC, 0-10VDC, ± 5 VDC, ± 10 VDC, 4-20 mA

Température de fonctionnement

-40 to 125 °C

Protection Class

IP67

Tension d'alimentation

10 Vcc

Housing

Steel

Cable

Connector or cable

Application

High Accuracy, OEM
Dimensions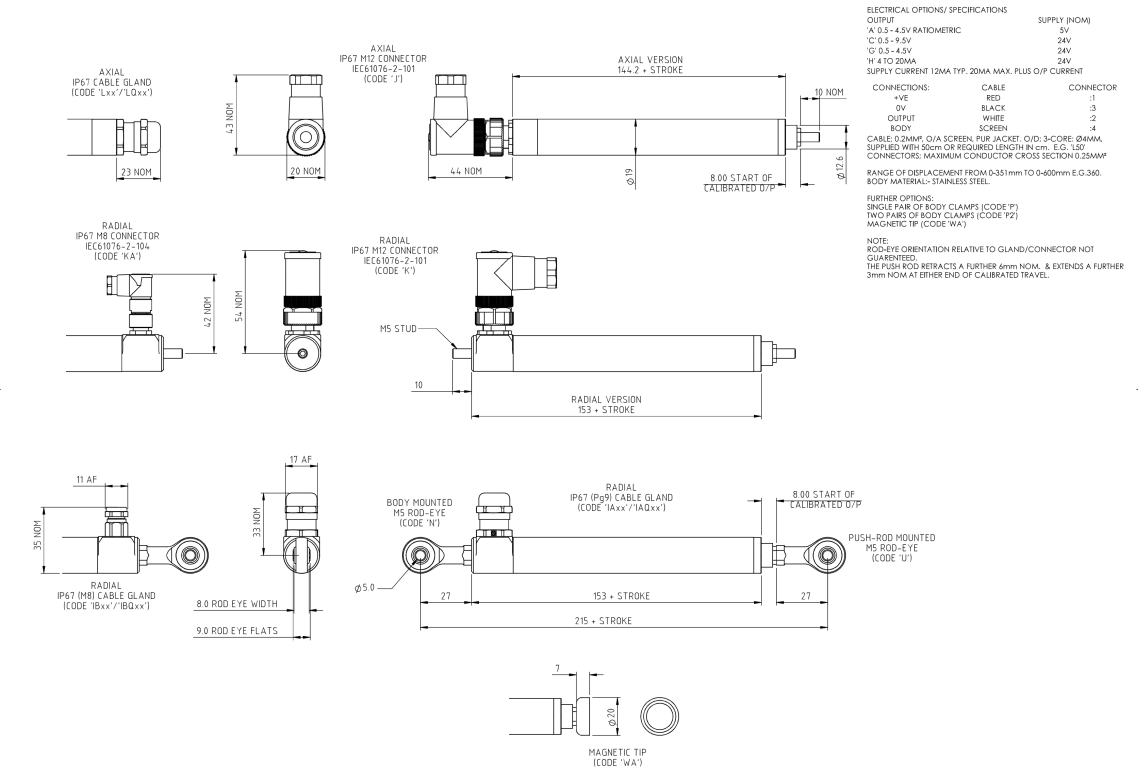 Connectivity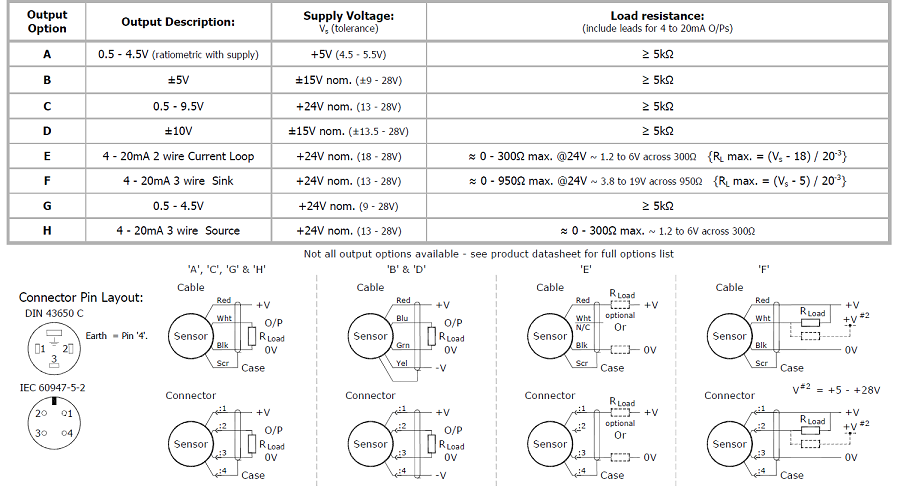 Connection (connector or cable, position)
Mounting
Probe
Range
Linearity (standard or 0.1%)