Ref: LIPS P116 - vérin - slim
Ruggedized Displacement Sensor for Cylinder - 5-600mm
Type: displacement-position measurement hydraulic / pneumatic cylinder
Measuring range: specifiable in mm from 5 to 600 mm
Compact dimensions (Length: stroke + 30mm, electronics: 27 x 41mm)
Construction: Stainless steel
Linearity: < 0.25% * Protection: IP 67
Protection: IP 67 (IP68 in option)
Integrated electronics with voltage or current output (4-20 mA)
Operating temperature: -40 °C to 125 °C
Frequency response: 0-10 kHz
Excellent durability (MTBF > 350,000 hours)
Connectivity: 50cm cable output (length specifiable)
?
Introduction
The LIPS P116 linear displacement transducer is a simple to integrate, high performance, compact and economical solution for the instrumentation of hydraulic or pneumatic cylinders.
With its compact dimensions (sensor length = stroke + 30mm only), numerous adaptation possibilities (adjustable stroke per mm from 5 to 600mm, cylinder mounting by flange or thread) and its integrated electronics (voltage or current output), the installation can be done on new cylinders as well as in retrofit.
More dynamic than the LVDT (bandwidth: 0-10 kHz), and more robust than the potentiometric (MTBF > 350,000 hours), the P116 can be installed in the cylinder even in the presence of fluids (IP68 waterproof as an option), operating temperature : -40 to 125°C). The analog output signal is linear with the absolute position (non-linearity: < ± 0.25mm for 100mm displacement, optionally reduced to ± 0.1mm)

Mounting and measuring principle
The moving part consists of a tube and a magnetized ring. The displacement is without contact between the fixed part and the moving part allowing a very high number of cycles (MTBF > 350 000 hours). The P116 is directly screwed on the head of the cylinder, the sealing of the cylinder is ensured by an adapted seal. The measurement signal and the power supply are carried by a cable or a connector.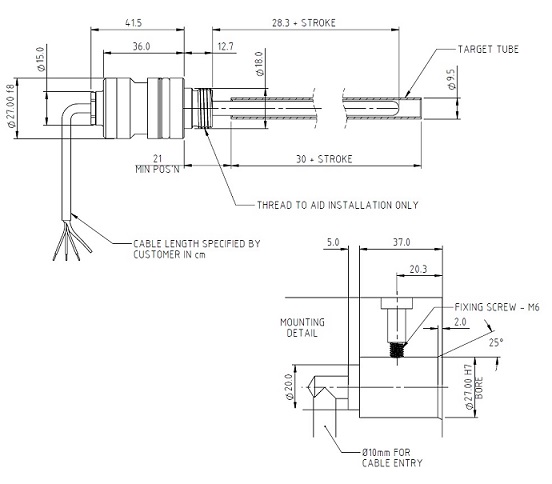 The sensor is powered by a DC voltage, and incorporates conditioning electronics for a voltage or current output signal compatible with any analog acquisition system:
| Output | Power supply |
| --- | --- |
| 0.5V to 4.5V DC ratiometric (default) +5V DC nom. ±0.5V | |
| 0.5V-4.5V DC | +9-28V DC nom. 24V |
| 0.5-9.5V DC | +13-28V DC nom 24V |
| 4-20mA | +13-28V DC nom 24V |
2 potentiometers allow fine adjustment of zero and gain.
Applications
The LIPS P116 sensor is recommended for:
Displacement measurement of pneumatic cylinders
Cylinder position
Displacement control
Position monitoring of hydraulic cylinders
Actuators on construction equipment
Technologie

Linear inductive

Etendue de mesure linéaire

600 mm

Measuring range

0 à ±50 mm, ±51 à ±250 mm, ± 251 à ±2 m

Nonlinearity (% FS)

± 0.25 %

Bande passante (-3 dB)

10 Hz

Analog output signal

0-5 VDC

Température de fonctionnement

-40 to 125 °C

Protection Class

IP67

Tension d'alimentation

5 Vcc

Housing

Steel
Sensor electronics diameter: 27 mm
Sensor length: measuring range + 30 mm
Sensor thread: M18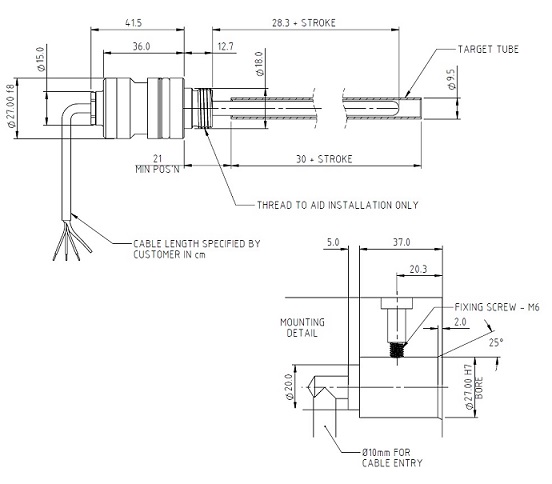 length of the cable
stroke
Output signal
sealing
sensor / cylinder interface
Cable Extensions
Connector