Ref: SGA3A
Three Channel Strain Gage Amplifier Box for 3D load cells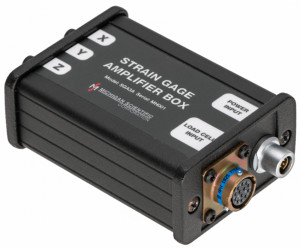 Ideal for use with MSC 3D Load Cells
Highly accurate bridge excitation
Provides high level voltage signal output
Small overall size
Precision low noise differential amplifier
Remote bridge excitation On/Off capability
Remote shunt calibration capability
Available in other channel configurations
Optional strain gage summation wiring, for use with multiple 3D loads cells used in parallel
optional Weatherproof version (SGA3A-W)
Michigan Scientific SGA3A Strain Gage Amplifier Box is ideal for use with any of Michigan Scientific Corporation's (MSC) wide variety of three directional load cells TR3D. The SGA3A provides highly accurate excitation voltage to the load cell, a stable differential amplifier, and a remotely activated shunt resistor for system span verification. The result is an accurate high level voltage output signal. The shunt calibration can be easily invoked with the flip of a switch when used with a Michigan Scientific PS-DC or PS-AC power supply.
The appropriate amplifier gain and shunt resistors for use with your selected load cell is installed in factory. The fixed precision resistors are factory installed.
The standard SGA3A is comprised of three independent miniature strain gage amplifiers. MSC can customize the amplifier box to any number of channels desired. The SGA3A can also incorporate strain gage summation wiring, allowing for one amplifier box to be paired with an array of load cells to measure multiple directions of force.
Electronic type

Signal Conditioning

Input channels

3

Input signal type

SG bridge

Analog output signal

± 10 VDC

Datalogger

no

Tension d'alimentation

± 15 Vcc

Protection Class

IP40

Housing

Plastic
Resistance
Gain
wiring
optional Weatherproof version (SGA3A-W)
Load cell
display
data acquisition system