Ref: MTFS -±1 à ±100kN
Miniature tension force transducer - +/- 1 to +/- 100 kN - IP65
type: tensile and compressive force sensor;
nominal force:±1kN; ±5kN; ±10kN; ±20kN; ±50kN; ±100kN
accuracy class: 0,5 %;
Signal output : 1mV/V
dimensions: Ø14 mm x 35 mm à Ø35 mm x 70 mm
force transmission: 2 x male thread M5 to M24
connection: Cable output, 3m
material: stainless steel IP65
?
Overview
With their ultra small size and very good accuracy (< 0.5%), the MTFS series of threaded end load cells can be easily integrated into a wide range of industrial, medical and marine applications. Measurement is in tension only or tension/compression over ranges from +/- 1kN to +/-100 kN (10 tonnes). The measurement accuracy is 0.5%.
Specifications
Installation
The installation of the transducer and the application of the axial force to be measured are carried out via 2 threads M5 to M24 depending on the measurement range. The installation must ensure that transverse forces are maintained at < 10% of the tensile force and that bending/shearing torques are controlled.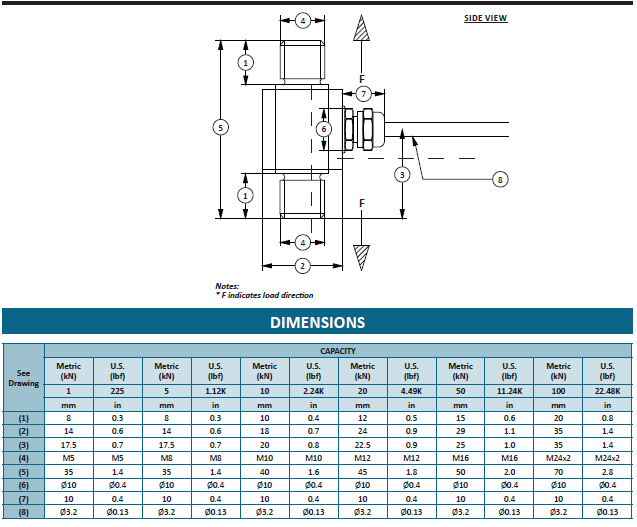 MTFS transducers are suitable for use in harsh industrial environments: wide operating temperature range (-10 to +70°C), IP65 sealed stainless steel body, ultra-rigid design ensuring high bandwidth and vibration resistance (resonance frequency: 10 kHz).
The sensor is supplied with a 3m cable. The output signal is unamplified (1 mV/V). The measurement chain can be completed with a conditioner or an acquisition module:
Applications
Tensile force measurement
marine
Type

Column

Measuring Range

1000 , 5000 , 10000 , 20000 , 50000 , 100000

Precision (max error)

0.5 %

Nonlinearity (% FS)

± 0.3 %

Hysteresis

0.3 % FS

Nonrepeatability

0.08 % FS

Temperature Compensated Range

0 to 60 °C

Température de fonctionnement

-10 to 70 °C

Zero Balance

0.02 %PE/°C

Sensibilité du gain

0.02 %/°C

Analog output signal

non-amplifié

Output Signal

1 mV/V

Résistance du pont

350 Ω

Tension d'alimentation

10 Vcc

Measurement direction

Traction

Déflection

0.04 mm

Surcharge

200 %PE

Housing

Stainless Steel

Protection Class

IP65

Measuring Range (Force)

1 - 100 kN, 100 - 250 kN

Application

OEM, low cost, Miniature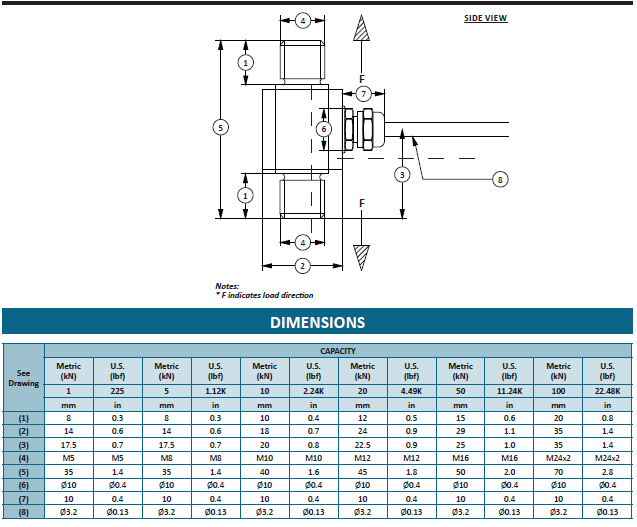 Connector on cable for acquisition
Extended temperature compensation
Electronics for conditioning and acquisition
Connector output on request
TEDS
Amplifier
Display
Specific wiring