Ref: SR__/PE512 Series
Slip ring assembly - 0 to 10 circuits - precision encoder
0, 4, 6, 8 or 10 circuit slip ring with optical encoder
Zero connection option for use of only the precision encoder
2.5″ Diameter Rotor
2 outputs of 512 ppr in quadrature
1 output of 1 ppr for an index pulse
All pulses accurate within 5 arc-minutes
Standard models sealed against dust
Instrumentation quality rings and brushes
Weatherproof units available
?
Presentation
The Michigan Scientific Slip Ring and Precision Encoder Assemblies Series SR__/PE512 are used for applications requiring both a slip ring and a precision encoder. These assemblies are available in both standard and weatherproof models. The unit is designed to mount on the end of a rotating shaft, they make electrical connections to strain gages, thermocouples, or other rotating sensors, while simultaneously providing pulses to measure rotational velocity and angular position. The slip ring brushes and rings are made of precious metals, which minimizes noise and enables the assemblies to be used for low level instrumentation signals.
This slip ring SR__/PE512 accepts up to ten circuit connections and incorporates an optical encoder that generates two outputs of 512 pulses per revolution (ppr) in quadrature and a third output of 1 ppr. The quadrature feature detects the direction of rotation, and the 1 ppr is an index pulse used as a reference point when measuring angular position. True shaft position is indicated within 5 arc-minutes, resulting in high accuracy. This is particularly important when making measurements such as torsional vibration, instantaneous velocity, and angular position. Analog output signals for angular position and rotational speed can be obtained by using these models with Michigan Scientific's Frequency to Voltage Encoder Electronics.
Connections to the standard models are made through color coded solder terminals located on both the slip ring rotor and slip ring stator. For the weatherproof models, connections to the slip ring rotor are made through terminals or a military style connector. To provide complete weatherproof protection, the assemblies can be sealed with a rubber boot that protects the terminals on the slip ring stator, or with 3145 RTV silicone. Permanently lubricated bearings eliminate the need for routine cleaning and maintenance.
Available models
Stator diameter: 55,18 mm
Rotor diameter: 50,8 (modle M) or 63,5 mm (modele A)
Weight: 425g
Stator connections: soldering terminals
Standard version
| Model | Circuits | Max speed | Length | Rotor connections |
| --- | --- | --- | --- | --- |
| SR0A/PE512 | 0 | 10.000 | 63.8mm | Soldering terminals |
| SR4A/PE512 | 4 | 10.000 | 63.8mm | Soldering terminals |
| SR6A/PE512 | 6 | 10.000 | 63.8mm | Soldering terminals |
| SR8A/PE512 | 8 | 10.000 | 63.8mm | Soldering terminals |
| SR10A/PE512 | 10 | 10.000 | 63.8mm | Soldering terminals |
| SR10M/PE512 | 10 | 10.000 | 79.2mm | Soldering terminals |
Wheatherproof version
| Model | Circuits | Max speed | Length | Rotor connections |
| --- | --- | --- | --- | --- |
| SR4MW/PE512 | 4 | 2.000 | 79.2mm | Soldering terminals |
| SR6MW/PE512 | 6 | 2.000 | 79.2mm | Soldering terminals |
| SR8MW/PE512 | 8 | 2.000 | 79.2mm | Soldering terminals |
| SR10MW/PE512 | 10 | 2.000 | 79.2mm | Soldering terminals |
| SR10AW/PE512 | 10 | 2.000 | 79.2mm | Soldering terminals |
| SR10AW/PE512/A | 10 | 2.000 | 79.2mm | Connector |
| SR10AB/PE512 | 10 | 10.000 | 81.0mm | Soldering terminals |
| SR10AB/PE512/A | 10 | 10.000 | 81.0mm | Connector |
Series

SR

Mounting

End of shaft

Circuits

0, 4, 6, 8, 10

Max rotation speed

2000 , 10000 rpm

Wheatherproof

option

Encoder

512 ppr

Courant maximal par voie

500 mA

Rotor Diameter

50.8 / 63.5 mm

Diamètre stator

55.4 mm

Longueur

79.2 63.8 81 mm

Température de fonctionnement

-40 to 100 °C

Contacts rotor

Picots à souder

Contact Stator

Picots à souder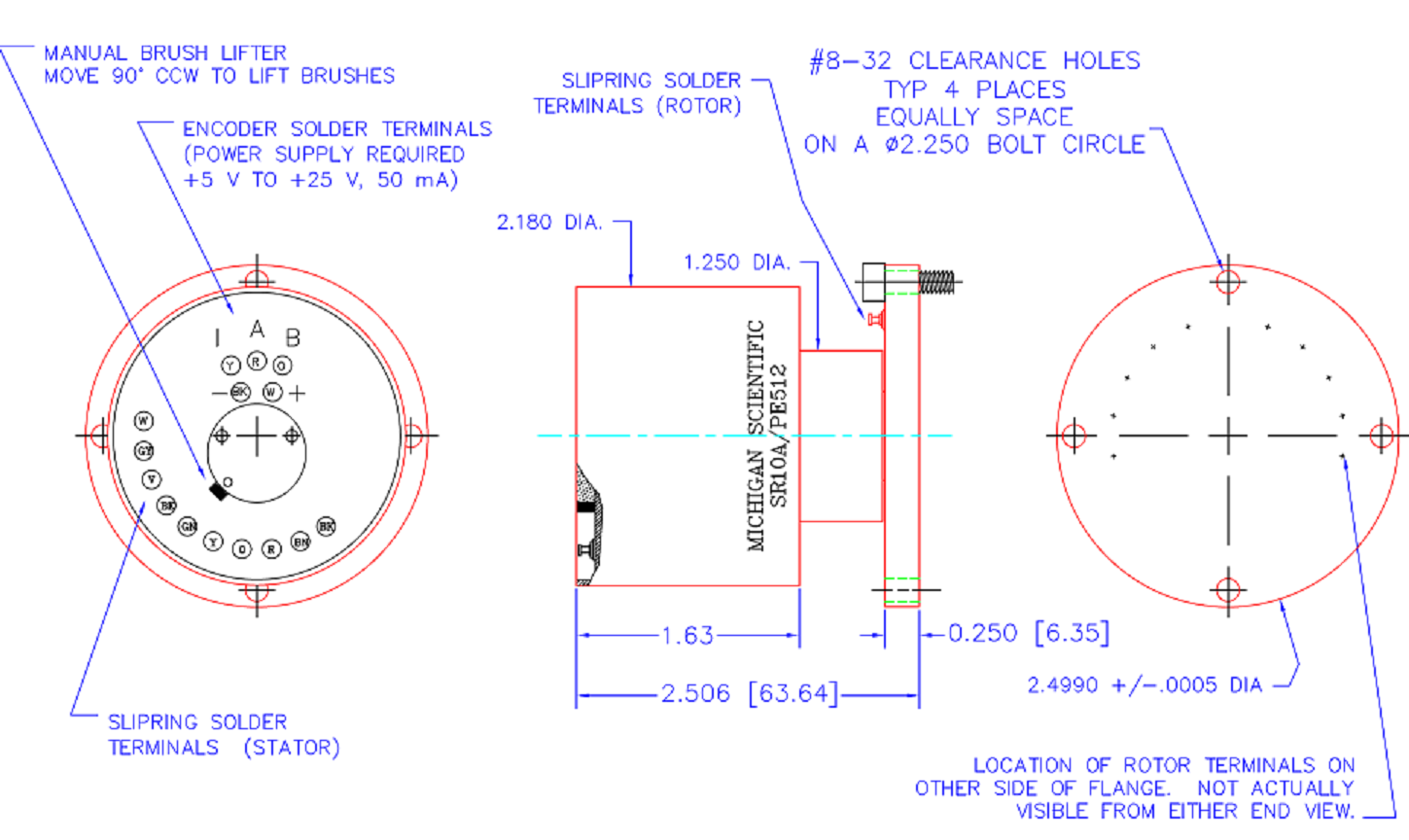 Wheatherproof version
Both models SR10MW/PE512 and SR10AW/PE512/A are wheatherproof, the max speed is 2000 rpm
Both models SR10AB/PE512/A and SR4AB/PE512/T are wheatherproof, the max speed is 10.000 rpm