Ref: RIPS P502 / X502
Inductive angular position sensor - 41 to 59°F - IP67 - analog
Measuring range: to be defined over the range 41° to 59°
Bandwidth : 10 kHz
Lifetime > potentiometer
Diameter : 35 mm
Protection : IP 65/67 according to the chosen connector
Non-linearity : 0.25% of PE (0.1% as an option)
Output : voltage or 4-20 mA
Temperature range : -40°F to 257°F
Mounting : flange or servo
Resolution : infinite
Shaft diameter : 6mm
Intrinsically safe Ex II 1G and Ex ia IIC T4 Ga (Ta= -40°F to 176°F) as option
?
Introduction
The P502 inductive angular position sensor is the low range (41 to 59°) version of the P500. Like the RIPS P500, it is an accurate, rugged and affordable angular position sensor designed for industrial OEM applications, test benches, research and development and other scientific applications. The output signal, a voltage or DC current, is acquired via a simple analogue frame grabber and is linear to the angle of rotation of the input shaft (non-linearity: +/- 0.25%, 0.1% optional)
The inductive, non-contact technology is characterised by excellent durability (MTBF > 350,000 hours), more robust than a potentiometric sensor. Another advantage is the excellent frequency response (> 10 kHz), for high-dynamic control or vibration studies.
Each transducer is calibrated specifically to the measurement range required for the application, over a range of between 5 and 15 degrees, not necessarily symmetrical. A mark is made on the shaft to identify the midpoint. The analogue output signal is linear with the absolute position (non-linearity: < ± 0.25° for 100° rotation, optionally reduced to ± 0.1°)

Installation
The body of the RIPS P502 sensor is made of stainless steel. The RIPS P502 is mounted by means of a flange. A version for mounting on a servomotor is also available. The use of a flexible coupling is recommended for the shaft connection. The electrical connection is either a connector (IP65) or a cable (IP67). Two potentiometers allow fine adjustment of zero and gain. The outer diameter is 35mm, the shaft diameter is 6mm.
Several types of output signals are available :

ATEX version / Intrinsic safety
The RIPS X502 is the ATEX version of the P502. The RIPS X502 is certified ** Intrinsically safe Ex II 1G and Ex ia IIC T4 Ga (Ta= -40°C to 80°C)** . The measurement performance and size are identical. The X502 must be used with an ATEX galvanic barrier, like the X005. The output signal is analogue, type 0.5 - 9.5V or 4-20 mA See RIPS X502 data sheet.
Applications
Instrumentation of industrial machines
Servo motor control
Technologie

Rotary position

Measuring range

±0 à ±60°

Etendue de mesure angulaire

5 / 15 °

Nonlinearity (% FS)

± 0.25 %

Bande passante (-3 dB)

10000 Hz

Analog output signal

0-5 VDC

Normes / Certifications

ATEX

Température de fonctionnement

-40 to 125 °C

Protection Class

IP65, IP67

Tension d'alimentation

10 Vcc

Housing

Stainless Steel

Application

ATEX, Sbmersible, High temperature
Dimensions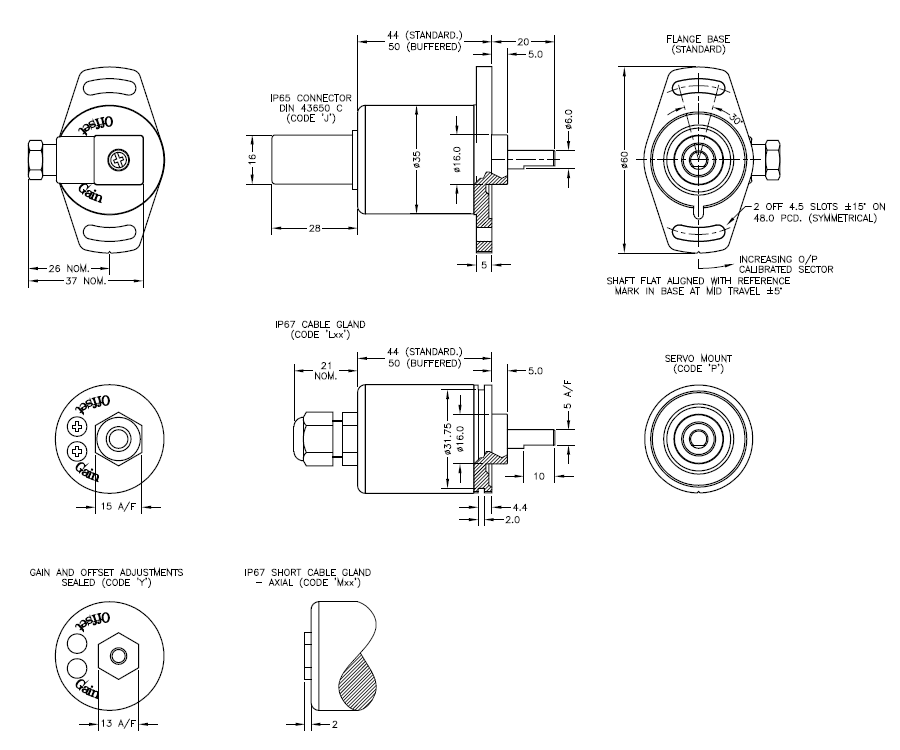 Connectivity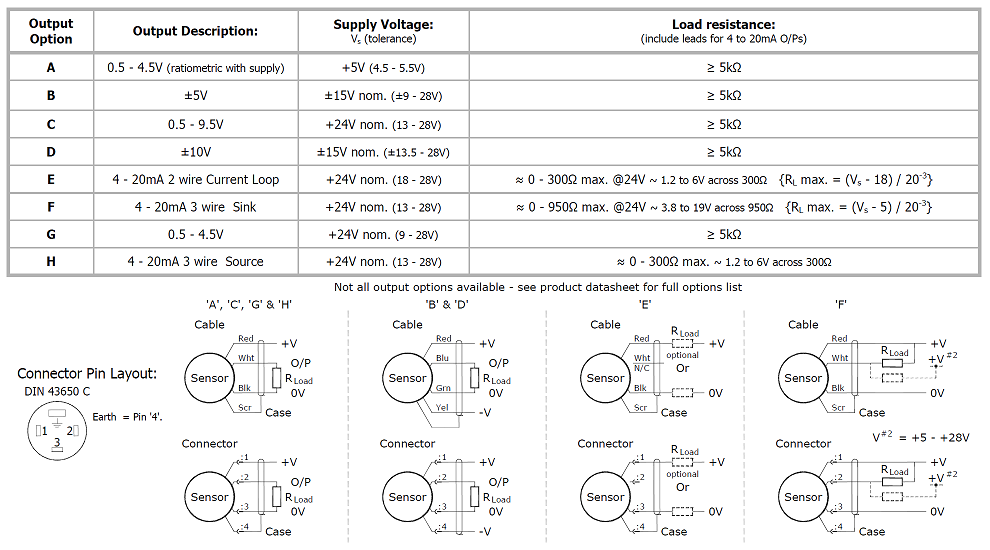 Connections
Output signal
Measuring range