Ref: KB16x32
Load pin - 1 to 10 kN - DIN ISO 8140 - Ø 16mm
type: load pin;
nominal force: 1kN, 2kN, 5kN, 10kN;
accuracy class: 1 %;
dimensions: Ø 16mm h9 x 38mm;
dimensions according to yoke DIN 71152 / DIN ISO 8140;
connection: 5 m cable FD 4x0,14/PUR;
material: stainless steel 1.4542;
weight: 319 g;
?
Presentation
The load pin KB16x32 is designed to measure the force in connection with a fork head according the DIN 71152 / DIN ISO 8140. 4 capacities are available: 1kN, 2kN, 5 and 10kN, the measurement accuracy is 1% of full scale for a sensitivity of 1 mV / V. The overload protection is 1 time the measuring range.
Installation
The load pin replaces the standard pin in the fork head, and gets the tensile and compressive forces applied on the surface of the cylinder.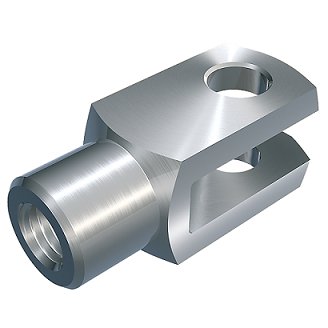 The KB16x32 sensor is supplied with a 5m cable, and if fully compatbile with outdoor applications, with a stainless steel IP66 housing, and an operating temperature range is -10 to + 85 ° C.
Acquisition
Solutions are available for the signal amplification and acquisition:
Display: used to view the measurement directly in units, to manage thresholds, max values -min and an amplified output.
Amplifiers: used to convert the measurement signal into voltage or current (± 5, ± 10 Vdc, 0-10 Vdc or 4-20 mA).
Acquisition systems: Transmission of measurement signals to a PC, a programmable logic controller, a recorder or a SCADA type supervision application.
Applications
agriculture
lifting applications
Measurement of machining force
Weighing
Type

Load pin

Measuring Range

1kN , 2kN , 5kN , 10kN

50 Nm

Precision (max error)

1 %

Nonlinearity (% FS)

± 0.2 %

Hysteresis

0.05 % FS

Nonrepeatability

0.1 % FS

Temperature Compensated Range

-10 to 70 °C

Température de fonctionnement

-10 to 85 °C

Zero Balance

0.02 %PE/°C

Sensibilité du gain

0.02 %/°C

Analog output signal

non-amplifié

Output Signal

1 mV/V

Résistance du pont

350 Ω

Tension d'alimentation

2.5 - 5 VDC

Measurement direction

Traction & Compress.

Déflection

0.075 mm

Surcharge

150 %PE

Housing

Stainless Steel

Protection Class

IP65

Poids

0.319

Measuring Range (Force)

1 - 100 kN, 100 - 250 kN

Application

OEM
Dimensions
Connectique
5 m cable FD 4x0,14/PUR
| Pin | Description | wire color |
| --- | --- | --- |
| +Us | Alimentation + | Rouge |
| -Us | Alimentation - | Noir |
| +Ud | Sortie + | Vert |
| -Ud | Sortie - | Blanc |
| | blindage | transparent |
Convention
Compression : signal positif
Connector on cable for acquisition
Extended temperature compensation
TEDS module
Amplifier / Display
Acquisition module