Ref: MC5
6-axis force sensor
Measuring ranges: Fz: 5500 to 44500 N, Fx and Fy: 2780 to 22250 N, Mz: 140 to 1130 Nm, Mx and My: 203 to 1700 Nm
Natural frequency: 1200 Hz
Non-linearity: +/- 0.2 % PE
Transverse sensitivity : < 2 % PE at CoF
Diameter: 125.7 mm
Operating temperature: 0°C to 52°C
Protection : IP61
Weight : 3.18 Kg
?
Presentation
The 6-axis MC5 transducer allows to measure forces Fx/Fy/Fz and moments Mx/my/Mz on three perpendicular axes simultaneously, in a reduced size (diameter: 80mm, height: 50mm). 7 versions are available, with force measurement ranges from 500N to 5kN, and torque measurement ranges from 20Nm to 250Nm.
Specifications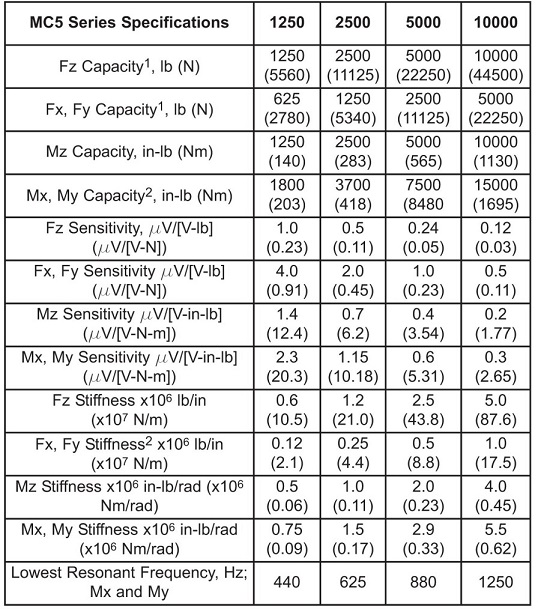 Conditioning, Acquisition, Use of the decoupling matrix
A GEN5 digital conditioning electronics compatible with all AMTI sensors.
Analog output ± 5Vdc, 14 bits
Calculation of decoupling
USB connection.
Digital output 16 Bits The Gen5 is delivered with a configuration and acquisition software compatible with Windows 32 or 64bits
Applications
Robotics
Collision detection during the learning phase ("Teach" function)
Presence detection and error detection
Force or torque controlled operation
Medicine
Load measurement in medicine, prosthetics, orthopedic engineering or gait analysis
Measurement in sports medicine
Comfort / ergonomics measurements
Type

6 axis sensor

Number of Axis

6 Axis

Precision (max error)

0.5 %

Nonlinearity (% FS)

± 0.25 %

Tension d'alimentation

10 Vcc

Measurement direction

Traction & Compress.

Housing

Aluminium

Protection Class

IP65

Measuring Range (Force)

1 - 100 kN

Application

OEM