Ref: DRFDS - DRFDN
Rotary torque meter - 0.5 to 5 Nm - Frequency output - square or hexagonal section
Measuring range : 0.5 to 5 Nm
Maximum speed : 10000 rpm
Square or hexagonal section
Output signal : 8 kHz ± 2 kHz
Accuracy : 0.25 %
Non-contact transmission of the measurement signal
Temperature compensated calibration from 41 to 133°F
8-pin connector output (connector supplied)
Overload protection : 100% depending on the measuring range
Optional angular position output
?
Introduction
DRFDS / DRFDN is a compact and accurate rotary torque transducer developed for production use. Available in 4 measuring ranges from 0.5 to 5Nm, the non-linearity is less than 0.15% and the temperature sensitivity is very low. The output signal is a frequency type (8 kHz +/- 2 kHz), whose variation is proportionally linear to the measured torque. An optional 360 pulses per revolution quadrature phase encoder transmits the angular position in high resolution.
Mounting and installation
The DRFDS / DRFDN sensor is powered by 12VDC. The DRFDN has a square shaft (DIN 3121-E or H 6,3), the DRFDS has a hexagonal shaft (DIN 3126-E or F 6,3). The hexagonal cross-section in accordance with DIN 3126 standard allows instant mounting on the tool or equipment to be checked.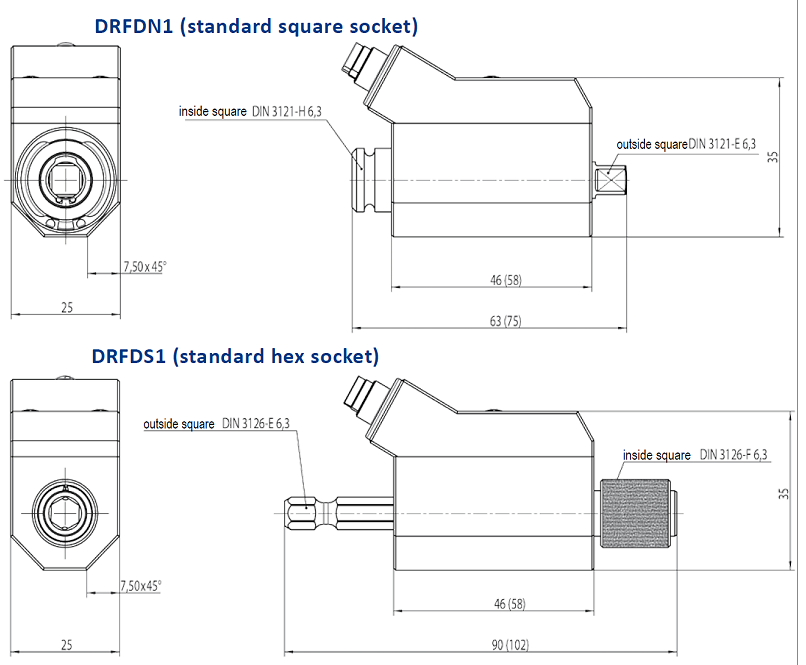 Applications
Test benches
Assembly tools
Pneumatic screwdrivers
Tooling verification
rotatif / statique

rotating

Moment capacity

1 / 2 / 5 / 10 / 12 / 15 / 20 Nm

Measuring Range (Torque)

1 - 10 Nm, 10 - 100 Nm

Montage_Capteur

shaft

Max rotation speed

10000 rpm

Nonlinearity (% FS)

± 0.15 %

Hysteresis

0.1 % FS

Signal otuput

8 kHz ± 2 kHz

Sortie régime

Non

Tension d'alimentation

10 Vcc

Protection Class

IP40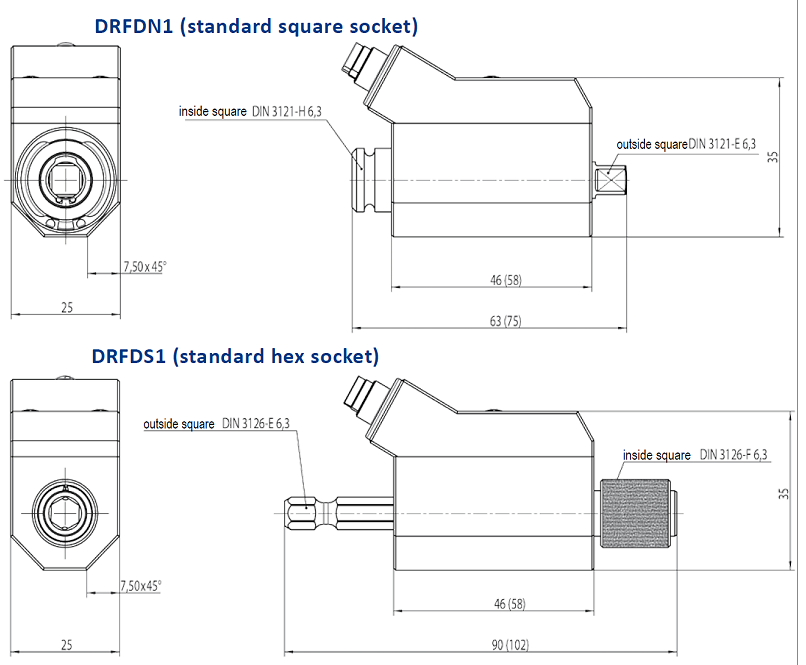 Cables
GMV2 (power supply, display)
Acquisition module