Ref: DRW-K Couplemètre statique
Static torque meter - ±0-0.5Nm to ±0-20kNm - Accuracy 0.25
Industrial reaction torque sensor
19 measuring ranges available ± 0.5 Nm to ± 20000 Nm
Output signal: 1 mV/V Accuracy: 0.25 % * Cable output: 2.5m
2.5m cable output + 6-pin connector, counter-connector supplied
Supplied with factory calibration certificate
Operating temperature: 32 - 140°F
Temperature compensation: 41 - 113°F
Smooth output drive shaft
Power supply: 12VDC
Couplings, connectors, conditioner, temperature range extension optional
Connectez-vous à votre compte pour afficher les prix
Se connecter
Introduction
The DRW-K torque meter measures static torque up to 20,000 Nm with an accuracy better than 0.3% and excellent repeatability. The output signal (sensitivity 1mV/V) is linear with torque. The force is transmitted via a shaft with a diameter of 8 to 110 mm, depending on the measurement range, connected to a strain gauge test body.
Spécifications/dimensions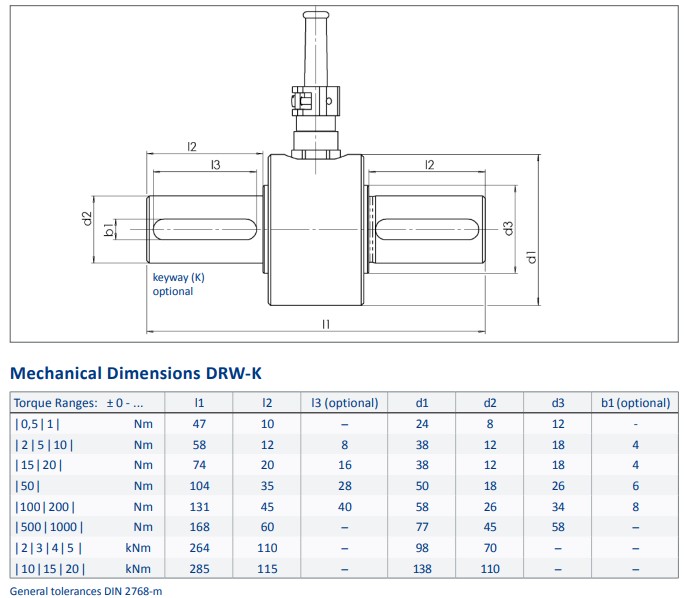 Installation
The DRW-K torque meter has two smooth shaft outputs for interfacing with the drive/load. The connections are usually made by couplings. The shafts can be equipped with keys as an option. The supply voltage is 12 VDC. A wide range of conditioning and acquisition electronics is available to complete the measurement chain.
Options and accessories
Measuring range
Connection technology
Conditioner
Display
Data acquisition system
Woodruff key
Operating temperature
Couplings
Applications
DRW-K torque meters are suitable for measuring reaction torque on test stands:
Tightening torque measurement
Friction torque measurement
rotatif / statique

static

Moment capacity

0.5 / 1 / 0.2 Nm

Measuring Range (Torque)

0.01 - 1 Nm, 1 - 10 Nm, 10 - 100 Nm, 100 - 1000 Nm, 1000 - 5000 Nm, 5000 - 20000 Nm

Montage_Capteur

shaft

Nonlinearity (% FS)

± 0.15 %

Hysteresis

0.3 % FS

Signal otuput

analog (mV/V)

Sortie régime

Non

Tension d'alimentation

10 Vcc

Température de fonctionnement

0 to 60 °C

Connecteur

6 pin-connector

Protection Class

IP40

Poids

0.6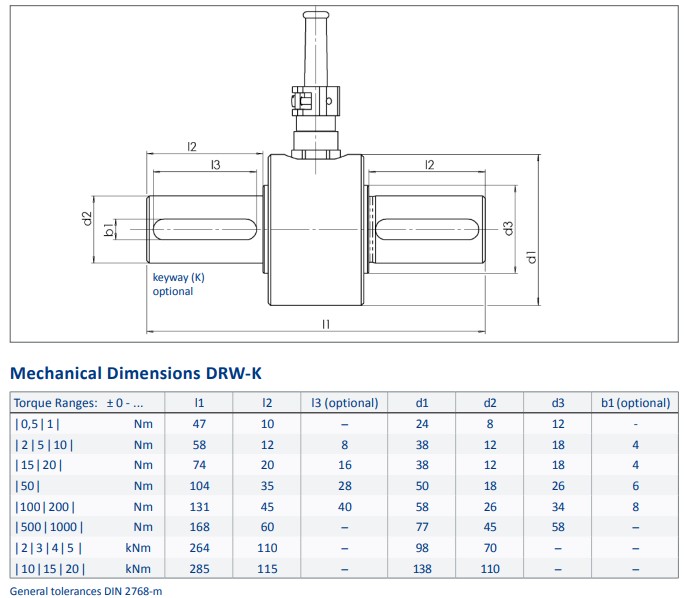 Measuring range
Connection technology
Conditioner
Display
Data acquisition system
Woodruff key
Operating temperature
Couplings