Ref: TS170
Reaction Torque Sensor - +/- 50Nm to +/- 500Nm - Accuracy 0,1%
type: torque sensor ;
nominal torque : ±100Nm ;
accuracy class : 0,1 % ;
dimensions : Ø 170 mm x 16 mm ;
outer circle : 155 mm ;
inner circle : 85 mm ;
inner hole : 70 mm ;
connection : 5 m Unitronic FD CP Plus 4x0,14 ;
material: aluminium ;
weight: 510 g ;
Overload protection: 150%
Connectez-vous à votre compte pour afficher les prix
Se connecter
Description
The torque sensor TS170 comprises an external flange and an inner flange, which are inter-connected via 4 torque axle brackets. The outer and inner flange have 6 or 4 M8 screw threads respectively to apply torque.
The sensor is designed to measure the reaction torque. For this purpose, the engine is constrained exclusively by the sensor. The structure with internal holes is selected to ensure that engine or test bench shafts have sufficient space.
Application
The torque sensor TS170 is used in torque testers for quality assurance as well as in manufacturing machines.
rotatif / statique

static

Moment capacity

20 / 50 / 100 / 200 Nm

Measuring Range (Torque)

10 - 100 Nm, 100 - 1000 Nm

Montage_Capteur

flange

Nonlinearity (% FS)

± 0.1 %

Signal otuput

analog (mV/V)

Sortie régime

Non

Tension d'alimentation

10 Vcc

Température de fonctionnement

-10 to 60 °C

Protection Class

IP65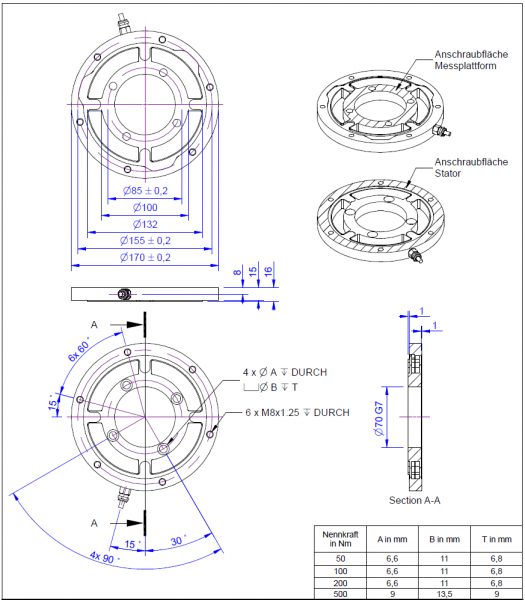 Connectors
Calibration certificate
Signal Conditioning
Acquisition system
Display