Ref: Axial TQ
Wireless Rotary Torque Transducer - 100 Nm to 10 kNm
Capacities from 100 Nm to 10K Nm
Accuracy class : 0.05
max speed : 8000 to 15000 rpm
Signal output : +/-10VDC, +/-5VDC; 4-20mA, 10kHz, USB
Interchangeable stators and output modules to minimize parts inventory
Software acquisition for digital output
Power supply : 24 VDC
?
Presentation
The AxialTQ is a compact and high precision dynamic torque meter. The system consists in a Rotor (torque meter + telemetry emitter), a Stator (telemetry receiver) and output module.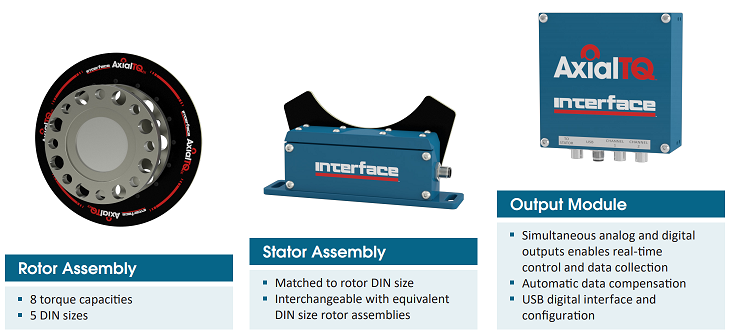 The rotor measures the torque with a high precision sensing element and strain gages, the electrical output is converted from an analog to a digital signal in the rotor. The high accuracy of the system is based on this combination of the proven sensing element technology with performant electronics to provide the highest quality torque measurement available in the industry.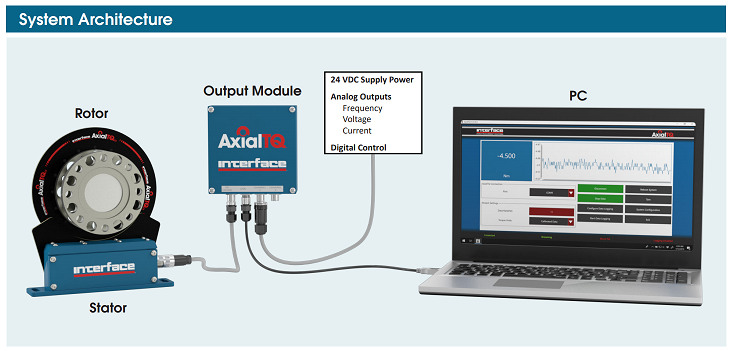 The combination of power transfer and communication technologies allow for contact-free operation minimizing uncertainty. Power is transferred from the stator coil to the rotor coil with an axial separation gap to minimize the chance of contact and damage. The rotor and stator communicate through a 2.4 GHz link for rotor configuration, software updates and high speed transmission of the digital torque values. The rotor and stator are not a matched pair and any stator can be used with any rotor of the same DIN size.
Applications
Test rig
Electrical Motor testing
pump testing
turbine testing
rotatif / statique

rotating

Moment capacity

100 / 200 / 500 / 1000 / 2000 / 3000 / 5000 / 10000 Nm

Measuring Range (Torque)

100 - 1000 Nm, 1000 - 5000 Nm, 5000 - 20000 Nm

Montage_Capteur

flange

Max rotation speed

15000 rpm

Signal otuput

± 5 VDC, ± 10 VDC, 4-20 mA, 10 kHz ± 5kHz, USB

Sortie régime

optionel

Tension d'alimentation

24 Vcc

Température de fonctionnement

-10 to 70 °C

Protection Class

IP65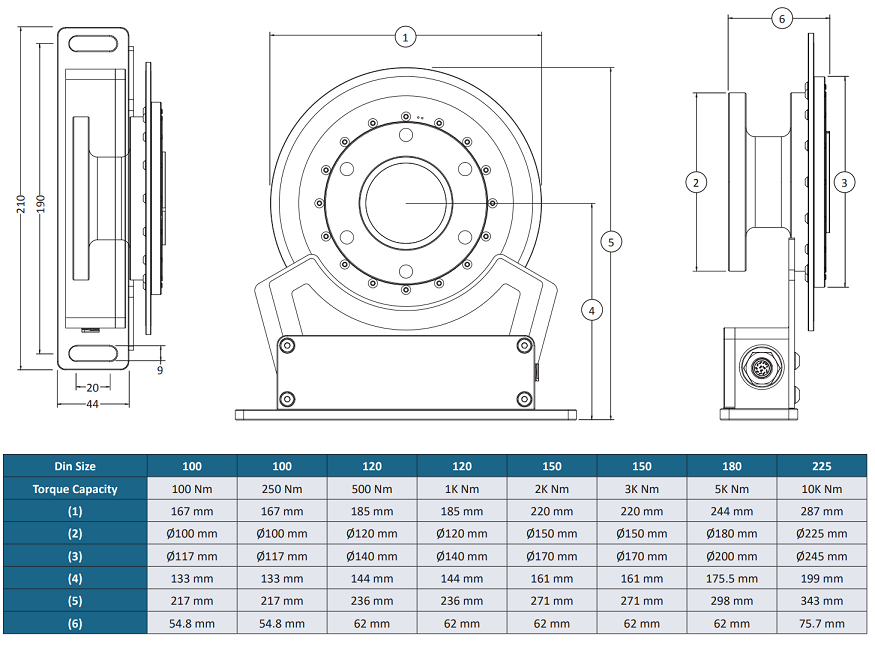 Measuring range
signal output