Ref: GSV-6BT
6-channel analog acquisition module with Bluetooth 4.0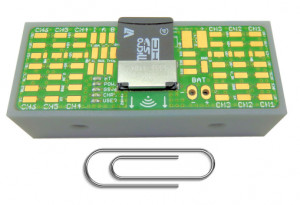 6-channel measuring amplifier
Operation via Li-Ion battery 3.6V ... 4.2V
Integrated battery charging circuit with 5V supply voltage
Inputs configurable for full, half, quarter bridges, 350-1000 ohms, 0 ... 10V
1x Bluetooth 4.0 (LE) (GATT) or Bluetooth Classic (SPP) configurable,
Data logger function with SDCard up to 7x 2000 measured values/s
Real Time Clock
Send measured value: 6x 1 measured values/s ... 500 measured values/s
Simultaneous scanning of channels 1 to 3 and 2 to 6
Resolution < 100 nV / V
Independent calculation of the 3 forces and torques for 6-axis sensors
Reading TEDS data on channel 1
counter / frequency / speed measurement on channel 7
Two operating hours counters, one absolute and one recoverable
?
The GSV-6BT is a 6-channel measuring amplifier with Bluetooth interface and data logger function. The dimensions are only 50mm x 20mm x 17mm.
The GSV-6BT has 6 measuring channels, of which the first channel is for full-bridge strain gauges, while channels 2 to 6 can be individually configured as voltage input (single-ended) or as strain gauge bridge input including half and quarter-bridge configuration.
Another seventh channel for acquiring digital pulses is available for connecting incremental encoders or as an input for square wave signals.
The number of channels in the data transmission is configurable from 1 to 7 channels.
Channel 7 is reserved for the connection of incremental encoders, channel 1 is exclusively for the connection of DMS full-half or quarter-bridges. Channel 1 supports the reading of TEDS memories to automatically configure the scaling factor for the connected sensor. In addition, two threshold outputs can be configured for channel 1.
The GSV-6BT has gold-plated solder pads for connecting the sensors and the supply voltage. For connection, strands with a cross-section of up to 0.09mm² (AWG28) are suitable.
The Bluetooth connection supports BT Classic with Serial Port Profile (SPP) for complete configuration and continuous messaging, and BT LowEnergy (LE) with some services (GATT) for reading measurement data and battery voltage, e.g. via smartphone.
The measurement data can be recorded on a micro SD memory card, whereby there are various configuration options, such as continuous recording up to 3000 readings per second, long recording intervals with power management (battery saving mode) and digital input triggered recording. The recorded files can also be downloaded via Bluetooth SPP. A real-time clock creates timestamps in real time in the measurement data files.
More functions
The connected 3.7V lithium-ion battery can be charged by an integrated charging circuit.
The temperature in the device and the battery voltage can be measured. The simultaneous zeroing of all channels can be triggered via a digital input ("tare").
The GSV-6BT is protected against vibration by a full encapsulation in a plastic housing.
The configuration and acquisition of measurement data is possible with the program GSVmulti in the mode "BT Classic" with Serial Port Profile (SPP)
The integrated Bluetooth module has its own microcontroller, which offers the selfprogramming user a simple scripting language to implement their own embedded
applications. All functions of the GSV-6 CPU and all supported BT services as well as additional digital outputs and a dedicated LED are available.
The factory-installed "BGscript" script serves the BT-LE requests and some SPP commands needed to perform the functionality described here. Communication with the GSV-6CPU is forwarded transparently.
• Using the microcontroller in the Bluetooth module and its BGscript amongst other things the BT device name, the BT transmission power and various battery saving modes are set, and the battery voltage is also displayed.
Electronic type

Acquisition system

Input channels

6

Input signal type

SG bridge, Voltage (0-10 VDC)

Application

OEM, High temperature

Analog output signal

0-10 VDC

Digital output signal

RS-232, Bluetooth

Datalogger

yes

Tension d'alimentation

10 Vcc

Protection Class

IP40

Housing

Aluminium