Ref: LIPS P106 - vérin
Inductive displacement transducer Cylinder - 0-800mm - ATEX option
Type: Displacement-position measurement of hydraulic / pneumatic cylinders
Measuring range: 0 to 800 mm
Construction: Steel
Protection: IP 65/67
Operating temperature: -40°F to 257°F
Frequency response: 10 kHz
Output: voltage or current
?
Introduction
The LIPS P106 inductive displacement transducer is designed for displacement/position instrumentation of hydraulic or pneumatic cylinders. With its remote conditioning electronics, the sensor's footprint is minimal, allowing integration of the sensor into the cylinder even when space is at a premium (diameter: 6.4 mm). With IP65 or IP67 sealing, an operating temperature range of -40 to +125°C and an MTBF > 350,000 hours, the P106 is suitable for the most severe operating conditions.
Measurement ranges are specifiable to the mm over the 0-5mm to 0-350mm range. The resolution is infinite and the excellent frequency response > 10 kHz allows for vibration studies. The analogue output signal is linear with the absolute position (non-linearity: < ± 0.25mm for 100mm displacement, optionally reduced to ± 0.1mm)

Mounting and measuring principle
The moving part consists of a tube and a magnetised ring. The movement is without contact between the fixed part and the moving part, allowing a very high number of cycles (MTBF > 350,000 hours). The P106 is screwed directly onto the cylinder head and the cylinder is sealed with a suitable gasket. The measurement signal and power supply are carried by a cable or a connector.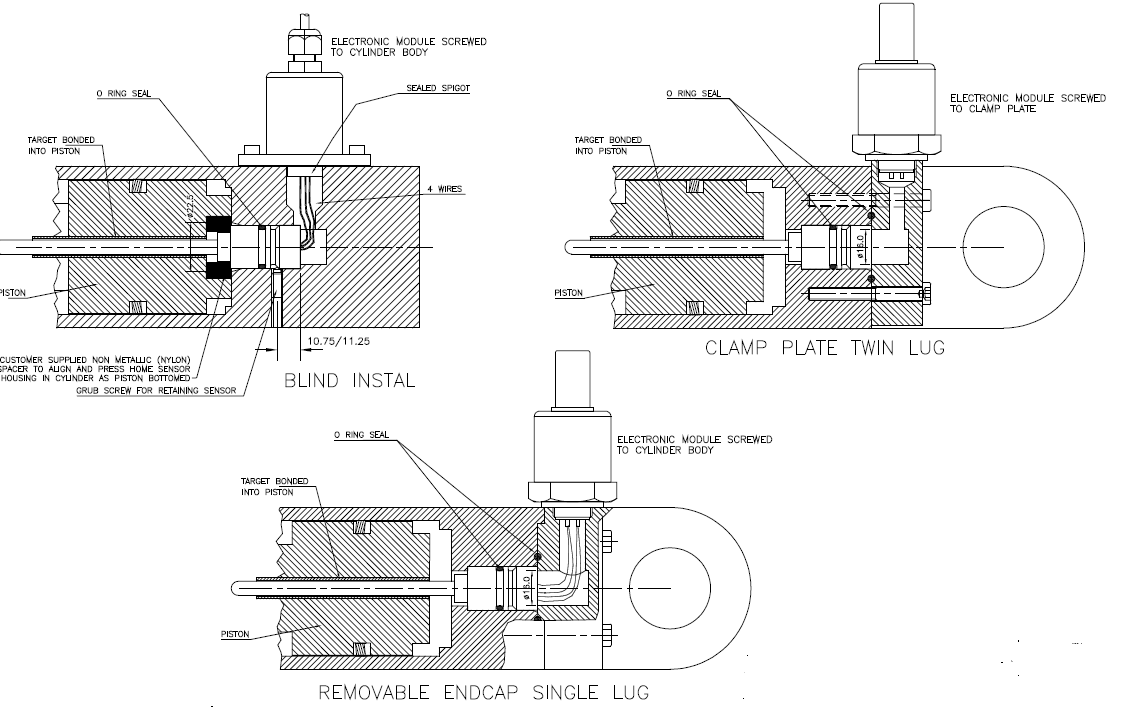 The sensor is powered by a DC voltage and incorporates conditioning electronics for a voltage or current output signal compatible with any analogue acquisition system.

2 potentiometers allow fine adjustment of zero and gain.
Applications
The LIPS P106 sensor is recommended for :
Displacement measurement of pneumatic cylinders
Cylinder position
Displacement control
Position monitoring of hydraulic cylinders
Actuators on construction machines
Technologie

Linear inductive

Etendue de mesure linéaire

800 mm

Measuring range

0 à ±50 mm, ±51 à ±250 mm, ± 251 à ±2 m

Nonlinearity (% FS)

± 0.25 %

Bande passante (-3 dB)

10 Hz

Analog output signal

0-5 VDC

Température de fonctionnement

-40 to 125 °C

Protection Class

IP67

Tension d'alimentation

5 Vcc

Housing

Steel
Sensor electronics diameter: 20 mm
Sensor length: measuring range + 62 mm
Sensor thread: M18
Connectors and cable option
Connector - Hirschmann GD series Axial, IP65
Connector - Axial IP67, M12 - 4 pin. Without trim adjustment
Connector - Axial IP67, M12 - 4 pin. With trim adjustment
Connector - Radial, IP67, M12 4 pin
Cable with axial gland, IP67
Cable with axial short gland, IP67
| |
Cable Extensions
Connector