Ref: IPS-100
Non-contact inductive proximity sensor - 0-2 to 0-15 mm
Non-contact inductive proximity meter
Measuring range: 0-2 mm to 0-15 mm
Detection distance: up to 11mm
Target: ferrous metals
Switching output 2 wires or 3 wires (NPN or PNP) - 2 kHz (3 wires) or 1 kHz (2 wires)
Sealing: IP67
Dimensions :
Power supply: 10-30 VDC
Connection: M12 or cable output
Insensitivity to oil, dust, humidity, magnetic fields
Operating temperature: -20...+70°C
?
Non-contact proximity switch
Operating principle
The IPS-100 series proximity sensors are used for automated, non-contact detection of metal, magnetic or non-magnetic parts at a distance of up to 11mm.
The entry of a metal part into the detection field of the IPS-100 is signaled by the change of color of an LED on the proximity sensor, as well as the change of state of the cummutation output. The IPS-100 is available with 4 detection thresholds: 1.4, 2.8, 5.6 and 11mm. Switching times range from 500 µs to 1 ms.
Specifications
| IP 108 Model | IPS 112 | IPS 118 | IPS 130 | |
| --- | --- | --- | --- | --- |
| Sensiing Range [mm] | 2 | 4 | 8.0 | 15.0 |
| Switching distance [mm] | 1.4 | 2.8 | 5.6 | 11 |
| Sensing area | 8x8x1 | 12x12x1 | 25x25x1 | 45x45x1 |
Connection

Dimensions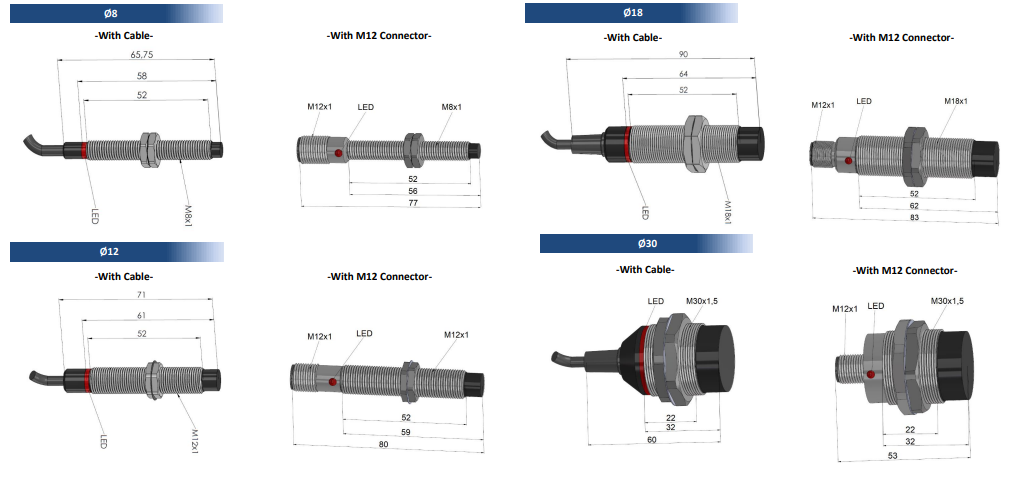 Applications
Turbine or compressor speed measurement
Counting
End of stroke detection
Technologie

Eddy Current

Etendue de mesure linéaire

0.5 / 2.9 / 3.8 / 5 / 8 / 12 / 20 / 25 mm

Measuring range

0 à ±50 mm

Remarque

Non-linear

Bande passante (-3 dB)

10000 Hz

Analog output signal

0-10 VDC

Température de fonctionnement

-200 to 200 °C

Protection Class

IP67

Tension d'alimentation

10 Vcc

Housing

Steel
Electrical connection

Dimensions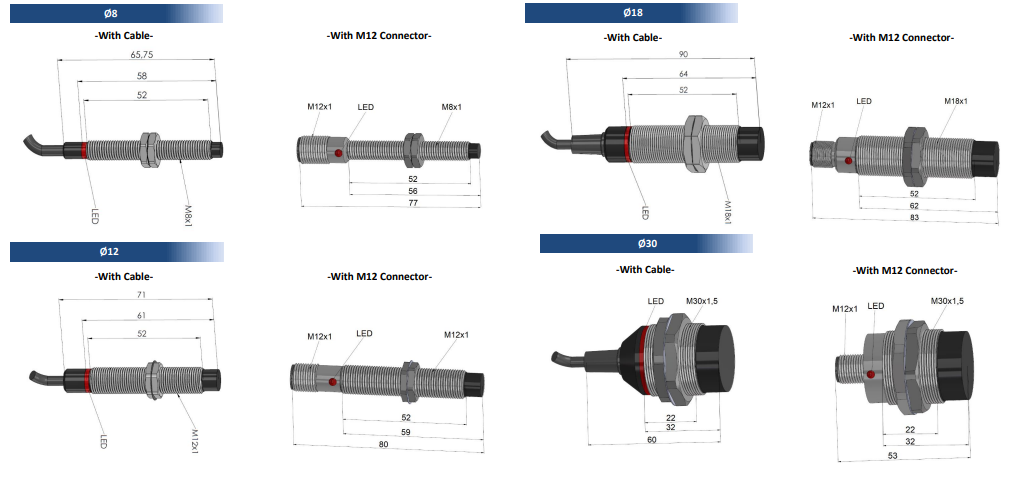 measuring range
type of connection
acquisition module
electronic relay