Ref: MC3A
Force balance 6 components - 0,2 to 2kN / 5 Nm
Z measuring ranges: 440 to 4400 N / 5 Nm
X/Y measuring ranges: 220 to 2200 N / 5 Nm
Natural frequency: continuous to 1000 Hz
Non-linearity: +/- 0.2 % PE
Transverse sensitivity: < 2 % PE at CoF
Dimensions: 78 x 76 x 76 mm
Output signal: unamplified
10 point calibration certificate included
Operating temperature : from -17°C to 52 °C
Protection Class: IP61 (IP67 optional)
Weight : 0.9 Kg
?
Introduction
AMTI's MC3A 6-component strain gauge force/torque transducer is specially designed for the simultaneous and accurate measurement of the 3 forces Fx, Fy, Fz and the 3 moments Mx, My, Mz.
The MC3A is characterized by high rigidity and sensitivity, low crosstalk, excellent repeatability and long-term stability. Easy to install and operate, it is available in 4 measuring ranges: 440N, 1100N, 2200N and 4400N. The sensor body is made of high-strength anodized aluminum alloy and is corrosion resistant. The internal components are sealed with elastomer O-rings.
Specifications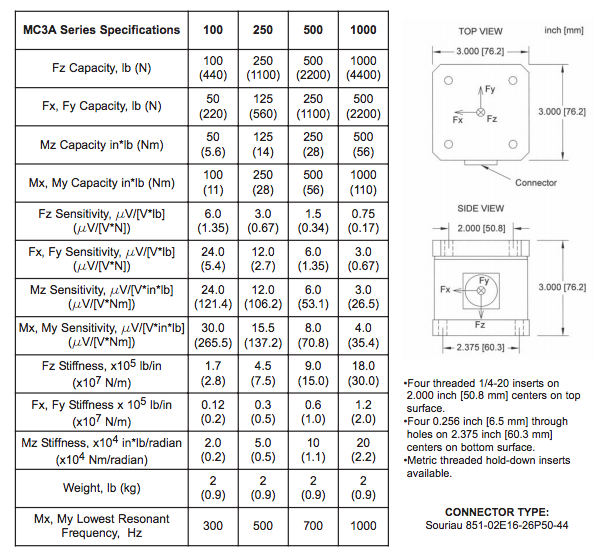 Installation
With its small and practical dimensions, the 6-component force transducer MC3A is easily installed on machine tools, arms, or test benches. The introduction of forces and the attachment to the bench are carried out by 4 tappings on the upper and inner surfaces. The sensor is supplied with 5 to 10 VDC. The operating temperature range is -17 to 52°C. The output signal is not amplified. The sensor is delivered with a Souriau connector.
Packaging and acquisition
PM Instrumentation recommends the GSV series of digital interface conditioning modules for their ease of use, accuracy and decoupling matrix support:
the GSV-8DS (High performance module, 8 analog inputs) or its ruggedized version GSV-8AS, which can be optionally equipped with a datalogger
the GSV-6LTE, equipped with a data logger and wireless connectivity
A visualization and acquisition software is included with these modules (GSV-multi). Dll and VI files are also provided for the development of an application under Labview or in C / Visual Studio / C++ / .net
Applications
Robotics
Ergonomics
Machine tool instrumentation
Biomechanics
Wind Tunneling
Test benches
Type

6 axis sensor

Number of Axis

6 Axis

Precision (max error)

0.5 %

Tension d'alimentation

10 Vcc

Measurement direction

Traction & Compress.

Housing

Aluminium

Protection Class

IP60, IP67

Measuring Range (Force)

⩽ 1 kN, 1 - 100 kN

Application

High Accuracy, Sbmersible, Robotics
Analog output ± 5Vdc, 14 bits
Decoupling calculation
USB connection.
Digital output 16 Bits